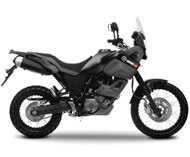 Freedom Machine
It's late, but it's here now
The name "Ténéré" has been synonymous with off-road adventures ever since the original dual-sport machine was first launched in the early 1980s. Developed from Yamaha's Dakar race-winning factory bikes, the original Ténéré models built up a following of loyal owners during the 1980s and '90s.
The Ténéré is a desert in the south of the Sahara – one of the toughest parts of the original Paris-Dakar rallies – and the bike's reputation for durability, strong on- and off-road performance, high levels of long-distance comfort and its ability to handle hostile off-road terrain make it a good name. The European market has had the new Ténéré for the past two years, while our last Ténéré was back in 1996.
Competition comes via the Suzuki V-Strom 650, Honda XL700 Transalp, BMW F 800 GS, Kawasaki KLR650 and the KTM 690 Enduro R. They have their plates full trying to beat the Ténéré.
The all new XTZ660 Ténéré, priced at a very reasonable $13,999 plus on-road costs, was introduced on a two-day ride. It comprised on- and off-road surfaces designed to explore the bike's "go-anywhere" ability. The trip was out of Sydney to Bateman's Bay and back via a different route, with 70 per cent of the ride off-road in some very tough terrain where some motocross bikes would have struggled.
The bikes were all fitted with Magellan Triton GPS systems that have plenty of different functions. Two great features were the ability to record the entire route and another that showed the varying elevations covered via a graph, both of which, plus others, were downloadable. The GPS was plugged into a 12V socket fitted especially to our bikes.
The bike has a high headlight and upright screen, looking like the Paris-Dakar machines of late. Good job there Mr Yamaha, as with the trick-looking LED tail light. The screen works well, even while you're standing up, sending air away from your chest.
Some of you may think the new Ténéré is just a Yamaha XT660 restyled but only the basic engine layout is similar to the XT660's. It's powered by the ultra reliable 660cc, LAMS approved liquid-cooled, four-stroke, single-cylinder engine tuned to deliver strong low to midrange power. This makes the Ténéré a strong performer over a wide range of surfaces, as we discovered over the two days.
Yamaha Australia has replaced the standard paper filter with a washable foam one, which is handy in our dry, powdery Aussie dust. The frame is diamond shaped to offer a good balance of strength and rigidity while staying light. The frame also incorporates the oil tank for the dry sump. The dipstick is on the right side near the headstock, which makes servicing easy.
Suspension settings are compliant over all terrain and ground clearance is a good 260mm. I can see considerably more race-orientated bikes struggling to keep up in the tight stuff thanks to this suspension. I have recently become a fan of the wolf in sheep's clothing and the Ténéré fits this old saying perfectly.
Braking is by Brembo and offers good feel through some of the best all-rounder tyres I have used – the Metzeler Tourance. They copped an absolute bashing off-road over some very sharp rocky terrain and rough water crossings but still gave a ton of grip on the road.
Weighing in at 208.5kg with 23 litres of fuel, the Ténéré feels lighter when you're riding; it feels more like 170kg or so. For the rider, this makes the bike super easy to manoeuvre in tight and sticky situations.
Comfort is a major factor with an Adventure bike and I was a little disappointed in the seat, which locks you into one position, like a road bike. It was also a touch too firm for my liking. Getting a flatter seat would be better but the standard seat does look good with its highlighted colour stitching.
Apart from this, I was concerned with the exposed water pump on the right side of the engine, which can be protected with the accessory engine guard; definitely a must-have! The bar width and height are set nicely for sitting down or standing up. The pegs, which could be a touch wider, come standard with rubber inserts. For serious off-road adventurers, a quick two-minute removal is essential to give some more grip; I found this out during a water crossing when both feet slipped off the pegs.
Another thing any adventure bike should offer is a long way between fuel stops; the Ténéré comes with a 23 litre fuel tank, incorporating a massive 6.7 litre reserve. Fuel economy should be about 6-7l/100km depending on how you ride. This will take you about 330 – 385km before needing to stop to refuel and grab some refreshments.
The Ténéré comes with a five-speed transmission. For some riders, this may need different sprocket sizes to smooth out the massive transition from second gear to first, which caused some rear wheel lock ups and unwanted sideways action.
The accessory list for the Ténéré is good and the most common purchase I can see would be the hard aluminium panniers and top box. The panniers require an additional side stay but the top box fits in standard form. Both the panniers and top box come with removable zip-up liners. Other essentials would be the engine guard and centre stand to make life easier. Hand guards, heated grips, taller screen, slip-on Akrapovic muffler, skid plate, tank pad and headlight protector complete the range.
I would like to have seen a tougher bash plate as standard, not as an accessory, as I don't see the standard hard plastic one lasting long over rough terrain. The other option owners may consider adding is handguards.
The digital multi-function dash comprises an LCD speedometer and analogue tachometer and is placed up high, which makes life easy when the boys in blue are lurking around. The digital dash offers a self-diagnosis system so you can adjust some of the engine settings. An FI diagnostic tool is available for additional tuning.
Anti-theft functions are a good idea; the Ténéré has a microchipped key that is scanned via the chip reader ring around the ignition slot. An optional Yamaha alarm is also available.
After the first 50km of the ride, one of the Yamaha boys asked me if I would buy one. I answered, "No, this is not my type of bike". Ask me this question again now after two days riding this bike over terrain it probably wasn't intended for and I would change that to a resounding "Yes". This really is a freedom machine to take you anywhere you want to go in Australia.

Quickspecs
Model: Yamaha XTZ660 Ténéré
Price: $13,999 (plus on-road charges)
Warranty: Two years, unlimited km
Power: 38kW @ 6000rpm
Torque: 58Nm @ 5500rpm
Engine: Liquid-cooled, four-stroke, single cylinder, four-valve, SOHC. Fuel injected
Bore x stroke: 100.0 x 84.0mm
Displacement: 660cc
Compression: 10.0:1
Transmission: Five-speed, wet multi-plate clutch, final drive by O-ring chain
Suspension: Front, 43mm telescopic fork, adjustable preload, travel 210mm. Rear, monoshock, adjustable preload, travel 200mm.
Dimensions: Seat height 895mm, weight 208.5kg (wet), fuel capacity 23 litres, wheelbase 1500mm
Tyres: Front, 90/90/21. Rear, 13/80/17
Frame: Steel tube diamond shaped
Brakes: Front, twin 298mm discs with twin-piston floating calipers. Rear, 245mm disc with single-piston floating caliper.
Top speed: 180km/h
Acceleration:
0-100km/h: N/A
60-100km/h: N/A
Fuel consumption: 6-7 litres per 100km, unleaded
Theoretical range: 330-385km
Colours: Power Blue, Midnight Black
Verdict: Just the thing for deserters