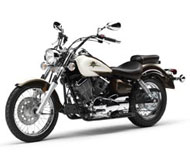 Swing low
Short and sweet, that's Yamaha's Virago replacement
The Virago range made many friends for Yamaha, and some of them are still wondering why the bikes had to be replaced with the V-Star range. Well, ride this bike and you'll know. It's significantly better than the old Virago 250.
The quarter-litre class is in danger of losing its relevance. For quite a few years, 250s have been the learner bikes in most of Australia. That is now changing, with bigger bikes being listed as learner approved motorcycles, or LAMs, in more and more states.
In several states, you can now learn on anything up to a 660cc machine so long as it comes in below a prescribed power to weight ratio. That sounds pretty sensible and generally it is. But no matter how sensible LAMs are, there is no doubt they will cut severely into the 250 market because learners will no longer have to buy quarter-litre bikes. And that's a shame.
I began my motorcycling life on a 250, a Honda CB72, and I have always liked that capacity. In the right frame and with decent running gear – all of which the XVS offers – a 250 is a terrific motorcycle for around-town duty – light and easy to handle, forgiving and simply fun. Add the low cost, which I suspect will get even lower as the bikes lose their natural market, and a 250 is definitely worth considering if you're not going to go scratching in the hills or touring in the deserts. The price is okay, although you have to wonder how a similar 750 can cost only a couple of thousand dollars more.
XVS250 owners will also be delighted to find that there is a large range of Yamaha accessories that can turn the little V-twin into a bike as individual as they are. And for 2008, there are two attractive new colours: midnight black and especially cappuccino.
ARR
Quickspecs
Model: Yamaha XVS250
Price: $8299 (plus on-road charges)
Warranty: Two years, unlimited distance
Power: 15kW @ 8000rpm
Torque: n/a
Engine: Air-cooled vee-twin, four-stroke, two valves per cylinder, single OHC, single carburettor and digital ignition
Bore x stroke: 49 x 66mm
Displacement: 249cc
Compression: 10:1
Transmission: Five-speed, final drive by chain
Suspension: Front, telescopic fork, travel 140mm. Rear, twin shocks with adjustable spring preload, 100mm travel.
Dimensions: Seat height 670mm, weight 147 kg (dry), fuel capacity 11 litres, wheelbase 1530mm
Tyres: Front, 80/100 18. Rear, 130/90 15
Frame: Steel tubing
Brakes: Front, 282mm single disc; Rear, drum.
Top speed: 125km/h
Fuel consumption: n/a, but low
Theoretical range: n/a
Colour: Midnight black, cappuccino
Verdict: Neat and sweet