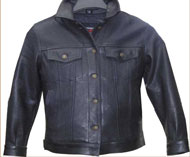 Jackson Equipment has new Australian summer jacket, the perforated leather F. Ceejay. It's based on classic denim jacket style and available in black or beige in all sizes for men and women. Other colours and made to measure are available on special order.
"The design brief was to be cool and tough," they tell us. "Over the years we have gone from leather jackets to textile for the bad weather capabilities to a basic mesh to try and get some ventilation. However, these jackets do not have the intrinsic strength or good looks and feel of leather.
"These jackets are guaranteed cool. Perforated leather allows air to flow through, keeping you cool. They also have removable CE armour fitted to shoulder and elbow while still maintaining the strength and safety of full grain cowhide. Button front allows leaving some buttons undone for even
more airflow."
While this jacket is obviously not waterproof, Jackson also sells foldaway textile jackets for when the sun goes down or the skies open, but for most Aussie summer conditions a light spray jacket or suit over the top is all you'd need.
The jackets are also guaranteed tough. So confident is Jackson Equipment in this product that it is offering to fix it for $50 or replace it with new after any crash damage for two years.
The retail price is $349 and you can find out more at www.jacksonracing.com.au, or by ringing (03) 59863029.