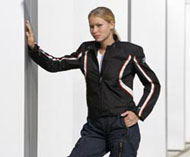 With the Tourance 2 Suit, BMW Motorrad is offering a waterproof touring suit that it reckons has been optimised in almost all areas compared with its predecessor.
BMW says the two-part suit, made from ultra-friction-resistant Dynatec, is waterproof, windproof and breathable, thanks to the climate-conditioning membrane that is integrated as a Z-liner. An extended removable Thermoinsert and indirect ventilation via zipper openings on the jacket and trousers improve climate comfort and make the Tourance 2 an all-rounder for any time of year.
To make the suit even more comfortable, it has stretch inserts at the back, elbows, knees and seat. It can also be adjusted at the waist, upper arm, neck, sleeve hem and trouser hem to ensure a good fit.
The many pockets in the Tourance 2 provide plenty of room for stowage. The jacket has four outer pockets, one of which is watertight, a large compartment at the back and two watertight inside pockets. The trousers have two side pockets with zipper.
The NP protectors, developed by BMW Motorrad and certified according to EN 1621, protect the wearer at the shoulders, elbows, back, hips and knees (where they can be adjusted to two different heights), thus maintaining high safety standards. Large reflective areas at the front and back and a reflective wedge at the trouser hem also ensure good all-round visibility even in poor lighting conditions.
The Tourance 2 Suit is available in unisex sizes XS to XXXL. Jacket colours are navy/black or red/black. The trousers come in black. Tourance 2 Suit prices are unisex jacket $900, trousers $650.
BMW is catering to women, too, as usual. The Club 2 women's jacket has a high-quality finish and independent design in a sporty, modern jacket.
The sturdy, abrasion-proof and water-repellent polyamide fabric and the removable NP protectors at the shoulders and elbows make the Club 2 jacket a proper motorcycling jacket. A pocket in the inside lining also allows an NP back protector to be added.
Width adjustments at the waist and hem of the arm make the jacket even more comfortable, and two outside and two inside pockets provide plenty of room for storing small everyday items. Partly for this reason, the jacket is also an interesting leisure jacket that attracts attention with its confident styling.
The Club 2 women's jacket is black with red and white inserts on the sleeves and sides. The Club 2 Women's Jacket is available in sizes 34 to 46, for $450. The jacket is also available in men's and junior versions for $450 and $340 respectively. See your local BMW dealer.