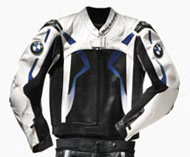 BMW's sportin' life
With its expressive design, high-quality finish and efficient safety equipment, the new Sport Leather Suit underlines the sporting direction taken by BMW Motorrad, or so they tell us.
Two two-part suit is made from 1.2 mm thick impact- and friction-resistant calfskin to the well-known BMW Motorrad quality standards. All the seams are sewn double using high-strength thread (Serafil). Perforated areas in the chest and back area and the TFL Cool finish on the black leather surfaces provide good ventilation and reduce the effect of heat from direct sunlight.
At the elbows, shoulders, back, hips, coccyx and knees, certified, firmly sewn-in NP protectors provide excellent shock absorption and padding. Even the collarbone area is protected by an integrated special foam padding.
This could be handy: I once broke my collar bone as I flew (nearly) over a BMW's windscreen…
High-grade steel sliders injected into the plastic at the shoulders and elbows distribute load peaks and support sliding in the event of a fall. Rigid plastic knee slides are used at the knees.
Stretch leather has been incorporated at the shoulders, seat and above the knee, and stretch Kevlar is used at the sleeves, crotch, back of the knees and calves. Pre-shaped arms and knees also make a sporty posture on the motorcycle easier.
The black and white Sport Suit comes with blue appliqué work and a BMW Motorrad insignia on the collar.
The Sport Leather Suit is available in men's sizes 46 to 60 and 98 to 110; different-sized jackets and trousers can be combined. The Sport Jacket costs $1,400, with the trousers priced at $1,100 and Sport plastic abrasion protectors at $55.