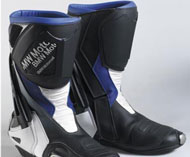 Boots to match
The innovative Road Sport Boots provide maximum protection and comfort, and are particularly light as well, according to BMW.
The upper material is a 1.6 mm special synthetic leather with a high friction resistance; the oil- and petrol-resistant nylon running sole has been reinforced and provided with a rubber surface to provide a good grip. The perforated practical lining and insole with sanitised finish are permanently odour-blocking and anti-bacterial. Ventilation channels in the sole and shaft cool the feet and remove heat, thus ensuring an excellent climatic balance even in the summer.
Optimum fit adjustment in the ankle area is guaranteed by the quick-release lacing inside; the boots are closed and fitted to the calves using a large Velcro surface on the inside. Stretch zones at the instep and in the heel area increase wear comfort, as does the soft silicone lip at the end of the shaft. In spite of the general rigidity of the construction, walking, changing gear and active riding are possible almost without restriction. The deliberate bend points in the sole and the patented MSC joint mechanism also help ensure this.
The TCS joint safety system with warp-resistant heel shell and ankle protection, which has also been patented, ensures controlled mobility at the ankle, but prevents overstretching backwards or sideways. Other features of the Sport Boot include extra long metal side slides which protect the side of the foot down to its tip. In addition, there are also metal heel slides and calve slides made from PU material.
PU material? Ah well, if it's safe…
All slides can be replaced and are available as spare parts, like the shoelaces and soles. Large foam protectors inside the boot complete the all-round protection.
The Sport Boots are available in black/blue and in sizes 39 to 49, and cost $600