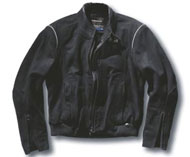 Bound for Atlantis
In the market for new leathers? Take a look at the new Atlantis 4 suit from BMW.
It's a two-piece affair, made from water-repellent 1.2-1.4mm thick leather and incorporates removable protectors for the shoulders, back, hips and knees. It also has stretch zones in at the shoulders, back, collar, waist, sleeves and knees. And it's smart. By gum, it's smart.
Naturally, the two garments are mated at the waist with an all-round connecting zip, but tell us either piece on its own isn't the very essence of cool. Go on, and try to make it convincing. The leather comes in only the one colour – "anthracite" – but it's a breathable, fast-drying cowhide with taped seams and rubber-lined zips, "so that you can stay dry without any rain over-garments", says BMW. The men's suit costs $1500, the women's is pegged at $1200. Trickle down to your local BMW dealer for a look.