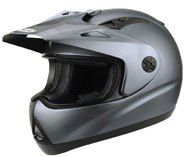 We really like Zeus helmets. Now they've launched a Dual Sport called the 2100 Dual Sport (reasonably enough) into the Australian market.
It is based on the ZS-2100 full face and has a sun peak for protection from glare. The helmet is claimed to be exceptionally quiet, due to its sophisticated aerodynamic shape and recessed visor. Ventilation is by extra large chin intakes and dual rear exhaust vents and the inside is lined with Cool-Weave. It's removable for washing, too. One colour only, matt black, and the RRP is $249.
There are some pop-style new helmets from Zeus as well. The ZS-601 is an open face in a choice of two bright graphics styles and several colours, for both scooter and bike riders. The helmets have a lightweight ABS shell, full ventilation and a Liprotex C-Dry comfort liner to absorb "excess moisture". RRP is a mere $149, from good bike shops everywhere.
If you can't find Zeus helmets in your area, either call distributors R&R Speedsports on 02 9709 4655 or get your bike shop to do it!