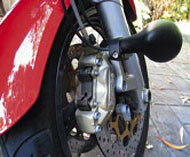 Rohan James decided it was time to add some sort of auxiliary lighting to his bike and found the calliper-mounted Motolights from the US. He started RedMotorBike to import them.
"These are not a light kit for which you have to modify brackets, drill holes or major wiring changes, the Motolight package comes complete with all brackets, bolts and wiring harness specific to your bike. They can be ordered for either fork, fender or caliper mounted in a variety of finishes," he says.
"Your headlight and the two low fork-mounted Motolights form a triangular pattern that gets noticed, cars actually see you as the lighting pattern stands out from the 'visual clutter' of the road, even on the open road during bright daylight the effect can still be seen.
"Motolights are available with a variety of mounting plates, spacers, and hardware depending on the configuration of the caliper, fender, and/or fork sliders on your bike. Motolight have a very extensive fitment chart and usually can provide exactly what you need based on the year, make and model bike you have.
"They include a wiring harness with fuse and relay and a remote toggle switch that can be mounted in any convenient location. The Motolight kits cost from $421.00 to $456.00 (plus postage), depending on the finish – brushed or polished aluminum or black powder coated and are sold online at RedMotorBike.com.au."
The Motolight warranty is unusual in that beside the normal warranty, Motolight will provide replacement halogen bulbs for those burned out in normal use for as long as you own your Motolight driving lights.
And here's a great idea: have you ever wanted to pass on a message to other road users from your bike? Now you can, with this built in, fully programmable, scrolling LED system capable of storing up to five messages each 250 characters long, completely of your choosing (nothing rude please!) created using the infra-red remote control provided.
BrakeTEXT is a versatile, multi-function product that fits easily to the rear of your bike. The robust, moulded plastic flush mounting plate fits easily on the back of any vehicle and the wiring to the bike is very straight forward. Using modern LED lighting technology BrakeTEXT provides an additional high-intensity brake light with a hi-tech scrolling message facility.
It's a great way to advertise your club or business – or maybe just an eye-catching way to display your vehicle for sale. BrakeTEXT is a quality safety product that also has a commercial and fun side. The BrakeTEXT is so simple to fit and connects directly to your vehicle wiring with no need for any additional batteries etc.
An optional Universal Switch Kit Accessory provides on-off-on functionality and multiple message selection without using the remote control.
Finally, Rohan has the Audicator, which will monitor your turn indicators and provide an audible tone after a number of indicator flashes. The initial "soft" tone progressively increases in volume until the rider is alerted and cancels the indicator – simple!
Installing the Audicator is apparently extremely simple with just four wires. Included in the package is everything you need to install the unit. It comes pre-programmed but can be easily customised to suit your own preferences. For example, change the delay time from indicator start to sound start, volume ramp-up rate, sound selection and even an option to have an alternative sound play when the hazard lights are activated. The Audicator unit is very compact, almost tiny, it will mount just about anywhere on a motorbike or scooter with a number of mounting options in the kit. The unit sells for $85.99 plus postage and is also sold online at RedMotorBike.com.au.