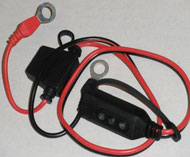 Knowledge of power
One problem we probably experience more than most of you is that of the bike left sitting in the garage while we gallivant about on test bikes. The unfortunate machine (usually our own bike) sits patiently enough, but its battery doesn't always take to the state of idleness and is flat next time we do want to go for a ride.
Yes, we know you can get battery chargers that will trickle in just the right amount of power to keep the battery alive. But we've now found an easier and cheaper way that doesn't require a power point.
CTEK, which makes some of the battery chargers mentioned above, also produces what it calls a Comfort Indicator. This won't tell you the location of public conveniences but will show you the state of your battery through a set of coloured LEDs. It also has a socket for the CTEK battery charger when it's needed.
This is clearly a good thing and my reaction is going to be to buy another of these things so I have for each of my bikes. Unfortunately I doubt I will be able to wrest our sample CTEK battery charger from Bob (read about it in Cruiser+Trike), so I'll have to buy one for myself. Still, it's worth it – no more flat batteries!
The RRP of the Comfort Indicator is $20.59 and it's available from Repco stores. You might also like to take a look at the website www.ctek.com, which has some more information.