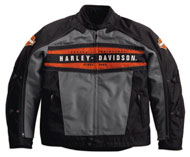 More motor clothes
John reports on his pick of the H-D range

Anyone who rides knows very well that appropriate and correctly fitted riding gear is an essential part of motorcycling. It's just not something you go out and buy, it takes a fair bit of research to come up with the right gear that you feel comfortable with and can afford. Of course, with so many brands of clothing on the market these days, choosing from the huge range can be a dilemma — especially deciding which brand to go for.
Over the past few years, motorcycle companies have been introducing their own range of riding apparel. That means the Harley-Davidson owners among you are luckier than some others. You will probably already know it's not that difficult to get the riding gear that suits your style from H-D's extensive Motor Clothes range. Just in case you didn't, or maybe you are intending to buy a Harley, then you should definitely check out their wide range. They can cover you from head to foot with this iconic brand. Helmets? Whether you just want an open-face helmet, or a maybe an open face with a flip-up visor, or perhaps even a full face, H-D has you covered. The same is true for other types of bike gear.
Personally, while I like the idea of riding with a full-face helmet — especially on those longer rides — I also like the convenience and ease of having an open face for shorter trips, like to the shops and such. So the helmet I currently wear for this kind of buzzing around is a Harley-Davidson Jet II with a flip-up visor and two front air vents.
On my poor excuse for a body, the Motor Clothes Switchback Jacket fits well and has internal elbow and shoulder protection. It also comes with an inner rain liner that's easy to get to and has its own storage pocket in the inner back of the jacket. That's been handy on the way to and from work in the current changeable weather conditions. It also doubles as a summer jacket, with zipped front and back panels which can easily turn it into a vented jacket in less than a minute.
My wet-weather suit is a one-piece and comes conveniently in its easy-to-stow-away small round zipped bag. It actually fits into just about any kind of bag but still provides secure and complete rain cover. And it's black and orange, Harley's racing colours. Nobody who knows is going to confuse you with riders of another brand.
My gloves are impressively solid but pleasant leather FXRGs, with Gore-Tex and knuckle protectors. I also have a woolen neck tube for those colder mornings on the freeway. Lower limbs are taken care of by Harley-Davidson gear as well; the jeans are a good fit and come with added stitched-in knee and hip protection.
Of course, your local Harley-Davidson dealer will have quite a few more clothing ideas for you, but that lot is serving me very well. Prices, as you'll see below, are very reasonable for such quality and innovative clothing.