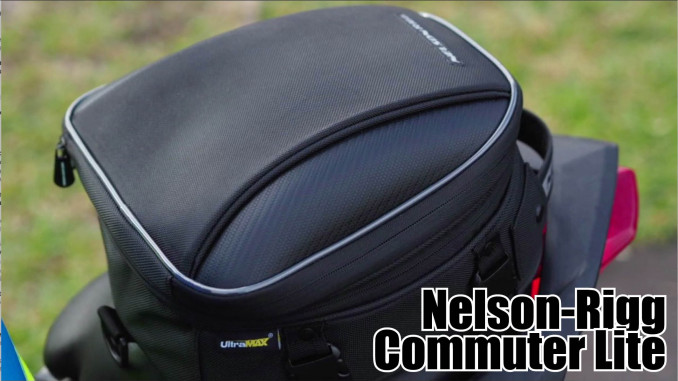 The Nelson-Rigg Commuter Lite tailbag is the smallest of the three in the range – it's a compact bag for carrying the essentials.
A tailbag doesn't ruins the style of your bike, and this small bag from Nelson-Rigg is perfect for carrying wet weather gear, an extra jumper, a spare visor, camera gear… anything you might need when out and about. It's design and fastening system mean it stays in place on your back seat, and if you've got a bike with a two-piece seat you can easily strap the bag to the seat off the bike then re-fit easily.
Its priced at just $139.95
Made from tough, water-resistant materials and supplied with a rain cover.
Features include:
New industry leading UltraMax® fabric with maximum UV protection
New mounting system with quick release nylon buckles
New moulded EVA lid with Fibertech "carbon-like" accents
New internal self-fastening straps to better secure contents
Perfect size for commuting or light traveling
Easily mounts to most tail sections and seats
Bag maintains shape, has reflective piping and a lined interior
Lockable reverse coil zippers and hi-density rubber zipper pullers
Flush mount reflective handle and mesh organizer under lid
100% waterproof rain cover and adjustable shoulder strap included
Fully expandable with a protective non slip base material
Measures: L28cm x W25m x H16.5cm / L28cm x W25cm x H21.5cm expanded
Holds 11.7 Litres / 15.3 Litres expanded
LIFETIME WARRANTY
More information is available from Link International.