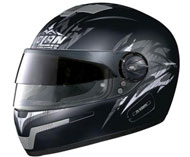 Nolan's N-84 better than ever
The revised model of Nolan's highly successful N-84 helmet has landed in Australia. While the old model already offered extremely high levels of quality and features at a great price, the new model promises to be even better.
The N-84 N-Com is 100 per cent Italian made (it's true, we've seen the factory), comes with a massive five-year warranty, has a sleek shell design, high-quality components and a high-quality overall level of finish.
The new N-84 is now compatible with Nolan's N-Com multi-media/intercom system that can be used to connect your phone, MP3 player or sat nav system, or intercom to your passenger via cables, or even via wireless Bluetooth connection.
Another of the helmet's standout features is Nolan's removable VPS (vision protection system) – which is an Australian Sunglass Standard AS1067 approved tinted half visor system. It cuts down sun glare and offers the eye protection of sunglasses without the hassle of jamming them into your helmet. It just flips up like a visor if it's a dull day.
The helmet also offers Nolan's new "Clima Comfort" liners which are removable and washable, made from advanced materials to allow better sweat removal and have a special sanitized treatment to ensure high levels of day-to-day comfort and a longer lasting fit and feel.
It also comes with a free anti-fog visor insert. The helmet has a quick-release, scratch-resistant visor made of high-quality Lexan and offers UV400 protection and a removable nose guard and chin guard.
Priced from a very reasonable $399, the new N-84 Nolan is available wherever fine helmets are sold! If your bike shop doesn't stock them, call Ron Angel Wholesale on 03 9464 3366 to find out who does.