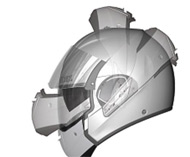 Can't make up your mind whether you want a
full-face and open-face helmet? Shark could help you decide with its new
EvoLine helmet.
The secret's
all in the unique – and patented – Tech-Move System chinstrap. With one
movement the chin bar unlocks, moves back and fits in neatly and unobtrusively
at the back of the injected thermoplastic resin shell. The chin bar closure
system is stainless steel.
EvoLine then
turns into a jet-style lid – with one hand – that sports a sturdy protective
visor. There's been plenty of time spent making the EvoLine as comfortable as
possible,and the Meryl interior is fully detachable and washable with plenty of
air flow through dedicated channels. Even the visor can be changed without the
use of tools.
All Shark
helmets come with a five-year warranty, and the EvoLine is no different. The
EvoLine is available in a choice of six finishes and a wide range of sizes.
Prices start at $699.95 Check it out at www.ficeda.com.au.