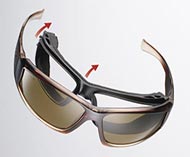 To protect your eyes from glare, wind,
dehydration, dust, road debris and flying insects take a look at Climate
Control sunnies from Wiley X.
The key point about the Climate Control range is
that each pair includes removable vented foam gaskets that lock securely into
lightweight, durable frames, protecting your eyes from the elements while
providing superior vision under a wide range of conditions.
Buyers have a choice of optical-quality,
impact-resistant lenses crafted from Selenite polycarbonate for distortion-free
vision at any angle. Various lens colours are available, including LA Light
Adjusting lenses, which change from clear to dark in response to the light present,
making these lenses a favourite among riders with open-face helmets. Prices
start at $169.95. Want more info? Go to www.wileyx.com.au.