SJS has a great little air pump in its range that's ideal for motorcyclists because it's compact, tough and more than enough to inflate our tyres.
The TP001 has capacity to pressurise to 80psi, weighs 300g and measures 108 x 95 x 47mm. Unlike many small pumps, it comes neatly packaged in a plastic case, making it better to pack into your panniers or saddlebags.
It is designed to run only with SJS's Smart Start Charger power packs (see the review of the SSC01 model in ARR #120) and has the plug to suit. While I'm sure it wouldn't be hard to rig it up to your bike's battery, using the Smart Start Charger eliminates the risk of flattening it — a situation that could be as bad as having a flat tyre.
A fully charged SSC01 will run the SJS pump for about 24 minutes, more than enough to do the trick for two or three motorcycle tyres. I timed it at a bit over eight minutes to inflate a 180/5517 tyre from absolutely flat to 42psi (2.9 bar). No, that's not fast enough to earn a place in the MotoGP pits, but that was never the point, and that's an acceptable time for such a compact pump.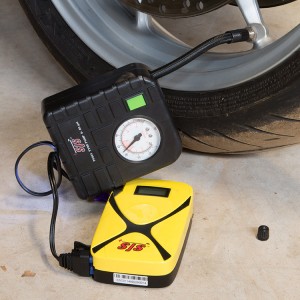 If you're just adjusting tyre pressures after taking your adventure bike into the dunes, the process will be quicker and you could do your mates' bikes too.
The pump's run time is 30 minutes before it needs a rest to cool down; give it a break more frequently if you're working above 35psi.
There's a gauge built into the case and it's accurate, even if SJS recommends you double-check things with your own gauge. (I've never found a gauge that maintained its accuracy over the years.) One odd thing it did was read 4psi higher than it should have while inflating, and I soon learned to disconnect the hose before re-connecting it to get a proper reading.
The hose and power cable each have their own storage nooks in the plastic case. There's an LED light on it, which is handy. There's no light in the gauge, but the SJS power pack has a light you can use to read the meter at night.
This SJS combo is clever. The charger will do everything from charging your phone to jump-starting your bike, and with the pump as an accessory you've got a relatively compact and portable setup for fixing flats or just adjusting pressures. It's well worth having when you're day tripping, on tour or heading out on remote adventures.
DETAILS
Price: $39.95
Size: 108 x 95 x 47mm, 300g
Info: Kenma website