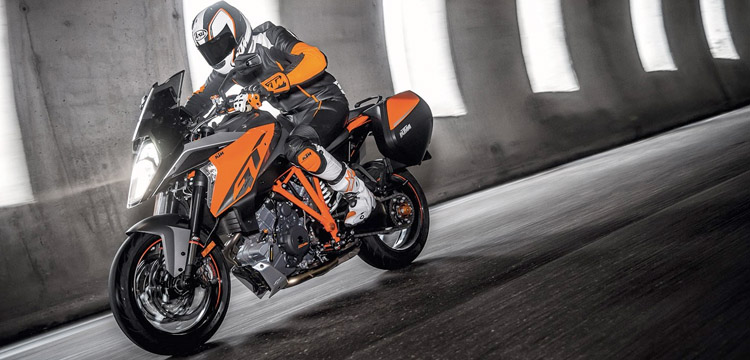 KTM will raise the stakes for high-performance naked bikes when its very practical yet extremely potent Super Duke 1290 GT arrives in 2016.
Designed to carry luggage and a pillion, the new GT is a Super Duke R for the real world, a 173hp weapon with a civlised streak.
We're expecting a lot from this bike, given that the rest of the 1290 range is so good, thanks to the cutting-edge electronic technology, superior WP suspension and genuinely exciting performance.
Features include electronic semi-active suspension, multiple enigne modes, and Bosch ABS braking that is enabled for corners.
The new GT will deliver the same peak power and torque (144Nm) as the R but each at 1000rpm lower in the GT's case, according to KTM's figures. They say 114Nm is available from just 3250rpm.
The massive 1301cc V-twin is upgraded for the GT with a new crankshaft and tuning, not only improving low-end performance but apparently making the engine smoother and quieter.
A stronger rear subframe and other changes increase dry mass by 16kg compared with the Super Duke R, but who's complaining when the GT's wet weight is a very flickable 228kg?
KTM has endowed the GT with a larger 23-litre fuel tank.
While the GT looks sharp and uncompromising, it promises above-average comfort, with adjustable positions for the handlebars, levers and pedals.
So will the Super Duke GT be the most practical hooligan bike there is? It's quite likely … and we'll find out at the end of next month when ARR attends the launch of the new KTM.
Stand by for more!