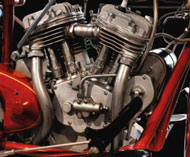 Love classic bike engines? Now you can wear one! Bandicoot Trailers have launched a range of top quality T-shirts featuring beautiful photographs of classic bike engines from top international photographer Daniel Peirce.
The T-shirt images range from early British classics such as BSA and Brough Superior through to Italian beauties Ducati and Moto Guzzi, or ever-popular brands Harley Davidson, Honda, Triumph, Norton and others.
The 100 per cent cotton T-shirts are custom printed to order and are available in a range of colours and sizes, with free delivery anywhere in Australia or New Zealand. They are a great gift for the discerning biker who wants something that little bit different.
To browse or buy T-shirts, go to www.bandicoots.com.au and click on the T-shirts link.