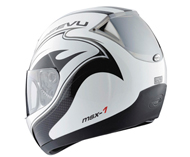 Eyes in the back of your helmet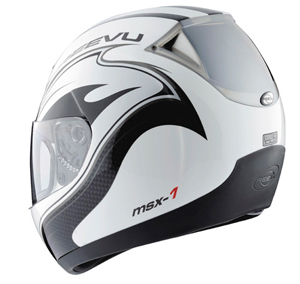 How many times have you wished you had eyes in the back of your head?
The Reevu MSX1 rear-vision helmet has been astonishing everyone who's seen it because of the way it bends light so you can see the road behind. It's a heads-up display with a difference! Check out the rear "window" panel.
It's been an uphill battle for Reevu Australia to get approval because the helmet is so novel and the standards people had nothing to judge it by, but now this revolutionary helmet has been granted AS/NZ1698, DOT, INMETRO, ACU Gold, JIS and ECE-2205 status. Even more telling, no re-engineering was required before the Reevu passed the required tests. Importer Carey Murphy stands 100 per cent behind his product, which was launched by Perth Helmet House retailer John Storer at the Perth Expo.
The helmet is priced at $545 and comes in five colours and a graphic design, in sizes from XS to XXL. To find out more about the Reevu MSSX1 Rear Vision Helmet visit www.reevu.com.au.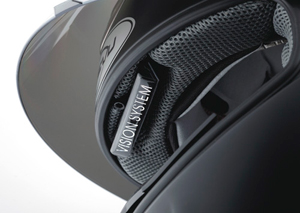 Better bounce for Beemers
Convert your BMW ESA suspension to brilliant Wilbers WESA shocks. This high-performance suspension system is individually tailored for your weight and carrying loads. Order your Wilbers, then send your original units to ASR Suspension of Dromana, Vic, who will do the required changes. Lowering options are available at no extra cost. Speak to them first.
Wilbers WESA shocks suit BMW R 1200 GS/GSA R 1200 R/RT models with Showa or WP units. Contact 0359 810 165 or visit www.asr.com.au.

Hog's breakfast!
Harley-Davidson is celebrating a 5.4 per cent growth in new bike sales for the third quarter in the USA. Listen to these figures: dealers sold 42,640 new Harleys locally, and 19,198 new Harleys internationally (an increase of 4.4 per cent).
Parts and accessories sales added up to $235.7 million (up 7.6 per cent), and clothes and accessories came to $69.3 million, up 8.2 per cent.
Even though Harley-Davidson acknowledges there's a long way to go, this is music to our ears — and they deserve it because of the innovative new bikes they've been bringing to market.
Race you to the gym!
Yamaha's microfibre-blend Performance pants, shirts and singlets are durable, light, and keep you cool and dry by wicking away sweat. Yamaha says Performance Wear is so comfortable it "moulds to your body like a second skin, helping your performance and recovery times". Wear them heading to the track to train or race; going to the gym or on your mountain bike. You'll look just like a pro athlete with strategically placed Yamaha logos and contrasting white stitching. Sizes SM-XL. Prices are pants $118.95, shirt $104.01, singlet $97.50. Shop at http:/yshop.yamaha-motor.com.au or contact spares@yamaha-motor.com.au
Mix-n-match Zeus
2WheelImporters has received its long-awaited shipment of updated Zeus 3000F modular helmets which offer proven aerodynamics, comfort and safety. Plenty of features include ventilation, a special lining designed to withstand heat and humidity, as well as the benefits of a flip-up front. There's a retractable sun visor and the helmet can be converted into an open face with the optional "jet" kit. Colours are Metallic Black, Black/Red, Black/Silver and White/Black. From $329.95 to $359.95 for White-Graphic. Sizes XS to XL. Call 02 8785 1444 or www.zeushelmets.com.au.

Foil feeves
Link International's Locking Tie-Down Lockstrap has a cunning stainless-steel braid running through the centre of the strap so "feeves" can't cut it right through AND the carabineer hook has a combination lock both ends. Pretty neat. We know people who've had bikes stolen from trailers so this is a top idea to secure bikes and gear. At $59.95 these scratch-free "extendable to 2.6 metres" Lockstrap Tie-Downs are too good to pass up. Ask your bike shop, visit www.linkint.cm.au or call 07 3382 5000.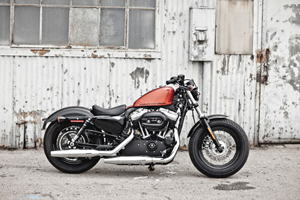 High-pressure job
Kincrome's new Mighty Boy pressure washer packs a punch with a 240-volt 1300W motor that can handle a wide range of jobs around the home. There are two lances — variable spray and turbo for stripping pathways and concrete. You also get a spray bottle, 3M hose and 5M power lead, with all accessories carried on board the washer. It has heavy-duty plastic construction, tough wheels, and its compact size makes it easy to store. Price is $149 from leading auto and hardware outlets. Check out www.kincrome.com.au to see the full range of pressure washers and your nearest stockist.


Protection money …
… is money well spent when it comes to preserving the luscious paintwork on your bike. Road Warrior Plus is a state-of-the-art aqueous polymeric copolymer emulsion that gives paintwork a unique, breathable protective skin, kind of like liquid shrink wrapping. Apply multiple coats with a gun or roll/brush (and wash up in water) and the result will be a coat that rock chips will hate. Road Warrior Plus can be applied to newly painted surfaces and is air-cured. It's as temporary as you want — you just peel it off after that long trip across the Nullarbor. Tests prove that Road Warrior can handle salt water, heat and even acid rain! To order visit RoadWarriorPlus.com.au or call 03 9329 2782. No prices were provided.
Fast and fashionable
Women will love Rukka's stylish new Vilma jacket because it doesn't confuse fashion with safety. You get everything men enjoy, including extremely abrasion-resistant polyamide fabric Cordura 500; a tough 100 percent water and windproof Gore-Tex Performance Shell; no-leaks Gore Lockout Closure; a detachable thermal lining, and the inner lining is advanced temperature-regulating Outlast material. The Vilma jacket impresses with patented breathable Rukka Air protectors for maximum active and passive safety. (Vilma's Rukka D3O Air limb protectors meet CE Norm prEN 1621-1 2010 and the central back protector meets prEN 1621-2 2010.) Vilma looks fantastic, is comfortable to wear, but does not compromise on safety. Visit www.innotesco.com for price details and the name of your nearest stockist or email sales@innotesco.com.au.

Where's Quilpie again?
If you expect to encounter dirt, but you still want a boot that works on-road, try Triumph's Adventure Boot. A combination of full leather and plastic mouldings ensures a tougher boot, while not compromising on comfort. You get a contoured shin plate, superior outer foot protection and streamlined off-road buckles with adjustable straps to ensure a good fit. Durable rubber compound soles offer better grip too. And they are waterproof — perfect for creek crossings. Price $395 in sizes 7-12. Visit your local Triumph dealer.

Rainy night in Georgia
Triumph's full-leather Tri-Tex Waterproof Boot is, of course, waterproof. It's also windproof, breathable and versatile. You get a gear lever protector; ankle, heel and toe guards; Velcro fasteners, 3M reflective panel and non-slip rubber soles. They only cost a measly $249 in sizes 7 to 12. Ask your Triumph dealer.
The world's most beautiful book?
The svelte MV Agusta F4 has been called the world's most beautiful bike and when it was unveiled in 1997, at a time when motorcycles were painted in horrific, gaudy streaks of colour, the elegant, compact MV painted in racing red and silver turned design on its head. The story of the evolution of the reincarnated brand once ridden to racing victories by Ubbiali, Hailwood, Read and Agostini has now been told in a beautiful book befitting the bike.
Identifying four fundamental passages in the evolution of the MV F4, writer Otto Grizzi brings to life the people behind the technical, business, design and technical effort that resulted in surely the most coveted motorcycles in recent history.
This sumptuous book with more than 400 lovely images is published in English and Italian by Giorgio Nada Editore (www.giorgionadaeditore.it). The F4 is a lasting memorial to the passion of the late Claudio Castiglioni and it's good to see that in print.
GOOD WORKX

Spyder Royale Movember
While enjoying themselves at BRP's Spyder Royale event, all these Spyder owners put their hands in their pockets and stick-on moustaches on their lips to support the "Movember" charity which is fighting prostate cancer and depression in men.
The "Spyders" mustered in the NSW Southern Highlands for a fantastic weekend of events including a Show "n" Shine, ride-outs and Poker Run, based at the exclusive, luxurious Gibraltar Country Club in Bowral. Miss Moneypenny is filing a full report on Spyder Royale in Cruiser+Trike 4.2.

Steven Walter's wonderful legacy
The 11th Annual Honda Snowy Ride raised more than $250,000 to fund research into a cure for children's cancer. Around 3115 motorcyclists descended on Thredbo in the NSW Alps to not only have a good time, but also raise money for the cause. The Snowy Ride is organised by the Steven Walter Foundation which was started after popular, talented motorcycle rider, 19-year-old Steven Walter, finally succumbed to cancer after a heroic eight-year battle.
Sue Walter, Steve's mum and a director of the foundation, was again thrilled by the turnout.
"We are lucky to have such a dedicated group of riders who support the Snowy Ride. We would also like to thank all of the local communities who support our ride and cause each year. And our thanks also go to the 723 Squadron from the Australian Navy which brought a helicopter along to give rides to the six families from the oncology ward at Sydney Children's Hospital who were guests of the Snowy Ride.
"Last year, thanks to our major sponsors and the supporters of the Snowy Ride and our inaugural Around Australia Ride, we raised more than $500,000 which was given to various research projects and cancer centres across the country and is making a direct contribution to helping find a cure for children's cancer," said Sue. "Another fantastic commitment was made by Snowy Hydro, which donated $100,000 for 2011 and will continue to donate $100,000 for each year that the Snowy Ride is run."
The legendary Brewster Brothers performed an intimate show on Friday night and then provided a free open-air concert in the Thredbo Village Square following the conclusion of the ride on Saturday night.
The major prize winner from Traralgon was thrilled to receive a Honda VFR 1200, donated by major sponsor Honda, which has supported the foundation since its inception.
"Those keen to put the date in their calendars for next year can mark 3 November as the date for the 2012 Snowy Ride. We will also be hosting a second Around Australia Ride in 2013 after the success of the first last year," added Sue.
For more information or to donate visit www.stevenwalterfoundation.org.au.