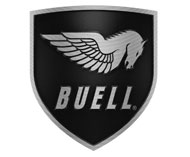 Pegasus will fly no more
Buell American Motorcycles closes its doors
The announcement from Harley-Davidson was uncharacteristically terse, possibly an indication of just how difficult it had been to make the decision to close Buell.
The money involved is pretty close to the major investment that H-D made in MV Agusta – which is to be sold – but the brand is a lot closer to home in several ways. For one thing, Buell's factory was just up the road from Milwaukee, Harley's home; for another, it mainly used Harley-Davidson engines.
"The company will discontinue production of Buell motorcycles. Remaining inventories of Buell motorcycles, accessories and apparel, while they last, will continue to be sold through authorised dealerships. Warranty coverage will continue as normal for Buell motorcycles and the company will provide replacement parts and service through dealerships.
"The decision will result in a reduction over time of about 80 hourly production positions and about 100 salaried positions at Buell. Employment will end for a majority of Buell employees December 18, 2009.
"Harley-Davidson expects to incur approximately $US125 million in one-time costs related to the discontinuation of the Buell product line. The company expects to incur approximately $US115 million of that amount this year."
Wouldn't that sort of money have been enough to keep the flying horse aloft for a while? Maybe. The 2010 Buell press pack, issued not all that long before, had certainly been considerably more optimistic.
"The story of Buell motorcycles shows that great things can happen with creativity, vision and hard work," said Erik Buell, who was then Chief Technical Officer, Buell Motorcycle Company. "A dream that started with a few of us getting our hands dirty in garages and on racetracks in the 1980s is now providing riders with quality American-built motorcycles and winning at the top levels of AMA Pro Racing."
During its often precarious existence, Buell had lived up to its Pegasus flying horse logo by consistently challenging conventional motorcycle design with innovations such as fuel in the frame, oil in the swing arm, underslung exhausts, the perimeter-mounted front brake and even the patented Triple Tail system that adjusts between three functional positions for the pillion seat.
The Buell trilogy of technology principles of low unsprung weight, mass centralisation and chassis rigidity, some of which have now been adopted by mainstream manufacturers, guided the Buell's single-minded approach to motorcycle engineering.
Eventually Buell Motorcycle Company became a subsidiary of Harley-Davidson, producing "premium sport performance motorcycles, motorcycle parts, accessories and apparel". But obviously not profitably enough.
The bikes are gone and Erik Buell, according to Harley spokesperson Paul James, was in talks with H-D about an advisory role at the company, "in which capacity he'll contribute to future product design". We shall await developments on that question.
According to the Hell for Leather website, James also noted that "the decision was made to shutter rather than sell Buell because its product range and distribution network are so heavily dependent on its parent company that there's relatively little value in the company that could be transferred to a new owner."
But James was definitely not suggesting H-D was abandoning its attempts to reach a younger market.
"We will continue to develop products under the Harley-Davidson brand that appeal to riders under 35 years old. That said – and while I can't discuss the specifics of future product plans – you can expect us to focus on high-impact product introductions that attract new riders and help define the future of motorcycling. We are not ruling anything in or out … we simply will pursue it through the Harley-Davidson brand."
Could that possibly mean continuing production of some Buell models, but with H-D on the tank? Unlikely, but never say "impossible".
Last flight
The final line-up of Buell models in effect consisted of three classes of bikes.
For the street, Buell offered two streetfighters (with variations) under the Lightning badge. The new Lightning CityX XB12SX had its debut in Europe and matched the Thunderstorm 1203cc V-Twin engine with Buell's popular Lightning CityX XB9SX chassis and suspension. The Lightning CityX XB9SX itself remained in the range with the smaller Thunderstorm 984 V-Twin engine.
Alongside them was a modern café racer, the 1125CR. Powered by the Rotax-sourced liquid-cooled Helicon 1125 V-Twin engine, exclusively designed to Buell specifications, and equipped with Buell Intuitive Response Chassis (IRC), it was intended to take Buell's street presence up a notch.
Another version of that bike, released earlier, was aimed at the street and the track and engineered to give the kind of performance and handling usually offered by a bike built specifically for racing.
The Buell 1125R with its all-new Buell IRC Intuitive Response Chassis, the stiffest chassis ever offered by Buell, Quiet Zone aerodynamics and fully adjustable Showa piggyback suspension had a uniquely aggressive look.
Finally, there were the "sport-touring" Ulysses XB12XT and the all-road Ulysses XB12X equipped with the flexible Thunderstorm 1203cc V-Twin engine and features such as frame pucks, headlight grille and wind deflectors.
The (nearly) last word should be Erik Buell's, written before Pegasus was grounded and America's Bellerophon with it. "The Buell riding experience embodies radical designs and intuitive performance that rewards uncompromising riders.
"From the race track to the back road, a Buell motorcycle will take any path necessary to put its rider out front because Buell believes a deep bond between rider and machine is the essence of motorcycling."
It was hard watching the footage of Erik announcing Buell's closure, but obviously not as hard as recording it had been. Thank you, Erik, not only for all you did in advancing the design of motorcycles but also for your spirit, your unfailing good cheer and your tenacity. Oh, and you play a mean rock guitar, as well.