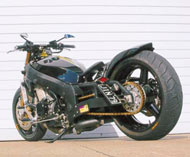 Bend that 'Busa
Noel took a Hayabusa and bent it to his will — with spectacular results

OK now, we know — sort of — that Suzuki Hayabusas are not cruisers. Truly, we do. But our readers, it seems, don't. Take Noel Muller from Crestmead in Queensland. Noel took his Hayabusa and, very simply, just made it into a cruiser.
We have the photographic evidence, as you can see.
And when we say that "he" did it, we mean that literally. Noel did all the work himself, from concept to stunning finished product. But why don't we let him tell the story?
"I thought you may be interested in my 2003 Suzuki GSX1300R Hayabusa," he writes. "I've turned it into a sports cruiser. I've done all the work myself.
"I built the fuel tank, guards, seat, battery box, 'rigid' rear end, overflow tank, forward controls, rear half of the exhaust system and a lot more.
"I'm going to sell the bike soon because I've already started building an H-D Sportster full custom.
"I hope you like my before and after photos."
Like them? We haven't been this impressed since Bob Hawke took out the world record for skulling a yard glass of beer…
Noel, you have created something truly outstanding here and we love it. The attention to detail is staggering and you obviously have a very sure hand when it comes to styling. That tank is a work of art and it blends perfectly with the rear guard.
Yes, we know there will be people out there who will spend the next few weeks howling at the moon because this is "just not right". Too bad. We like it all the more because the original bike is such an unlikely choice. Bet it goes, too … that is a nitrous bottle behind the radiator, isn't it?
Hey, Noel, do you do customising work for other people, too?