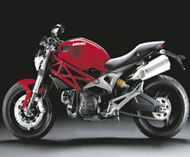 Bikes & bits bouquets
Great in '08
So what did we really like in this past year? Rooly trooly?
Tommy Hanlon Jnr once said that if he'd known he was going to last this long, he would have taken better care of himself. I find it difficult to believe that I have lasted long enough to be asked to write about the motorcycles of 2008 – in the past tense! But that's enough about me (for now). What were the highlights in motorcycles, clothing and accessories for us?
Captivating cruiser of '08
What could it be but the Moto Guzzi Bellagio (ARR #48)? Yes, sure, MG is cheating by dressing the underpinnings of a naked bike (the Breva) up as a cruiser, but we just don't care! That's the kind of wild and crazy guys we are, ha ha (sorry).
Harley-Davidson's XL1200 Nightster (ARR #47) did well in this category, too, because it is just a pure expression of what Harleys are all about – and because it's a joy to ride.

Terrific tourer of '08
It looks as though it's come from 2080, not 2008, and Victory's Vision Tour (ARR #50) takes this one. It has its weaknesses, such as the silly little panniers, but its vee-twin engine is a genuine delight, it handles really well at any speed and it cuts the air like a knife. And Harley riders come up to you and say things like 'Man, I gotta get me one of those!'
Also a contender is the all-new, fully redesigned Triumph Rocket III Touring (ARR #46). With smooth, relentless power, purposeful (meaning 'less wishy-washy') design, good handling and a lower seat this is a lot of metal for the money.
Super sportsbike '08
We didn't ride as many sports bikes in '08 as we usually do, and one excellent machine we did ride (the Honda Fireblade) didn't make it into print in this year's issues – but we still reckon we have a winner. The rejigged Suzuki Hayabusa (ARR #50) is a knockout, better in every way than the previous grunt king and better looking to boot (which, it's true, wasn't much of a challenge).
The other sportsbike we'd really like to mention is Honda's CBR125R, a terrific little machine that provided us with enough amusement to feature it in two issues, ARR #45 and #48. Hard to find so much pleasure for so little money, except maybe in a marzipan factory.
Dual delight of '08
Argue if you like that it's not even a dual sports bike, but Kawasaki thinks so and we liked the Kawasaki Versys (ARR #45) so much that we arranged to run one as a long-term test bike. We actually think that it's a triple sports bike, because it commutes as well as it does everything else (and that's very). Bits and pieces are being bolted onto the Versys as I write this, and as always you'll read about it in these pages.
If only it looked a little more like a motorcycle and less like an extra from Gumby's TV show, the Suzuki V-Strom 650 ABS (ARR #49) might have taken this award. We like it very much, and we just love the value for money!
Naughty Naked of '08
Nakeds are naughty because they are just made for annoying The Man, and there's nothing that came out in '08 that will annoy The Man more than Triumph's Street Triple (ARR #47). What a bike! Lighter and gruntier than its parent, the Daytona, it is pure fun around the streets that are its natural home. Dial it in and go for it – oops. Err. Hello, officer.
At the opposite end of the naked spectrum is Suzuki's 1250S Bandit (ARR #48) with ABS. Possibly the best value for money we saw all year, it may be a little bland but it will be absolutely trustworthy and reliable. How remarkably unlike the crew here…
Sizzling scooter of '08
It's new, it's weird and it works a treat: we couldn't go past the Gilera Fuoco (ARR #50) as the best new scooter – and not just best scooter, best new concept too. We rode a Fuoco from Sydney to Melbourne (in the rain) and loved it. Quite apart from all the goodies and gadgets, it goes and handles well and makes even policemen smile.
An honorary mention goes to Yamaha's Cygnus 125 (ARR #50). Wait until you read the story we've put together analysing travel costs for this little gem against a car – and against a sportsbike! The Cygnus is nothing outrageously special, but a well-designed take on the theme of 'commuter scooter'.
Surprise of '08
We were amazed just how good BMW's oddly-named F 650 GS (ARR #50) is. Why oddly-named? Because it's actually an 800. Why amazed? Because it almost made a dirt rider out of the Bear, it's so easy to keep upright and moving forward fairly briskly even on truly snotty surfaces.
Of course we were also surprised by Can-Am's Spyder (ARR #49 & 50), which looks like the result of miscegenation between a Lotus 7 and a BMW K1200GT. The biggest surprise was how much fun it is to ride, followed by just how big that front boot is!
Actually, another surprise was how enjoyable the automatic (!) Aprilia Mana (ARR #50) is to ride. A snappy vee-twin engine mated to a scooter transmission makes for a magic machine – pity it's relatively expensive.
ARR
And now… the bike of '08!
Here's the biggie. As always, this was a tough decision (and as always, that's what you have to write at the beginning of a category like this) but after some spirited discussion the gong went to Ducati's new Monster, the 696 (this issue). This is a slick beastie indeed, a true expression of Ducati style, performance and rideability. And we mean that in the nicest possible way…
There isn't a runner-up in this category because there would have been a fist fight if we'd insisted on a selection. Too many other bikes had their supporters. Aaah, we love 'em all. Well, almost. We still haven't ridden a Chinese bike we'd recommend, but Blackey reckons that one of his Hunter Motorcycles Spyder 250s would do the trick. We'll see about that in '09.
See? Always something to look forward to with ARR, even if it's just a Chinese-built quarter litre chopper (no offence intended, Blackey). Roll on, 2009; and how is Tommy Hanlon Jnr these days, I wonder?
MB
Beaut bits and rave rags
The divorce obviously agrees with Bayliss; he's rattled on for far longer than he was supposed to, and left me with very little space. Never mind, I'll be quick.
What we (or in this case the Bear) liked best of all, all year, is the Aerostich Darien suit (ARR #50). It's very different from the usual motorcycle clothing we have in Australia (you need to order it from the US) but it's a revelation. Lots of practical touches and he says it works like a beauty – well, except he hasn't tried the crash protection. Yet.
Johnny Diese… err, I mean Arens, on the other hand, reckons that the BrakeText (ARR #49) is the best thing since sliced bread which, as we all know, was invented by Otto Frederick Rohwedder of Albion, Michigan in 1928. It (the BrakeText, not the sliced bread) allows you to send messages to vehicles behind you by means of bright red LEDs, an amazing and potentially remarkably dangerous activity.
We also thought the Bolt Lock (ARR #48) and the V2 Sponge (ARR #46) were exceptional, as were the Shoei Multitec flip-front helmet (ARR #45), Triumph's Perforated Highway Gloves (ARR #47) and the R&R Speedsports Monsoon-2 mesh jacket (ARR #48). Lots of other stuff was good, of course.
As for trips, Mike Grant enjoyed Texas (ARR #47); the Bear just loved Sabah (ARR #48) and reckons it's the must-ride destination for the next few years; and everybody wants to go to (or back to) Italy (ARR #48 and counting).
Well, here's to '09, in the hope that I'll actually find the time to get away myself for once. Yes, there are plans!
LMc