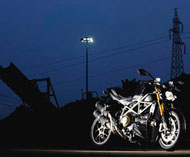 Look back in horror?

It might have been an annus horribilis for the industry, but not for riders
The most current figures we have at the time of writing this (remember that our lead times are measured by the same scale as Amy Winehouse's hangovers) 2009 motorcycle sales in Australia were down 13.6 per cent over the same January to July period in 2008. It's worth noting both that this drop came after several years of record sales figures and that it is significantly less than most other major markets.
So things are bad, but they're not that bad.
Unless you happen to be bearing the brunt of the losses, of course, as Honda (down 19.1 per cent) and Yamaha (down 14.7 per cent) are. The other Japanese manufacturers did somewhat better, with Suzuki and Kawasaki down 5.2 per cent each and doing significantly better than the market overall, but even Harley-Davidson copped a 10.4 per cent drop.
Only two major manufacturers recorded increased sales: Triumph, up 4.4 per cent, and BMW with a remarkable 9.1 per cent increase.
One of those sales was to me; I bought our G650 XCountry project bike. I couldn't bear (sorry) to give it back.
Meanwhile, Aprilia is down 6 per cent and Moto Guzzi has lost 2.4 per cent but that's still better than the market average. There have been more substantial losses. Both MV Agusta, down 44.4 per cent, and Cagiva, down 47.4, have suffered badly and so has Buell, with a drop of 27.9 per cent.
We won't even look at individual scooter brands. Scooter sales overall are down by one-third. Once again, that's on top of a long run of record increases but even so, this has hurt the industry badly.
Motorcycle sales are not the only part of the industry to be hit. Take bike publishing: the Audit Bureau of Circulation figures just released as I write this have both Motorcycle Trader and Just Bikes down in sales, 2.93 per cent and 3.65 per cent respectively. Australian Motorcycle News has lost 6.69 per cent of its circulation, dropping to 21,001, and the non-audited magazines would be well below that.
How did ARR do? Thanks for asking; we're the only bike magazine with increased sales, up 4.54 per cent to 21,971. That once again makes Australian Road Rider the country's best-selling road bike magazine – thanks to you, our loyal readers.
And that brings us, finally, to the real subject of this story. How did you, the riders and buyers of motorcycles, go in 2009? Never mind the quantity of bikes – how was the variety, quality and general interest level?
It was pretty damn good. Not only were there some really exciting new models on the market, there were also a few attempts at doing something quite different. Here, in no particular order, is a short outline of some of the bikes we found especially interesting in 2009. There's no suggestion that this is comprehensive, but it's nice to be celebrating something when there is so much gloom around. Feel free to write to us to add to the list (or subtract from it!). Correspondence will happily be entered into.
By the way, we've included cruisers in this review. True, they would be more likely to appear in the pages of our sister magazine Cruiser+Trike, but we get to ride them anyway so we don't feel shy about reviewing them here.

Ducati Streetfighter (opening pages)
We review the bike elsewhere in this issue, but we couldn't leave it out of this line-up. It's true that some of us wept into our Chianti because the liquid-cooling paraphernalia gets in the way of admiring that beautiful motor but it's still a remarkable piece of design. It's also a great bike to ride once you've familiarised yourself with it; its versatility probably makes it the most usable Ducati on the road. It may be time to invest in an asbestos licence, though, if such a thing is possible.
Honda CT110
And while we're on the subject of versatility (and keeping your licence), let's go from the sublime to the almost subliminal. Believe it or not, the humble, tiny postie bike, which has been the best-selling motorcycle in Australia since Bob Menzies convinced us that there were communists under our beds (if only, looking at some of those Russian girls), had been relegated to second place by the middle of the year. The new market leader was Kawasaki's baby Ninja (see below). But the MPEmpire hit back and released a "civilian" version of the CT110, subtly different from the postie bike but just as capable of doing anything you asked it to. There is a vigorous debate going on in the luxurious ARR offices as to whether we should build up a tourer on the basis of the CT. What do you think?

Kawasaki KLR650
Travel is ever close to our heart because it gets us out of the, let's face it, not entirely luxurious ARR offices, so we welcomed the latest addition to the KLR's accessory list. Yes, the bike has been around since before AC/DC had their first hit but the dedicated, lightweight and apparently very strong luggage set for it is new. High time, of course, and it makes it a lot easier to set the KLR up to do what it does so well: taking you and your gear to wherever you want to go!
Triumph Daytona 675
You wouldn't go travelling on Triumph's lightweight rocket ship, but you'd enjoy doing just about everything else. We were very impressed with the fact that Triumph has produced not only a contender in the incredibly competitive Supersports class but has actually built the best of them. The factory's decision to go with a three-cylinder engine has been vindicated and the franchise has even been extended with the Street Triple, another little ripper.
Suzuki Burgman 650 Executive
It has a similar engine capacity, but is different in just about every other way except the number of wheels. This latest version of the big Burgman will tour quite happily and will even tow a trailer without complaint – if you ever get the chance to attend a Ulysses Club AGM you'll see more than one doing just that and over long distances, too. Rob really enjoyed it, and wrote, "This is a scooter that goes from zero to speed limit in no time flat. It pulls up hills as if they weren't there. It keeps up with everyone else and lets you overtake or get away from traffic on the freeway." But what we all really liked was the button that allows you to fold the mirrors away electrically when you're sneaking through traffic.
Honda DN-01
Not quite a scooter and not quite a motorcycle, the DN-01 (nicknamed "Stingray" by some owners) is a hybrid that really works. The HFT (Human Friendly Transmission) automatic is quick to respond and ridiculously easy to use; the only problem is learning to not reach for the nonexistent clutch lever! It's a pity that the DN-01 was so overpriced when it was introduced, because its limitations (such as the lack of luggage space) can be overcome and it's a highly enjoyable machine. We rode one from Melbourne to Sydney and one of our readers equipped his with a full Givi luggage system. If you even think you'd like one, it would be an idea to get down to your Honda dealer now; they might still have one and the price should be reasonable.
HFT (Human Friendly Transmission)
The DN-01's automatic transmission has previously seen duty in ATVs. Its size – and especially length – presumably has something to do with the long wheelbase of its host bike.
Suzuki Boulevard M90
If you have a hankering for a big cruiser but – gulp – not that big a cruiser, the M90 may be just the thing for you. What we like about it is that it keeps the road presence (and, let's face it, intimidation factor) of big brother M109R without the weight and ponderousness. The M90 (that's the engine size in cubic inches) is a lot of fun to ride and pushes all the right buttons among cruiser enthusiasts. The styling is just a touch more conservative than the outrageous 109's, too. But we'll understand if it has to be the biggest for you.
Moto Guzzi V7 Classic
We thoroughly approve of the way so many motorcycle manufacturers now "mine" their own heritage for classic-looking recreations of their past models. Harley-Davidson has been doing it for decades, Triumph and Ducati do it now very successfully but our favourite is Moto Guzzi's pretty V7. It combines stylistic touches from various models in a remarkably good-looking whole that turns heads in the street. The bike is also nippy and light, a lot of fun to ride. We can't wait to sample the cafe racer version. We'd love to see BMW have a go, too, especially if it produces a boxer twin with those pretty double-lobed tappet covers; we never did get used to the ugly, flat, boxy ones.
Honda CB1300S
Another bike that has lots of classic overtones, the CB1300S is hardly a new model, but it came to our attention when we borrowed one for a ride in New Zealand. It's so easy to forget just how good some of the bikes are that have been around for a while; in this case we were quite amazed. The 1300 was a sheer pleasure to ride and would take touring gear without complaint as well – we managed with a seat bag but you could easily fit panniers or just use throw-overs. There is plenty of power but the overall impression is of relaxed competence.

Honda VT1300X
Called the Fury in its home, the US, this is really the first factory-built chopper. That might sound about as likely as a Royal Enfield Superbike, but the Fury not only looks good – it's based on the Captain America bike from "Easy Rider" – but also goes and handles remarkably well. Careful attention to detail makes it a feast for the eyes and the 1300cc V-twin puts out more than enough power to make the bike a genuine pleasure on the open road. Pricing is quite realistic considering it would cost you at least twice as much to build something similar from scratch. An ABS model is on the way and while it's definitely not directed at the touring rider, it is possible to put big miles on it. We did – see Cruiser+Trike #3 for the full story!
Harley-Davidson TriGlide
Another design that's a little out of the standard comfort zone is this trike – once again, factory-designed, although based around a well-known kit – from Milwaukee. Harley-Davidson obviously has seen the writing on the wall as the Baby Boomers get older and can't hold up their Ultra Glides any more. What to do? Easy – build a Glide that doesn't fall over! The Motor Company has a long history of building three-wheelers, of course; its Servi-Car did everything from towing cars to carrying parking police for decades. The new TriGlide is a fully equipped tourer with luggage space not only in the top box but also in a sizeable locker underneath it. And yes, it will be coming to Australia – it's just taking a little time to dot every "i" in the approval process.
Kawasaki Ninja 250
And now for something completely different: a neat, tidy little GP replica that's become the biggest seller in the Australian market. And we all thought that 250cc sales would dwindle to next to nothing with the introduction of the much bigger Learner Approved Motorcycles! We guessed wrong there – the Ninja might sell partly, at least, on price but it's obviously also giving a lot of new riders a lot of pleasure. Kawasaki is laughing all the way to the bank because the bike essentially is just the old 250 in a new set of clothes, so tooling and development costs would have been minimal.
Triumph Thunderbird
We just squeezed in a ride on this bike before we went to press and we were very pleasantly surprised. Originally we had thought that the styling was far too generic but it grew on us and the rest of the Thunderbird convinced right from the word "go". Not only does it have the power and punch that you'd expect from a 1600cc (vertical!) twin, but it handles as well and goes around corners – subject to the usual clearance limitations. The ergonomics are excellent. Triumph is going to considerable trouble to offer a good range of accessories and we'd be surprised if the aftermarket didn't get into the act too.
The envelope, please…
The surprise package for 2009 was undoubtedly the KTM 990 SM T. Being keen tourers, you might have expected us to choose a touring bike (although we didn't last year) but you probably would not have predicted that our pick for the Australian Road Rider Bike of '09 would be a supermotard. Well, of course the SM T is both, so we can make a decision and still sit on the fence!
But classifying this KTM is a nightmare. The bike is well and truly a sports tourer, although of course it is also naked. Fortunately, riding it is a sheer delight. We put quite a few ks on two of them, one with the optional luggage and one without, and came back with a big grin every time. It's huge fun riding a bike that handles so well and so easily and has no trouble at all racking up the miles. Fully adjustable suspension helps. Luggage space is pretty limited even with the factory tank bag and fabric panniers, but you can always add a rack and seat bag – or just learn to pack light!
KTM 990 SM T
The way the Austrians have put this bike together it is just about the perfect melding of fun machine and mile muncher. Everyone who rode it loved it, except those unfortunate enough to suffer from ducks disease. The seat height of 855mm can make it a handful to hold up, despite the very reasonable weight of 196kg dry. The engine is a delight. Congratulations, KTM 990 SM T – the Australian Road Rider Bike of '09!