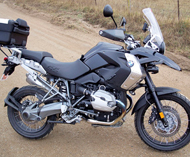 Adventure on the dark side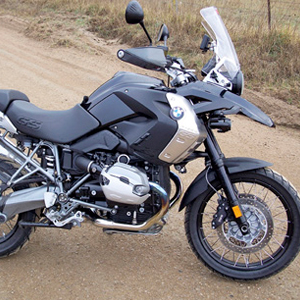 We give the BMW R 1200 GS Triple Black a work-out on the Cave-to-Cave run
BMW's R 1200 GS has led the big-bore adventure machine category for a long time and now the Bavarians are tempting you even more with the release of the Limited Edition Triple Black. So what better way to test this bike than by doing the Caves-to-Caves run from Jenolan to Wombeyan in NSW, with a detour to Yerranderie in between?
What's different?
There are no mechanical changes to the R 1200 GS Triple Black from the delightful new twin-cam engine we tested in a previous issue. What the Triple Black does have is a sapphire metallic black paint job, black cross-spoked wheels, dark grey swingarm, rear frame and valve covers and black forks and engine. It also has a special BMW Traction Pack — Enduro ESA suspension, ASC, ABS and tyre pressure monitors — the seat has an embroidered GS logo and you get all this for the bargain price of $26,250.

Accessories
A number of genuine BMW accessories were fitted to our test machine including a top box ($700 + $372 for mount and fittings); a GS tankbag ($475); BMW Motorrad Navigator IV GPS with current maps ($1588 + $167 for mount kit); valve cover protectors ($376); and a set of BMW driving lights ($380 + $523 for mount and fittings).
This lot adds $4,481 to the bill, giving you a fully kitted-out bike for $30,831.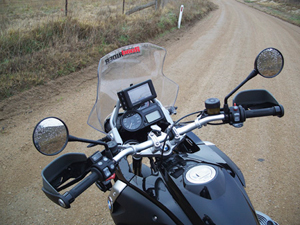 The ride
Before heading off, I zip the tank bag off because I find it not only cramps my movement in the dirt; it also bashes me right in the family jewels when standing up. The other accessories are more than worth the money because they make life easier.
From Sydney I make my way up The Bells Line of Road to the Darling Causeway, heading across to Mount Victoria and down to Little Hartley for my first taste of dirt along the Coxs River Road. That meets up with the Jenolan Caves Road at Lowther. Not far down the road I look across to my left into Jenolan State Forest and the fog makes it seem as though I'm riding above the clouds, something really worth seeing (on the right day).
Jenolan Caves Road becomes interesting with many tight turns to enjoy. It's wet after overnight rain so it's even more fun. The enduro electronic suspension on the Triple Black allows me to pick the perfect setting for these trying, slippery conditions. Traction control is also very welcome and the "rat-tat-tat" from the crisp exhaust note lets me know it's well and truly doing its job.
I make a quick stop at Jenolan Caves to have a look around. These caves are the most notable of several similar cave systems in this limestone region, being the oldest discovered open caves in the world. They include numerous Silurian marine fossils and the calcite formations, sometimes pure white, are amazing. The cave network is enormous: more than 40km of multi-level passages waiting for you to explore. Several kilometres of the caves are easily accessible to paying visitors and are well lit.
From Jenolan I do the short trip to Oberon to refuel. If you're already fuelled up, there's a great little trip heading out of Jenolan Caves to the Kowmung River crossing on the Kowmung Fire Trail. Check it out.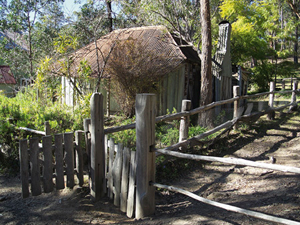 As I have many more kilometres before me, I refuel at Oberon and head out along Black Springs Road which turns into Dog Rocks Road, travelling around 48km to an unnamed dirt road, but is well signposted to Yerranderie and Mount Werong. I follow this to the end and make a right turn.
This is the Oberon-Colong Stock Route from a long-gone era. On the BMW GPS it's called the Uni Rover Track. I follow this all the way to Yerranderie, which is well signposted all the way — all up, about 60km from Mt Werong.
The dirt roads are heavily potholed so fast riding is not recommended. The last thing you want to do is come off in this territory; not only is there a dingo conservatory out here but the elusive Big Foot and Yeti may fancy you for dinner!
I must stress, do not attempt the route from Oberon-Yerranderie-Wombeyan Caves-Mittagong unless your bike has a good 280-plus-kilometre range. You might wish to carry extra fuel along the way or make it an overnighter heading back to Oberon, because this is lonely country and there's no fuel around for a long way.
Yerranderie is an old private silver-mining ghost town. It really isn't that far away from southwestern Sydney but unfortunately the Water Board has blocked access from this side, so you need to travel the long way round to get there. The town is chockers with Australian history; check out www.yerranderie.com. There's a $6 fee to look around and the caretaker will zoom in on you when you enter the town. For an overnight stay you pay only $12 for a campsite, hot shower, kitchen and fireplace.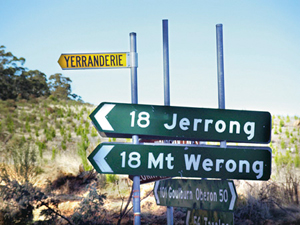 Leaving Yerranderie I make my way back towards Mount Werong on the Uni Rover Track; I'm heading towards the Range Fire Trail but, depending on your GPS, it may be called Mount Fatigue Fire Trail. I would have loved to turn onto the Limeburners Fire Trail but this, along with many of the trails in this area, has been closed off by National Parks and Wildlife Service.
Range Fire Trail is much rougher than the Uni Rover Track with some heavily shaded areas; the soft muddy sections will make your heart race. The Metzeler Tourance tyres fitted to the Triple Black are the new design, which has seen the front become more road orientated. The rear is still fantastic but in mud the front is a handful.
Towards the end of the Range Fire Trail is a Y-intersection. I take a right turn and continue on for a kilometre or so to face another Y-intersection; this one is signposted as a left turn to Wombeyan Caves.
As I near Wombeyan Caves Road, the GPS is telling me to go straight, yet there is a small mound with a right arrow — all of this as I hit the deepest mud section of the day — so I ride the slide and hope I stay up. I trust the GPS and go straight (or is that the slide that takes me straight?). Anyway, a few hundred metres up the muddy slush is the pampered start of my travel towards Wombeyan Caves. Or so I think.
This piece of dirt turns into bitumen, then back to dirt, and gets more and more corrugated the further I go — so much so, it rattles all of my allen keys out of their snug holder. In the dirt, the ABS and traction control are better turned off. Over corrugations, with traction control on, you'll virtually go nowhere. In conditions like this there's far more control with it turned off — and reaching it to do so is easy.
I ride down the hill into the Wombeyan Caves carpark, get off and take a short walk to one of the nearby caves. But, as time is of the essence, it's only a quick peek and I keep riding.
If you've got the time, the Wollondilly and Junction caves offer excellent all-round tours with a wide variety of features and the Figtree Cave is regarded as one of the state's premier self-guided cave experiences. Activities at Wombeyan Caves include cave tours, camping, hiking, canyoning, tennis and swimming. This is also an ideal place for bird watching and photography.
Climbing the twisty, heavily corrugated roads from Wombeyan Caves, I arrive at Mittagong (and fuel!) and head along the boring bitumen up the expressway back home to Sydney.
This is a great one-day ride if you're not particularly interested in looking at scenery. I did take a bucket load of photos along the way, so there is time to fit some sightseeing in. If seeing all the sights and taking your time is your thing, this will make a great two-day trip.
What worked?
BMW's Navi IV GPS was worth its weight in gold, almost making physical maps a thing of the past (but not quite just yet). Being able to scroll along your route and see whether you're on track or have missed a turn is invaluable when travelling alone.
The driving lights worked extremely well in the heavy fog of the morning and the utilitarian-built topbox easily housed my tools, puncture repair kit, food, camera, spare clothes and gloves (for varying weather conditions) and all the other little things I take to make a trip like this comfortable.
The Triple Black offers you a bike with looks as well as function and it deserves to sell out quickly.

Quickspecs
Model: BMW R 1200 GS Triple Black
Price: $26,250 (plus on-road charges)
Warranty: Two years, unlimited distance
Servicing intervals: Every 10,000km
Engine: Air/oil-cooled, 4 valve per cylinder DOHC, 4-stroke, flat-twin cylinder
Bore × stroke: 101mm×73mm
Displacement: 1170cc
Compression: 12.0:1
Power: 81kW @ 7750rpm
Torque: 120Nm @ 6000rpm
Transmission: Six-speed, dry single-plate clutch, shaft final drive
Suspension: Front, 41mm BMW Telelever, adjustable preload, travel 190mm. Rear, BMW Paralever, adjustable preload and rebound, 200mm travel. BMW Enduro Pack: Enduro ESA suspension, ASC, ABS and tyre pressure monitors
Dimensions: Seat height 850–870mm, 820mm (low seat), 790mm (low suspension), kerb weight 229kg, fuel capacity 20L, wheelbase 1507mm
Tyres: Front, 110/80/R19. Rear, 150/70/R17
Frame: Two-section frame with load bearing engine/gearbox unit
Brakes: Front, twin 305mm discs with four-piston fixed calipers. Rear, 265mm disc, twin-piston floating caliper
Fuel consumption: 6.12L/100km, premium unleaded
Theoretical range: 325km
Colours: Sapphire Black Metallic
Verdict: Adventure loaded