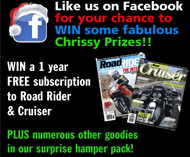 Want to win a 12 month subscription to Road Rider? Plus a little hamper filled with Road Rider goodies? Here's your chance.
Just follow the steps below:
Like us on Facebook (if you haven' t already!) by clicking the Facebook icon below.
Select our Facebook competitions tab to find the competition page.
Then simply tell us why you think you should win our fabulous Road Rider Christmas prize?
Email your answers to rwilliams@universalmagazines.com.au



*NB- FOR NON- FACEBOOK USERS YOU ARE STILL ELIGIBLE TO ENTER OUR CHRISTMAS COMPETITION BY SKIPPING STEPS 1 & 2. SIMPLY EMAIL YOUR ANSWERS TO; rwilliams@universalmagazines.com.au

It's that easy! Good luck in the draw and remember to stay tuned for our next giveaway.