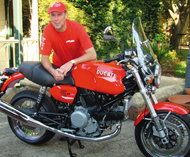 Transformation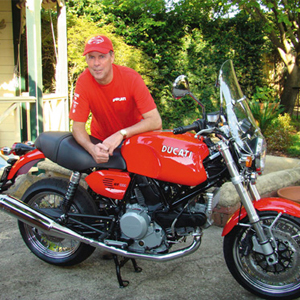 How to turn your GT 1000 into an attention grabber
Words and photos: John Rogers
I had crashed my BMW R 1150 because of a momentary lack of concentration and paid the penance by breaking my wrist, so I was in the market for a lighter bike.
I was reading the March–April 2010 (#58) issue of Road Rider magazine when two test bikes took my eye. The first was the Royal Enfield Bullet, a rework of the all-time single-cylinder classic. The other was Ducati's retro-styled GT 1000. After some research I chose the GT 1000 since I just couldn't see myself putt-putt-putting along on the Enfield — although I would certainly not be receiving speeding tickets!
Prior to delivery I was a busy beaver on the net, sourcing accessories to give this bike a personal touch. I insist on supporting the local agents and manufacturers where possible and only source a product overseas if it isn't made or distributed here.
I had a Corbin seat on the crashed GS so a version to suit the Ducati was the first thing I ordered (corbin.com/ducati/dgt10gl.shtml). I called VPW Australia, the Corbin agents in Oz (03 8405 9200), and my new seat was booked in their next container from the US West Coast.
With the previously mentioned broken wrist no longer able to take as much pressure as it once did, a set of risers was next. These really nice 25mm polished alloy risers were sourced from Spacer Jim (spacerjim.com/index.html) in the US for only US$30 plus a few bucks for postage — all up, about A$45 — and they were here in six days!
I didn't like the standard "lollypop"-style mirrors so a call to Ducati City Melbourne got me a pair of retro-styled bar-end mirrors and an alloy bikini headlight fairing into the bargain. The mirrors really add to the retro look although at certain rev ranges (anywhere from 1000rpm to 8000rpm) things get a bit fuzzy! Oh well, who wants to keep looking backwards, anyway?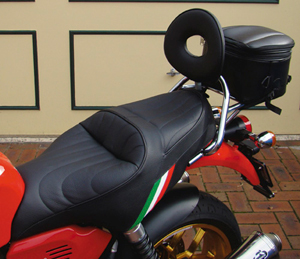 Since it was smaller than a saucer, the standard screen for the headlight bikini fairing was next to useless so I sent my new alloy bikini fairing to the good people at Eagle Screens in Perth, (eaglescreens.com.au) and after some really helpful email exchanges a design and colour was settled upon and in a couple of weeks the new screen arrived. It was a one-off since Eagle Screens hadn't done one of these before and to say it looks fantastic is an understatement. It has transformed the look of the GT from a nice retro bike to a real attention grabber, appealing to those who appreciate subtlety of form. Custom Colour Motorcycle Cosmetics in West Heidelberg (03 9458 5318) painted the fairing Ducati red with green and white stripes matching the inlaid striping on the Corbin leather seat.
With winter approaching, the huge vacant area above the rear wheel splashed water all over the legs of The Handbrake, who insisted this be remedied. Another search of the web found Sport Classic Hugger (webbikeworld.com/ducati-motorcycles/sport-classic-hugger/). This moulded hugger is available in both touring (long) and sport (short) styles and simply screws into the existing holes in the swingarm cross member. This neat TPO-based plastic hugger arrived from the US in six days and, including freight, cost US$140.
I've never been a big fan of spoke wheels because they're heavier than alloys and a real pain in the rear end if you have to repair a puncture. One of the forums mentioned Carrozzeria wheels (forged-wheel.com/Ducati.htm) so a long and lustful look on their site soon linked me to their Aussie agents, Redline Motorcycles, Dandenong (03 9792 5025) and I ordered a set of forged gold anodized wheels and a set of four-pot Brembo calipers to suit.
These items took about three weeks to arrive and completely altered the feel of the bike. Turning in is so much sharper that I can turn later than I could on the steel rims and the Brembos are just amazing. All those who have had a close look at these wheels are not just impressed, they're rapt! They make the stock alloy rims look, well, just that: stock.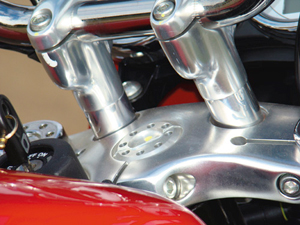 The standard pipes didn't do the bike justice — they were soooo quiet I had to look at the tacho to see if the engine was running. I remedied this with a set of Termignoni pipes that came with a new ECU chip and modification for the airbox. This was all ordered through Ducati City.
With the pipes fitted the GT actually sounds and performs like a Ducati should! The "Termis" come with dB killers (their catalogue name!) which simply push into the exhaust opening and are fixed into place with a single bolt. If you think the local rozzers won't understand your adherence to the saying, "Be heard and be seen," then keep the dB killers fitted until you find the need for some true Ducati music. My dB killers only came out of the box for the photos!
One of my pet hates is picking bugs, mud and other foreign matter out of radiators. A quick call to the guys at Radguard (radguard.com.au) had the necessary oil cooler guard here in a couple of days and, with a clip-on arrangement, it was quickly and easily fitted after I put some aluminium fly wire mesh behind it to keep out not only muck and big bugs but all those micro bugs as well.
Being used to voluminous amounts of storage in the Beemers, finding a spot for the sunnies, water bottle and Autocom communication pack was becoming a problem. The easy answer was a tail rack and the beautiful Ducati leather bag to suit. This tail bag really is a work of art when compared to some of the pre-moulded stuff that's out there. The bag can be expanded to 10 litres and will do for all but overnight rides where "she who takes everything" will stash the essentials that make women different from us mere males.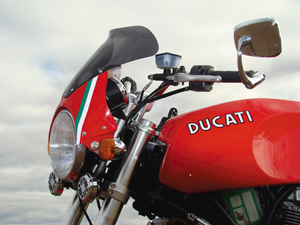 The Ducati panniers have arrived but are not yet fitted so I really can't comment on them although, with their hand-crafted leather work and easy snap-on fittings, they look perfect for their intended purpose.
Friends have asked me why I haven't gone for carbon accessories but this is a retro-style bike so I don't see the point. When finances allow I will be fitting is a set of Wilbers shocks; the standard ones are not up to the mark on anything but billiard-table-smooth roads and I only have so many tooth fillings that can be shaken loose.
I've really enjoyed this project and discovered a new world when it comes to accessorising my GT 1000. Now all I want is some good riding weather.