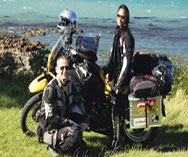 Here's to living the dream
Former Sydneysider Sarah Wong and German/New Zealand lawyer, Robert Foitzik recently set off on a three-continent 20,000km bike trip from Singapore to Germany, where they expect to arrive in early October. Here we meet the pair who will share their adventures and experiences with Australian Road Rider readers, as Sarah tells us of dreams, fears, questions and what it's like for a woman to pack a wardrobe into a space the size of two laptop cases…
"You're a wee thing to be hanging off the back of a motorbike,
aren't you?" the doctor blurted out while rushing off to get the
syringe for my 12th and last vaccination. At 157 cm and by nature
reserved and shy, I probably don't come across as your typical "bikie
chick", even if I'm just "hanging" on the back.
Robert and I are your average, everyday people – working, bills to
pay, dreams always compromised for one reason or another and put on the
backburner. Robert, 39, the rider, is a German/New Zealand lawyer; and
I'm the passenger, Sarah, 28, a linguist born in New Zealand.
Five years ago, we had what seemed like a far-fetched dream –
motorbiking over the Silk Road; 20 countries across three continents,
leaving behind the well-paid jobs, living off our savings, no home, nor
any comforts of home.
It was Robert's idea, inspired by an adventure he had had through 21
countries of Africa on his BMW R100 GS some 10 years earlier. Instead
of flying back after his time in New Zealand, he thought he'd ride
home, through South-East Asia, the Middle East, the Gulf, northern
Africa on to Germany.
When he asked me to join him, it didn't take long for me to wonder
if I'd be prepared to reduce my wardrobe for the next nine months into
a case the size of two laptop bags, drop the luxury of more than one
shower a day, forget nice nails, anything girly, fashionable clothes,
let alone clean ones! Add to that, the "danger" of being on a
motorbike, suddenly being eyed suspiciously as "loose and
irresponsible" and travelling through some of the world's most dubious
places. After all, who wants to go through regions synonymous with
terrorism on a 16-year-old motorbike with 140,000km on the clock?
The latter was a real concern for Robert, who has owned the bike for
15 years, so knows it inside out. He was also aware of its shortcomings
after his trip through Africa and insisted on some major upgrades to
bring it up to speed for the journey ahead. Among other things, the
bike had fitted steel brake cables, hand-guards, an alarm with remote,
GPS, new seat padding and cover, clutch, cam chain, carrier for the
panniers, new front and rear brake pads, valve heads and, most
importantly, new WP springs for the fork and a new WP rear shock
absorber (which, according to Robert, was the most important
upgrade/replacement of all).
Somewhere after saying "yes" all those years ago, I found myself
living in Australia and Thailand before the trip came up again. Robert
was living in New Zealand. This time, we both said, let's stop
procrastinating … it's now or never.
I packed my bags and headed back to New Zealand in July last year to
allow six months to prepare together. Just how much was this overland
odyssey going to cost and how can we afford it? What gear do you take?
What about the situation in Pakistan? Would the old Beamer make it?
Where on earth do we start? It all seemed so overwhelming.
Some six stressful months later, after skimping here and there to
save funds and with all our energy having gone into preparing for the
trip in the evening and weekends after our full-time day jobs, we were
almost there.
All the unexpected costs had mounted up beyond belief and we
actually started to wonder whether this was a good idea. Somehow it
would be worth it, we promised ourselves.
Our friendship cracked under the pressure and we were barely speaking
to each other before the trip had even started. How were we supposed to
survive being in each other's face basically 24 hours a day, 7 days a
week for more than 250 days under stressful conditions?
When it was finally time to leave, we were broke, stressed, but we
boarded the plane to Asia with a tiny sense of relief that the hardest
part – the preparation – was supposedly over.
Well, that's what we thought: as I write, we're now impatiently
waiting for the bike to arrive in Singapore. We're into our second week
of hassles and hitting bureaucratic nonsense, day in, day out.
The bike is delayed: no one tells us it arrives. We ring every day
and struggle to understand Singlish. Everything was basically closed in
early February for Chinese New Year, we have to pay an agency fee, a
handling fee, a cargo fee, a terminal cargo charge fee, wharfage fees,
delivery order fees, some other loose handling fee, compulsory
insurance, an e-tag for the bike to get around the island through
tolls, an autopass to get off the island, an electronic circular
permit… (don't even ask what that's for!)
Our days here seem to only be spent on wild goose chases to various
government agencies from one side of the island to the other.
We head to the warehouse at the wharf to see what's going on with
the crate. We've been informed it arrived on February 8. That's great
news to get on February 12 and it still hasn't been unloaded from
within the six metre high mountain of boxes and crates in the
warehouse. Please ring tomorrow to check if it has been unloaded or
not, we're told.
Of course, the bike had to be partly dismantled before it was crated
in New Zealand. Front wheel off, fuel drained, the shock absorber
removed as the bike wouldn't fit in the crate.
We're also not sure if we'll be allowed to assemble the bike in the
warehouse and someone asks us whether we have access to a tow-truck to
take the 450kg crate away.
Ah, the long-awaited dream turns into reality…
ARR
Robert and Sarah's trip website can be found at:
http://www.underforeignskies.com