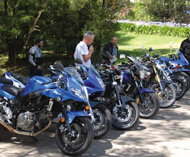 Meet the hoggets
Whether you're interested in LAMs or not you'll learn something here
Once upon a time you could ride only 250s while learning. Here are the bigger LAMs on which you can start your motorcycling these days. Why are we calling them hoggets? Well, that's what lambs are called when they get a bit bigger, isn't it?
By the time you read this, all States except for Western Australia will have pretty similar LAMs laws. Please check the details locally but these bikes should be legal everywhere where the LAMs laws apply. Many more are legal in the ACT.
Obviously we had to be a bit selective in order to bring the numbers down. These bikes are all between 400cc and about 650cc. They were all current models when this story was compiled and they are road bikes – we deliberately left out trail bikes and enduros, some of which also qualify.
Unfortunately we also had to leave out the Honda VT400 because Honda couldn't get one ready in time for the comparison. We do have one now and it has been examined in detail in our sister publication Cruiser+Trike.
We gathered a selection of our usual suspects to take these bikes out for a day's intensive analysis (see box for their details) and exposed them to a variety of conditions, including a little bit of dirt road. I hope you find our conclusions interesting and useful if you're getting into motorcycling or advising someone who is.
In fact, I think you'll find them interesting anyway. Oh, when there was a lot of duplication of opinion I edited it out after the first mention. You can pretty much assume that everyone agreed if they don't disagree below!
Derbi Mulhacen Scrambler 659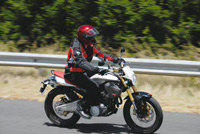 The first bike alphabetically was also the one that got most comments. It raised more than one set of eyebrows, too, when we rolled it out of the garage at the beginning of the ride. Not only is Derbi a new brand to Australia but the bike offers quite a different and very stylish look.
That look didn't really work on Tom.
"The word that came to mind the instant the engine fired was 'agricultural'," he writes, "but that could be said about a few singles.
"Most learners wouldn't get into too much trouble with this bike. However, I found the instrument pod too small and too low in line-of-sight terms and the vibrations didn't help with reading the instruments or with the rear vision mirrors. The seat is higher than some learners might like. It's a basic bike, but quite interesting overall."
Despite his demonstrated leaning towards BMW, Victor on the other hand was smitten. He did admit to a vested interest, though.
"After riding, or even seeing, this bike anyone critical of Spanish motorcycles should think again. Just beautiful…but then again, I'm Spanish too.
"This bike is way cool. If I was buying one of the bikes we test rode for myself, this would be it. It takes motorcycle design into a new realm. Love it or hate it, but one thing is for sure, you'll certainly notice it.
"The riding position is perfect and I was totally comfortable. The fuel tank is uniquely shaped to ensure your knees are well protected from wind and rain. The engine is throaty and the brakes not only have awesome stopping power, but they have a unique and futuristic shape that make conventional round disk brakes look so uninspired.
So that reads like a thumbs up from Victor, then.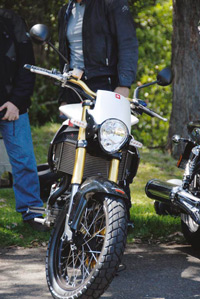 Bob was commendably brief in his analysis and more or less agreed with Victor.
"Tall seat disconcerting at first but good riding position and 'feelsome' if quick steering. Great brakes, good gearbox. Reasonably flexible engine; good power without overbearing vibration. Side-mounted rear shock is a nice practical touch. A lot of fun," he concluded.
In detail, Rob agreed mainly with Tom but in the end the bike did convince him.
"The wholly LCD dashboard is a little too small and a little too far away," he wrote. "To my eye, the styling does not work but on the other hand, the open and naked feel of the bike is attractive. The seat might be a little hard and the engine vibrations a little rough for a long ride.
"On the other hand, it definitely had the most responsive engine and the handlebars gave the bike a particular sense of stability and control. A very impressive motorcycle."
An unexpected association came to John.
"When I slurped aboard and started the machine, my first impression was 'KTM'," he wrote. "The Derbi is a little higher off the tarmac than most, has quality suspension equipment at both ends and the tyres use a dual-purpose profile and tread.
"The controls are light and easy to use, the bars are adjustable and the gearbox is nice and light. The machine, being slightly higher geared for the street, makes it known that there is a big cylinder flailing around inside the motor; clutch technique would be a required skill for the rider. The Derbi's light weight and good balance provide a machine that is very easy to handle.
"This would be an ideal machine for the motard-dual purpose enthusiast to start a riding career."
The same comparison came to Brendan's mind.
"Sitting bolt upright on a pretty uncomfortable seat it reminded me of a KTM," he wrote. "The single-cylinder engine is extremely well designed, pulling away aggressively in first and second gears. The bike sits comfortably on 110km/h, although like all of its weight and design is subject to cross wind.
"The powerful, large single front disc is 'sudden death' and takes a little bit to get used to. Although I didn't immediately take to the Derbi, after almost an hour on sweeping bends, gravel roads and suburban streetscape it is a more than interesting bike.
"The Derbi stomps about barking 'play with me!'" reckons Guy. "It's a hoot, with quality kit all over. Suspension is first class, with long travel that is well controlled and astoundingly bitey brakes courtesy of Brembo.
"The street motard style is quite tall and not too good for a shorty but it's rewarding and just plain fun to ride. The big single belts out the torque down low but vibrates a bit, which, along with the lack of any wind protection, makes it an urban warrior, rather than a tourer of any description.
"This is easily the most maneuverable at slow speeds, able to thread the needle in tight spaces. Can I borrow it, please?"
Specs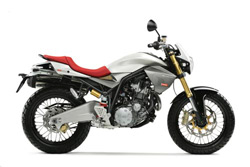 Derbi is part of the giant Piaggio empire, so although the brand is new to Australia, the technical expertise and quality should be more than satisfactory. A modified pipe and a tuning kit are available to increase power.
Price (plus on-road costs): $12,950
Engine: Liquid-cooled single, four valves
Displacement/compression: 660cc/n/a
Transmission: Five-speed gearbox
Tyres: n/a
Warranty/service interval: 24 months/10,000km
Seat height: 810mm (800mm)
Dry weight: 164kg
Fuel capacity: 13l
Honda CB400 Super Four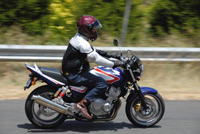 Tom was ambivalent about the little Honda but in a good way.
"Oh, I do love these small four-cylinder engines," he wrote. "The Honda sings and its engineering shows through from the minute you fire it up. I did feel I had more weight on my wrists from the lower handlebars and I found the rear vision not as good as the Suzuki GSX's. Unusually for me, I really liked both sports bikes – but a learner could easily get into heaps of trouble by enjoying just a tad too much, too often, what these bikes offer."
Despite his infatuation with the Derbi, Victor soon found another favourite.
"Overall, this bike was my favourite," he wrote. "It's just beautiful. I really can't find a fault with it. It's engineering perfection. The engine is responsive, the gears are smooth, and the double front disks provide awesome stopping power.
"If you're over 6' tall, you may find the bike a touch on the small side, but if I were recommending a city bike to a learner, this would be it."
Bob also liked it but shared Tom's reservations.
"Thoroughly amenable once you're used to its quick steering," he wrote. Agreeably neutral riding position. Zero flywheel, impressive power from 7-8000 to redline. Controls, gearbox, clutch, switches typically excellent Honda quality. Bike is also physically small and light, easy to chuck about. Is a wring-its-neck bike good as a LAM, though?"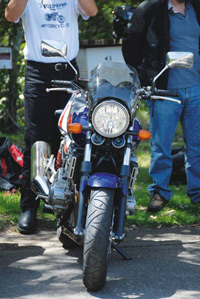 Rob, who has three "inoperative' old Honda 400 Fours tucked away in sheds, thought the bike "stacked up very nicely to the 650s in the flock and did not seem much less powerful. Not perfection but very close!"
Drawing on his background as trainer, John also gave the bike the thumbs up.
"It delivers a great learner rider package," he wrote. "The motor delivers smooth power and is a real little revver. Gearbox action is smooth and the six ratios well sorted. This is a very easy bike to ride.
"The analogue instruments are well placed and the adjustable bars and levers allow the rider to set the machine up to their specifications. The brakes are excellent and retardation is delivered smoothly and predictably. The seat is only 770mm from the road, so the CB400 would suit most body shapes.
"The suspension works well and the front forks and twin rear shocks offer preload adjustment. The weight of the liquid-cooled, in-line four-cylinder motor makes itself known in low speed balance but overall weight is such that it shouldn't be a major problem. It would be easy for a new rider to adapt to this little gem."
Brendan agreed about the performance of the Super 4 package and added that "this is terrific value for money for someone learning and at the early stage of their motorcycle career intending to graduate to a larger sports model. It would also be a great second buy for someone who already has a cruiser and who is looking for something simple, safe, smooth and pure fun!"
But he settled for a Hayabusa instead…
Guy wasn't as excited about the bike as some of our other riders but he still gave it a good wrap.
"A small, high-quality bike that is well sorted, an all-rounder that is incredibly useful and versatile. Not terribly exciting to ride but satisfying, with easy linear power, a great gearbox and light controls. An easy bike to manage that can be turned to any purpose," he wrote.
Specs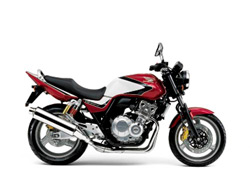 This is Honda's biggest-selling bike in Japan, where it fits into an affordable insurance category. The bike is a LAMs machine as it comes from the factory, so a conversion kit or technique are not available.
Price (plus on-road costs): $10,990 ($11,990 with ABS)
Engine: Liquid-cooled transverse four, DOHC
Displacement/compression: 399cc/11.3:1
Transmission: Six-speed gearbox
Tyres: 120/60 17 front. 160/60 17 rear
Warranty/service interval: 24 months unlimited distance/6000km
Seat height: 770mm
Curb weight: 194kg (198 kg)
Fuel capacity: 18l
Hyosung GV650 Aquila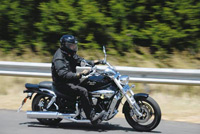 Tom was dubious at first but came around.
"I thought initially this bike was a 250," he wrote. "If you yearn for owning rural property, this is the cruiser for you – you'd be pardoned for feeling you were on a ride-on mower.
"Having said that, as a safe little cruiser it's actually quite good. It handles and brakes well, though I felt the digital readout face panel could have been larger – the figures and numerals as well. The bike looks the part as far as the junior cruiser world goes, nice chrome, comfortable seat."
Victor just straight out liked it. Maybe he was missing his BMW Cruiser.
"I enjoyed this," he wrote. "It might not have the image of some of the more expensive bikes but I felt very comfortable on it and found it easy to manoeuvre. Even though the foot controls are a long way forward, they're well placed and it's easy to brake and change gears. It has a modern stylish instrument panel and an edgy, even sporty, look about it with wide, thick and long front forks and sports wheels rather than spokes.
"I'm sure it's going to appeal to many riders."
Rather more mixed feelings came from Bob. We know he does not have an Aunt Mabel in Dunedoo, by the way.
"Tractable donk and cheap chassis; ancillaries dated and simple but okay," he wrote.
"Loud! Riding position very laid back. Does nothing very well but would get you to Aunt Mabel's in Dunedoo."
A couple of detail criticisms occupied Rob.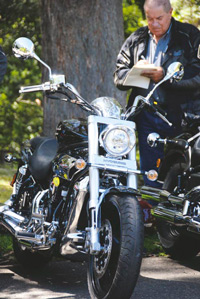 "The dashboard has a refreshingly primitive style of LCD numbers. Unfortunately, there is insufficient contrast in bright light. The mirrors are placed a little too wide, requiring you to move your head too much just to have a glance at what's behind."
John was almost entirely positive again and even surprised at how good the bike's suspension was.
"This nicely finished cruiser would appeal to the feet-forward set," he wrote. "All controls are easy to operate and the suspension is usual cruiser fare, being a tad firm in the rear. On a gravel road, complete with stutter bumps, I was pleasantly surprised at how well it dealt with this surface. It appears that Hyosung has the 41mm upside down forks and twin rear shocks nicely sorted.
"The 675mmm seat height and a dry mass of only 216kg makes the Aquila an easy machine to handle. The power should be adequate for a bike of this size but I did notice a tendency to run out of puff in top on some hills. Both the Aquila and its sibling, the GT650, gave the impression that they were slightly over restricted to meet LAMs specifications."
Brendan liked the bike's credentials as a LAM.
"A great buy for a rider in the early stages of his or her riding career," he wrote. "For blokes looking for something to get wives and partners on to, it is a great starter. The seating position is upright, low and comfortable, although I didn't have to put the bike over more than a few degrees to feel the heel of my boot nudging the roadway.
"The electronic dash layout is digital and easy to read. The temperature gauge, electronic fuel gauge and visibility right up front is terrific for any rider but particularly beginners. The bike is forgiving and can tolerate missed gear changes. The rear brake seems a little soft and can easily tolerate significant pressure being put on the pedal. However, the two discs at the front are very effective. The belt drive complements the gearing very well.
"I am still trying to work out the large decal on the tank with an extensive list of instructions which includes 'Do not be touched on muffler because it is hot'."
When you don't like cruisers, you don't like cruisers. Guess how Guy feels about them.
"The Aquila is heavy and very long indeed. I'd like to see the extraordinary novice who can get their 'Ps' by getting this ship through the MOST course. It's clumsy at slow speeds, with ordinary suspension and an awkward riding position.
"I think this is one of those bikes that you either love or hate. I'm in the latter category. But, it goes well and has reasonable cornering clearance, thankfully, as it wallows on bumpy curves. Nah, I just can't be nice, but if you want one, it probably won't treat you badly."
Now tell us how you really, feel, Guy.
Specs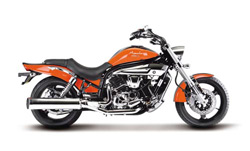 This restricted LAMs approved L version can be derestricted when required and brought back from 25kW to the full 58kW power output. This should cost no more than about $150.
Price (plus on-road costs): $9590
Engine: Liquid-cooled V-twin, DOHC
Displacement/compression: 647cc/11.4:1
Transmission: Five-speed gearbox, final drive by belt
Tyres: 110/70 17 front. 180/55 17 rear
Warranty/service interval: 24 months unlimited distance/6000km
Seat height: 675mm
Dry weight: 216kg
Fuel capacity: 16l
Hyosung GT650 (GT650S, GT650R)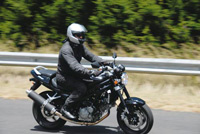 Feeling reasonably mellow, Tom thought that the GT was "a nice enough machine with good handlebar position for my stocky frame. The instruments were well-positioned, clear and easy-to-read and the gear change was nice and positive. Good seat height, luggage "hook" points either side of the pillion seat (most other bikes appeared to have none, or I didn't find them). If you like a bit of engine throb with your entry-point motorcycling, try this one."
Victor was less charitable.
"Given the price and the sporty look, I'm sure it will appeal to many riders, but I found it hard to get excited about this bike.
"It's black and stylish, with hard sporty suspension, which meant that I felt many a bump. The engine sounded gutsy, but it didn't have the get up and go of some of the other bikes.
"It comes with double front disks, but they weren't in the league of those on the Derbi or the Honda, which had far greater stopping power."
Likewise, Bob gives the GT a pass at best.
"Tractable engine but nothing up top," he writes. "Mushy gearbox action, harsh suspension, wooden front brake. Seating okay but long reach to bars over tank hump. Steering okay. Poor mirrors, marginal peripheral vision. Switches feel old and flimsy."
Rob, however, disagreed with both of them
"This feels like a very solid, well put together bike," he thought. "The turning circle is poor, which is unfortunate for a LAMs bike, and someone else mentioned that the gearbox was a bit clunky. I didn't think so.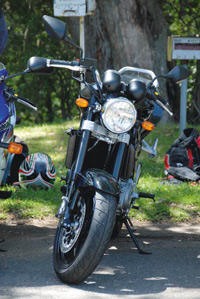 "The dash does not rely on LCD displays but has two analogue gauges and a row of large indicator lights: simple in design but among the easiest to read without squinting.
Everything about this bike seemed conventional and ideal, leading to the unfair accusation that it is characterless. Having said that, identifying a distinguishing characteristic has proved difficult!"
That opinion was backed up by John.
"A very nice package," he wrote. "Controls and bars are adjustable and the speedo and tacho are well placed. The 780mm seat height should suit most riders, while the 185kg (dry) weight and narrow profile provide an easy bike to manoeuvre.
"I found the gear lever to be more suited to people with very small feet. The power delivery and relaxed seating position make the GT650 an easy bike to ride and would suit most new riders."
It's right up there with Brendan, too.
"The bike is very easy to ride, responsive for a learner approved motorcycle and enables terrific control of its well synchronised gearing and higher revving engine. The twin gauges are conventional, well placed, forward of the handle bars, easy to read and in the centre is a temperature gauge. Brakes are solid from the twin calipers up front."
A little less enthusiasm from Guy, but even he came around.
"A good bike that rides well and is balanced but feels slightly ponderous. It's built to its price and this shows up in things like the slightly wooden feel to the brakes, the notchy gearbox and ordinary suspension.
"Honestly, it works well and never gave a moment of concern as to cornering or braking. It's easy to operate, with good instruments and mirrors and an excellent riding position. It copes with slow-speed maneuvers but demands a little extra effort over the Japanese and Spanish offerings. The surprise was the limited steering lock but that is only an issue when walking the bike around or in extreme slow-speed maneuvering."
Specs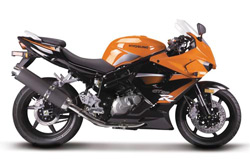 The S version has a half fairing and the R is a kitted-out tourer. As above, these restricted L versions are LAMs approved and can be derestricted when required for about $150.
Price (plus on-road costs): $7790 ($8790)
Engine: Liquid-cooled V-twin DOHC
Displacement/compression: 647cc/11.6:1
Transmission: Six-speed gearbox
Tyres: 120/60 17 front. 160/60 17 rear.
Warranty/service interval: 24 months unlimited distance/6000km
Seat height: 780mm
Dry weight: 180kg
Fuel capacity: 17l
Suzuki SV650S (SV650SA)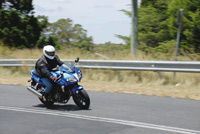 "If your ultimate aim was a Ducati, then this might be an excellent starting point," thinks Tom. "But my age, size and shape will work against me having an enjoyable ride with a variety of current machinery. Basically I found my hands were way too low and the pegs too high, which had me straining to keep my head high enough in the suburban traffic. A learner would have to be a true enthusiast to really enjoy this bike.
"That's not to say it's a bad bike; instrumentation was fine and overall the bike handled well."
That was the way Victor looked at it, too.
"Want to lose your licence quickly?" he asked. "This bike is a rocket that sports bike enthusiasts will love. The tacho is huge while the speedo is barely visible. Is the SV650 really learner approved? If so, who approved it and how much did they get paid?
"The forward leaning position put a bit of pressure this put on my ageing and increasingly sore back and wrists, but I did enjoy riding this bike. It handled beautifully through the curves and hills of the Bells Line of Road, where I completely forgot I was on a LAMS bike. In this environment, the SV650 was in its element. The bike seemed to have a mind of its own, urging me to keep it revving high and it was hard to resist as I twisted through the curves. Thankfully, the brakes give you plenty of stopping power, too."
In his usual laconic way, Bob sums the bike up this way: "Revvy but flat above 7000rpm. Nice chassis, taut suspension, clean, short-throw gear-change action. Riding position uncompromising (clip-on bars), mirrors marginal.
"Pegs too far forward for bars. Big analogue tacho above small digital speedo doesn't really work – speedo in shadow much of the time. A big bike that doesn't really work too well in restricted form. Handles nicely."
So there you have it, according to Bob.
Rob liked it pretty well.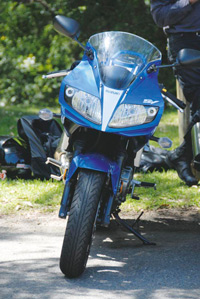 "This is the only sports bike in the selection and it is very comfortably set up as such," he wrote, "although it was a bit of a stretch to reach the handlebars over the top of a very large tank. Not only is the riding position sporty, so are the engine and gearbox."
John elaborated on those points.
"Definitely for motorcycle GP fans," he wrote. "The tacho is the most dominant instrument; to read the liquid crystal speedo display you need to take your eyes off the road.
"The basic controls are light and easy to use, although the levers are non adjustable. The bend on the levers is suitable for most, but those with small hands might take a little longer to be comfortable with their operation. The handlebars are not adjustable.
"The V-twin motor and the brakes require a little more concentration before a rider becomes comfortable with their characteristics, although the LAMs mapping should keep the new rider out of trouble while still providing a lot of fun. The brakes are very efficient, not always a good thing for the ham-fisted, and the sports-oriented motor appears to be running a lighter flywheel that requires a little more thought for low-speed throttle control.
"The six-speed gearbox is typical Suzuki, easy to operate. Suspension at both ends has adjustable spring pre-load, seat height is 800mm and, at 196kg, this liquid-cooled machine is an easy motorcycle to handle. Seat padding is good and the mirrors provide adequate coverage. The low bars and racer crouch would appeal to some but the sports set-up may not be the best for the average learner."
And Brendan said it again, also in a slightly different way.
"This bike has plenty of get up and go, corners brilliantly and would easily handle a pillion. It is excellent value for money for a beginner intending to graduate to a more serious sports bike, although anyone would be more than happy to keep riding on and on, on the SV650."
And so does Guy, although he also reflects some of John's concerns.
"Oh, it's a sports bike chassis alright. Damn good, too, with excellent handling and a really useful, broad range of torque from that gorgeous V-twin. For a spirited rider, it'll do the job well, but the rider has to work hard to use the mirrors, do head checks and find the instruments.
"A lovely bike, but not for the novice. In a different comparison test, this bike would rate higher, on its merits as a sports bike alone. Brakes, suspension, steering, gearbox, clutch are all right on the money for a fun bike."
Specs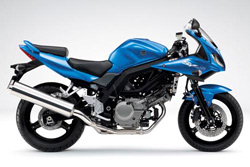 The A version adds a small bikini-style fairing to the plain SV650. ABS is available. Suzuki suggests that the bikes should not be derestricted when you've served your LAMs time, partly because they will probably hold their value better than the full-power versions. If you did want to undertake it, derestriction would involve de-registration and re-registration and could cost about $4000.
Price (plus on-road costs): $9490-$10,790
Engine: Liquid-cooled, 90 degree V-twin, DOHC
Displacement/compression: 645cc/n/a
Transmission: Six-speed gearbox
Tyres: 120/60 ZR17 front. 160/60 ZR17 rear
Warranty/Service interval: 24 months/6000km
Seat height: 800mm
Dry weight: n/a
Fuel capacity: 17l
Suzuki GS500 (GS500F)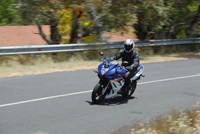 Tom wasn't entirely sure about this bike.
"The fact the pegs are a little high and rearward might be a tad tight for the larger-framed learner, but the seat and riding position is great," he wrote. "I got no buffeting from the small windshield and the rev counter and speedo dials are a good size and easy to read on the move.
"First gear throttle is a little touchy and the neutral light was difficult (for me) to see in full sunlight. Needs revs on takeoff and I found it stalled easily until, having faced a few red lights, I learned to up the revs to get away cleanly.
"The six gears provided good tractability in all situations I encountered and 110 on the freeway was a breeze. Overall, I thought the riding experience might be a little finicky for a learner."
Victor had no such concerns.
"There's nothing particularly exceptional, unique or inspiring about this bike but it would be a good bike for the genuine learner.
"It doesn't have the power of the SV650, nor the class of the Honda or the style of the Derbi but if you want a simple, reasonably comfortable, straightforward bike, that's easy to ride and has a relaxed seating position, then this bike has something going for it.
"It has a well-designed cockpit with a fairing that provides good protection from the elements. It also has good rear view mirrors."
I can only assume Bob had a somewhat different set of criteria in mind for the GS. And if you're a dispatch rider you might want to skip this one.
"Gets out of its stall nicely. Good riding position, instruments and cockpit. Engine a wearing disappointment. Won't pull below 5000, needs lots of revs and vibration to go and then unexcitingly. Okay handling. On this showing, I can only assume dispatch riders to be very poor judges of motorcycles."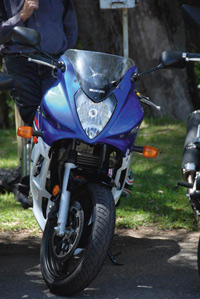 As ever, John looked at the package calmly and from the point of the beginner.
"This fully faired vertical twin offers the new rider a few features that would make life in the traffic a little easier. The power spread is well suited to the novice, while the 790mm seat height and low 199kg weight make this a good proposition to start your motorcycling career.
"The handlebars are adjustable but there is no adjustment on the levers. The analogue tacho and speedo are well placed and easy to read and the short throw gearbox is extremely easy to operate.
"The rear monoshock and front forks are adjustable for pre-load and brakes are predictable and smooth and would cause no problems to a new rider.
"The combination of a relaxed riding position, fairing and a 20-litre tank make the GS500F a good choice for the learner."
Ever the people person, Brendan spares a thought for the rider's mum.
"Mothers anxious about their son (or daughter) learning to ride a bike, can now relax. While the GS500 is set up with a faring and a sports look, this is an extremely sedate, easy to maneuver and ride motorcycle. The standard GS500, twin-cylinder motor purrs along nicely at 100km/h running at 5000 rpm.
"The seat is a little uncomfortable and I confess to stalling the bike twice. It would nevertheless be a good choice for a conservative beginner who wants a reliable, maneuverable and reasonably sporty looking bike.
"Your mother will sleep at night."
Guy has a similar message for potential buyers.
"A truly useful bike, with a proven history of reliability and low operating costs. Easy to ride and versatile with an excellent riding position, easy to read instruments and good mirrors. Straightforward power delivery, linear and with broad torque.
"The non-adjustable single disc front end works very well, as does the rear end and the steering is light and precise without being too quick or too slow. It's a cunning thing that encourages you to play and explore its limits. You'll find them, but like the Honda, clear warning signals tell you where they are."
Specs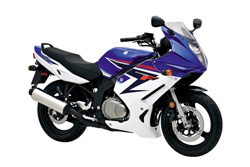 The F version gets a full fairing. The bike is a LAMs machine as it comes from the factory, so a conversion kit or technique are not available.
Price (plus on-road costs): $7690 ($8290)
Engine: Air-cooled V-twin, DOHC
Displacement/compression: 487cc/n/a
Transmission: Six-speed gearbox
Tyres: 110/70 17 front. 130/70 17 rear
Warranty/service interval: 24 months/6000km
Seat height: 790mm
Dry weight: n/a
Fuel capacity: 20l
Suzuki GSX650F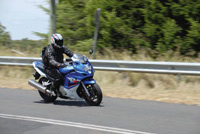 This is one bike that definitely got under Tom's skin.
"I can't believe this bike is eligible for a learner; it's an absolute cracker once you settle into it. Despite having a very sensitive throttle and awesome power for a 650 (I'd love this engine and gearbox in my Burgman Executive scoot!), I would think a learner should have an advance riding course under their belt before owning one. It's a great bike and I think such a course would go a long way towards ensuring a better riding attitude, aptitude and, ultimately, full enjoyment from it.
"The bike has a beautiful gear change and only needs minor throttle openings for a smooth take-off in first. I thought the bike could do with higher gearing, or a seventh overdrive gear. I found the dial rev counter and digital speedo an interesting marriage, while the lit digital gear selection was a boon at times. It has good rear vision mirrors and a comfortable seat at a good height.
"This bike ticks all the boxes for a learner really interested in experiencing what a small sports bike is all about – and there would be every possibility they would stay with the bike for a few years. I think it's that good."
Victor joined the chorus, although the GSX couldn't quite make it to the top of his learner list.
"A truly excellent bike," he wrote. "For me, it's in the same category of quality as the Honda CB400, which I loved. I spent a lot of time comparing these two bikes and wondering which was an overall better bike. If you like one of these bikes, you should think about taking the other for a test ride.
"Overall, I thought this was the pick of the bikes for any serious long-distance work. I could comfortably see myself taking this bike with some good panniers on a week-long journey through the countryside.
"This bike has a slightly bigger engine and is a little more sporty than the Honda but not as overtly sporty as the SV650. For example, the speedo is visible and gets equal billing with the tacho! I, for one, think this is a good thing. It's also a bit more comfortable for taller and larger riders and has a good size fairing that works well.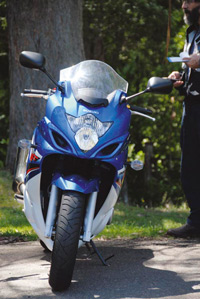 "Unlike the Honda however, which remains my overall favourite, the GSX650F doesn't have a centre stand! When you start getting this picky to distinguish between bikes, you can imagine how good they must be."
Even Bob was impressed, which was no mean feat.
"Instruments better than SV650 – analogue tacho and digital speedo in same horizontal plane – much clearer, simpler to read. Cockpit good, seating also (though bars kick back too far for me); but this does feel like a big bike – bigger than any of the others. Suspension supple, well sorted, chassis terrific. Great engine: tractable and full of go."
Well, it looked as if practically everything could be said about the GSX had been said. Rob agreed and just wanted to add that he thought it a "very smooth and attractive motorcycle".
But then we got to John, who raised a couple of caveats.
"This bike has a lot to offer – but there are a few drawbacks for the new rider, the main one being its 241kg curb weight. This should be of no major concern to most but it has to be considered in your choice of a leaner's motorcycle, especially when you're getting your head around low-speed handling.
"The GSX650F comes with adjustable bars and has the added benefit of adjustable levers and hydraulic clutch. Riding position is semi-racer but quite comfortable. Instruments are well placed and include a gear indicator, a handy item for those not familiar with counting gears.
"The seat, suspension and fairing work well. I thought that the motor/suspension combination could be a bit of a handful over rough tarmac for a new rider, but overall the package provides good value.
But Brendan wasn't having any criticism. He also thought the GSX would be a keeper.
"This bike is smooth and sweet. It handles magnificently through reasonably tight sweeping bends and is extremely responsive, particularly for riders prepared to let the tacho wind out a bit. Braking is excellent and the bike is also light and maneuverable for city commuting.
"It would be an excellent choice for a beginner wanting to hang on to it for a few years. It also looks more than respectable in the company of bikes for fully licensed riders!"
And Guy agreed, pretty much to the letter.
"Effortless, predictable and precise riding on bumpy and twisty undulating terrain and easily runs at touring speeds with smooth power delivery," he wrote.
"Excellent brakes, the suspension at both ends does its job very well and sports-touring style steering and handling make this a joy to ride, anywhere. A slick gearbox and an easy to feel clutch go almost unnoticed – a sure sign of quality engineering. Plenty of luggage options and good underseat storage add to its versatility."
Specs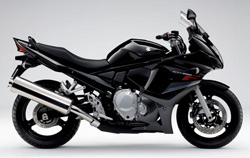 The LAMs version has a re-mapped engine control module. As above, Suzuki prefers that the bikes not be derestricted when you graduate to a standard machine. They are expected to hold their value better than the full-power versions.
Price (plus on-road costs): $10,290
Engine: Liquid-cooled transverse four, DOHC
Displacement/compression: 656cc/n/a
Transmission: Six-speed gearbox
Tyres: 120/70 ZR17 front. 160/60 ZR17 rear
Warranty/service interval: 24 months/6000km
Seat height: 770mm
Dry weight: n/a
Fuel capacity: 18.5l
Yamaha XVS650 VStar 650 Custom (XVS650A Classic)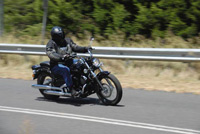 The problem with the alphabet is that you can't pick whom you'll follow – and the GSX is a hard act for anyone to match. But Tom certainly liked it.
"The engine delivers superior power," he wrote, "though the instrument 'circle' is too far down the tank and I felt I had to drop my vision (and head) too far too often to be comfortable in today's traffic.
"The mirrors give good rear vision and the seat is comfortable, though the gears seemed a little soggy – especially getting down into second, neutral and first.
"I found it very sure-footed on dirt and its almost sport-hard suspension gave confidence in all situations. Newcomers who have an interest in cruisers should really enjoy this bike.
Victor had a size problem, though.
"How low can you go?" he asked. "This bike is so low to the ground, I thought I was going to get gravel rash. The vertically challenged will love this bike. If you've got short legs and struggle to find a comfortable bike to ride (and I know there's a few of you out there) then this bike is for you. Your feet will definitely reach the ground.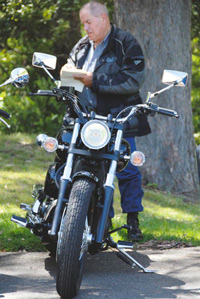 "It looks great and the quality is good. Sleek, black with retro styling and spoke wheels and a large front wheel. It even handles surprisingly well, especially considering just how low to the ground it is. I didn't have any problems cornering, but then I wasn't riding it like a sports bike.
"The only problem is I'm almost 6' tall and I felt I was too big for the bike. My elbows were so close to my knees that I kept wanting to sit back on the pillion seat while riding."
Okay, can't win 'em all. But even Bob almost gave his seal of approval.
"Riding position moderate, comfortable. Engine asthmatic, however. Still a good bike though. About as unintimidating as a 650 could be, yet still capable, up to a point. Folk of modest height, start here," he wrote.
Rob, at 172cm ("neither too tall, nor too short") found the height to be just right, too.
John was unexpectedly impressed.
"Of all the machines we sampled, the 650 V Star was the one that would make the learner's life much easier. Although it is essentially a cruiser, foot peg placement is excellent.
"The bars have a sensible bend and the non-adjustable levers are easy and light to use. The machine seems a lot lighter than its dry weight of 229kg and the good spread of power from the V-twin makes it a breeze to ride and turn at low speed and good, safe fun when things get a little quicker. The five-speed box is smooth and easy to use.
"The front forks and adjustable pre-load rear shock work well over our second-rate roads and there is the bonus of shaft drive; no worries about adjusting chain tension for the newbie."
Specs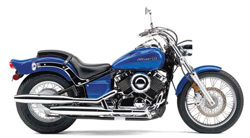 As usual with these styles, the Classic gets a fat front hoop while the Custom has a larger, slimmer one. The bikes are LAMs machines as they come from the factory, so a conversion kit or techniques are not available.
Price (plus on-road costs): $10,499 ($10,999)
Engine: Air-cooled 70 degree V-twin, SOHC
Displacement/compression: 649cc/ 9:1
Transmission: Five-speed gearbox, shaft drive
Tyres: 130/90 16 front. 170/80 15 rear
Warranty/service interval: 24 months/n/a
Seat height: 710mm
Curb weight: 248kg with full tank
Fuel capacity: 15l