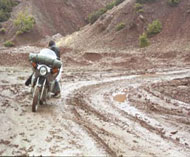 Bad Run Boogie
It might be better to give these a miss – or might it?
One of my favourite road jokes (told to me by an American friend) is the one about the Texican and Mexican drinking together. The Mexican is complaining about the Americans stealing all of northern Mexico – California, Arizona, New Mexico, Texas and so on.
"And the worst thing is, you took the bit with all the good roads!"
Okay. Here are 20 of the most dangerous roads in the world, according to the Association for Safe International Road Travel (ASIRT). Umm. Well, in my experience it's usually a good idea to ask "Who?" before going with the information from initial-lettered organisations. So . . .
"The Association for Safe International Road Travel (usually abbreviated as ASIRT) is a non-profit, humanitarian organisation that promotes road travel safety through education and advocacy. Rochelle Sobel, president and founder of ASIRT, created the organisation in 1995, in response to her son Aron's death in a bus crash in Turkey. ASIRT helped found the US Congressional Caucus on Global Road Safety and is an internationally influential and active organisation. Working under the premise that road crashes are predictable and preventable, ASIRT serves the global community in a variety of ways to help reduce injuries and deaths and the associated social and economic impacts that result from them."
That's what ASIRT says about itself, anyway. I'm sorry, but I find something a little curious about a first-world organisation that concerns itself with this kind of work.
On the one hand it's motherhood stuff, of course. Who wouldn't want safer roads? On the other hand . . . well, on the other hand I'm a suspicious old codger and my years in the law taught me that motherhood stuff usually has some son- and daughter-hood stuff (not to mention the old son-in-law stuff) tied up with it.
When I showed the initial list (there were 23, but I pulled out three dirt roads that seemed less relevant) to the Bear, he just looked at me and muttered that he wasn't surprised I'd made a good lawyer. Kind of him to say so, I guess, although I'm not at all sure I was ever all that good. But I know I was always suspicious.
The Bear also noted with interest that he had ridden some of these roads, in some cases recently and in others a few years ago. His comments about these are in a box later in the story.
But back to the list. So what's it all about? In fact, once you start reading, it becomes difficult to discern any ulterior motive. Sure, there are roads in communist and ex-communist countries included, but there are also third world roads in countries friendly to the US, and even England and Scotland get a serve each. Australia, on the other hand, misses out. Initially I found this pretty surprising. ASIRT should tackle the Burringbar Range some time up here in northern NSW, or any two-lane part of the Pacific Highway, but then I should be used to the fact by now that we don't exist as far as the good ol' USA is concerned.
Anyway, here's the list complete with ASIRT's comments. You have been warned!
World's worst roads
Brazil: Interstate 116. Potholes, poor signals and heavy traffic in southern Brazil.
China: Sichuan-Tibet Highway. A rough, high-elevation road between Chengdu and Tibet where landslides and rock avalanches are common.
Costa Rica: Pan American Highway. Called the Hill of Death, the stretch from San Isidro de El General to Cartago is full of potholes and steep curves.
Croatia: Coastal roads. Adriatic Coast roads are narrow, curvy, and congested, and many lack shoulders and guardrails.
Egypt: Luxor-al-Ghurdaqah road. Many crashes on this road to the Red Sea occur at night because Egyptians drive with headlights off.
England: A44. More than 25 per cent of crashes on the stretch linking Leominster and Worcester are head-on.
Greece: Patiopoulo-Perdikaki road. A steep, gravel road with an unmarked edge in the Agrafa region.
India: Grand Trunk Road. Heavily used by trucks, the country's busiest road is overloaded with ox carts, animals, bicycles and pedestrians.
Kenya: Nairobi-Nakuru-Eldoret Highway. More than 300 people die a year in crashes commonly caused by speeding, improper passing and drunken driving.
Mexico: Highway 1. A winding, narrow potholed road from Tijuana to Cabo San Lucas that lacks guard rails, shoulders and road signs.
Morocco: Marrakesh-Agadir Road. Heavy truck traffic and buses and taxis that pass on steep, blind curves.
Namibia: Swakopmund-Walvis Bay road. Heavy truck traffic and frequent head-on collisions when drivers misjudge the distance between vehicles while passing.
Nepal: Prithvi Highway. Landslides and road cave-ins during the rainy season are common on this narrow road with heavy traffic linking Kathmandu to Pokhara.
Nigeria: Lagos-Ibadan-Ogbomosho-Ilorin-Jebba-Minna-Abiyo Expressway. A congested road with deep potholes and a median in disrepair that links northern and eastern Nigeria. Drivers may drive on the wrong side to avoid traffic.
Pakistan: N-35 (Karakoram Highway). Landslides, floods and mud can block this northern Pakistan mountain road that passes through deep gorges and is a route to China.
Portugal: IP3. Steep, deteriorating road with no barrier between lanes linking Coimbra and Viseu.
Scotland: A77. A winding single- and two-lane road in south-western Scotland with varying speed limits and many fatal crashes.
Spain: Carretera Nacional N340. A narrow Costa del Sol coastal road where drunken drivers and tourists unaccustomed to driving on the right have caused many crashes.
South Africa: N3. Between Warden in Free State Province and the bottom of Van Reenen's Pass in KwaZulu-Natal Province, there's a high crash rate because of fog, rain, wind and winding stretches.
Turkey: Bodrum-Milas-Soke road. Winding coastal road without barriers on many stretches that's especially dangerous when wet.
I've just read a little further in the Wikipedia entry about ASIRT and I think I've worked out how these roads were chosen.
It seems that one of ASIRT's functions is "collecting and disseminating road fatality statistics of US citizens abroad by country and making information available on the US State Department website". Presumably that's how the roads were chosen then; by the number of US citizens that died on them. Makes it all a little more parochial, but only slightly objectionable.
So maybe we should be cheering ASIRT on with its work. If we could only get them to take a look at the Pacific Highway – or perhaps we need more US citizens to ride and drive it.
MB