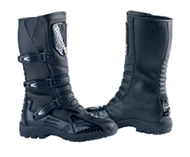 Whatz New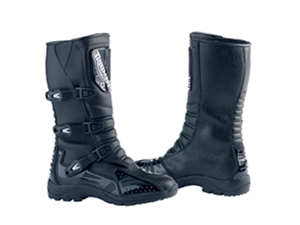 Triumph puts the boots in
These Tri-Tex full-leather-construction Adventure Boots from Triumph are waterproof, windproof and breathable. Tough plastic mouldings, all-important adjustable off-road buckles and rubber compound soles for durability and grip make these a great buy at $395. Sizes 7–12 from your local Triumph dealer.
You can haz Stuff Sakz
Feverish inventor Andy Strapz has now reinterpreted the dry bag. The 100-per-cent waterproof Stuff Sakz has two access tops so you can get to your gear while the pack is strapped in place. There's no need for frustrating bags-within-bags, either: Stuff Sakz are made from heavy PVC Tautliner with welded seams. Choose from black, grey or orange. Price is $85 plus postage. Ask your local bike shop or visit www.andystrapz.com.

MV Agusta F3 — Serie Oro is right
Utterly gorgeous is the only way to describe the new 675cc MV Agusta F3 Serie Oro — but you'll have to be quick to pre-order one of only 200 bikes available worldwide. The bikes are due to arrive here March 2012, so you'd better act quickly. Your $32,800 (ride away) will get you a fabulously exclusive piece of perfection. Contact your MV dealer or visit the new Australian website: www.mvagustaimports.com.au for more information.
On a sad note, we have just heard that Claudio Castiglioni, the man who revived the marque, has died. We will feature a full tribute in a future edition.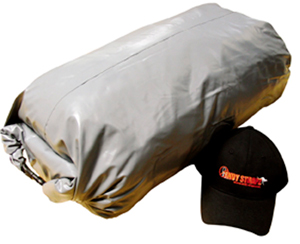 Tidy up your rear end
No, don't diet! Get rid of all that clunky, unsightly black plastic hanging off the back of your 2011 Suzuki GSX-R 600 or 750 and fit an R&G Racing Tail Tidy (or Fender Eliminator if you speak American). The product is made from 3mm black powder-coated aluminium and will stand up to track-day speeds. The Tail Tidy comes with an LED number-plate light. To locate your nearest stockists or to find out more about the full range of R&G accessories, contact Australian Motorcycle Components at 07 5451 8733 or 09 887 0378 in New Zealand, or visit www.amcmotorcycles.com.

Rent and ride the Tigers
Moto Adventure Tasmania and Aussie Biker in Noosaville (Qld) have chosen to add Triumph Tiger 800s to their fleets of rental motorcycles. As of September 2011, Moto Adventure will have the Triumph Tiger 800 on its fleet, fully kitted out with onboard computer, hard panniers, heated grips, ABS, centre stand and top box. That sounds like a great way to explore Tasmania and experience the capabilities of the Tiger 800.
Aussie Biker already has the Tiger 800 on fleet and ready to go as we write this.
Both companies commented that they chose the Tiger 800s due to their "go virtually anywhere" and luggage-carrying capabilities, as well as their fast-growing reputation for reliability and user-friendliness.
Want to have a go for yourself? See Moto Adventure's offer at www.motoadventure.com.au or Aussie Biker's at www.aussiebiker.com.au.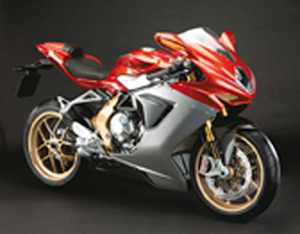 Look smart, Honda fashion
Honda has released a good-looking, practical range of gear for male and female riders. It's been designed in Europe, and it shows.
We like the fashionable Transalp Jacket, which is waterproof and breathable and comes with CE-approved armour for shoulders and elbows — you have to slip in your own back protector. There's a detachable liner and a ventilation system so you can keep warm and cool. It comes in "means business" Black/Dark Olive and there is a universal zip that matches Honda riding pants. Price $399 in sizes 48/S to 60/4XL.
Ready to ride round the world? Honda offers you its World Travel Jacket ($499) in heavy-duty 750D Cordura with abrasion-resistant Alcantara double layers on shoulders, elbows and back. It's completely waterproof, windproof and breathable and comes with a detachable Thermolite lining. And when it's really foul outside, there's a detachable waterproof high collar to keep the rain-seeping misery at bay. There are CE-approved protectors on shoulders and elbows and an optional back protector. Four intake vents and two back exhaust vents will be your friends in desert heat. Zips to Honda riding paints. This picture looks a bit sleazy but the model is attempting to show you how the zips work. We think.
The Delta Jacket ($279) comes in black, grey and white in sizes 48/S to 58/3XL and is made from tough 100-per-cent polyester with a detachable waterproof and breathable inner membrane. CE protectors in shoulders and elbows can be supplemented with your own back protector. Ventilation is via two side exhausts. The sleeves are adjustable for fit and a sturdy zip allows you to attach the matching Delta Pants ($220). These have protectors in the knees and there is room for hip protectors. You also get a detachable thermo liner. Delta pants can be zipped to Honda riding jackets of different sizes. To try on the full range, see your local Honda dealer.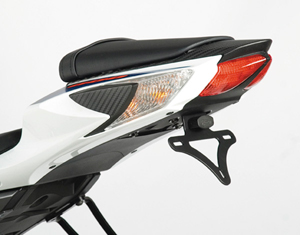 Honda Transalp Jacket
Honda World Travel Jacket
Honda Delta Jacket
Honda Delta Pants

Goodies for the W Kwakas
Motorcycle Adventure Products has a substantial range of accessories for the Kawasaki W800 as well as the older W650. Start with their fast-selling crash bars and then fit a hard luggage frame and rear rack set to accommodate one of their hard touring case sets. Or, alternatively, opt for the leather bag frame set. A tank bag completes the picture. To see the full range of Motorcycle Adventure products to suit a variety of bikes, visit www.motorcycleadventure.com.au.

Leave tracks with Kendas
The new K784 Adventure Tyre from Kenda has a large block tread pattern that can cope with anywhere you need to go off road, according to distributors CTA Australia. The tread pattern offers improved wear and the bias belted casing offers improved high-speed handling and stability on or off road. High impact bias ply casing provides a high level of puncture resistance and the rubber compound conquers wet, slick and dry, hard-packed roads.
Kenda tyres are Dot and E-mark approved and come in seven sizes with a price range from $149 to $209. Ask your retailer, visit www.kenda.com.au or call 02 9820 4444.
Black Dog Ride goes viral
Determined to show the powerful documentary of the 2010 Black Dog Ride to the Red Centre to as many people as possible, Steve Andrews has put the whole thing on YouTube. Part 1 can be viewed at www.youtube.com/watch?v=6RXBnj1k_K0. Part 2 is at www.youtube.com/watch?v=Fkv7cShZYvs&feature=youtube_gdata_player.
Steve is asking readers to post links on Facebook pages and to let contacts know about the documentary by blogging and tweeting. Do it now, before the Black Dog bites any more people!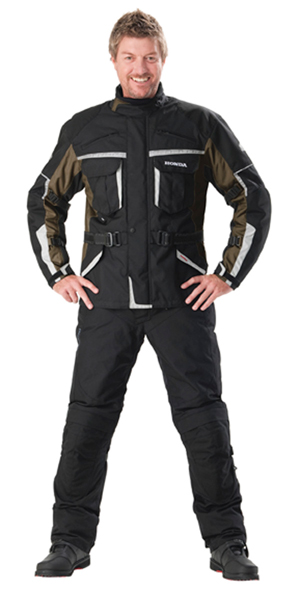 Wearing Triumph out
Good-looking, functional Tri-Tex Garrett Jacket and separate Jeans are suitable for all types of riding and, what's more, they're great value for money. Tri-Tex is a waterproof, windproof and breathable material that has a water-repellent outer layer. The kit has CE-certified armour, including CE knee protectors, and the jacket has a removable quilted liner. Stretch nylon zones offer increase comfort. Adjusters and waist zipper connection makes this suit a winner. Jacket $395. Pants $345. See your local Triumph dealer.

Touratech your Tiger
Want to kit out your Tiger 800 or 800 XC? Take at look at the huge new range of accessories that's been specially developed for these models by Touratech and is now available in Australia.
Choose from tough hard-case pannier systems, soft luggage, engine and chassis protection, bar risers, GPS mounts, mirror extenders, mudguard risers, foldable gear shifters, racks and much more. Ask your retailer or visit www.touratech.com.au.

Gallipoli Centenary with Ferris
In 2015, Ferris Wheels' two Turkish Treasures tours will coincide with the Dawn Services commemorating the centenary at Gallipoli, one before April 25 and one after. That means you can do the standard three-week motorcycle tour but also take advantage of a coach trip from Istanbul to Anzac Cove to attend the ceremony to honour our fallen diggers and this nation-building event.
The Turkish Treasure tours visit the Mediterranean coast, Cappadocia, the ruined cities of Troy and Ephesus and the 4000-year-old capital of the Hittite civilisation.
Choose from Suzuki V-Strom, Aprilia Trail, Kawasaki Versys or even the Yamaha Dragstar.
Mike Ferris urges you to book now to ensure your place. Call 02 9970 6370 or visit www.ferriswheels.com.au.
Fancy a ride round the world?
Edelweiss Bike Travel has posted stories from its latest 40,000 miles in 248 days Discover Our Earth Motorcycle Expedition. This marathon ride covered six continents and finished in the spectacular Alps in Mieming, Austria: the Edelweiss headquarters.
If you are contemplating a truly epic ride yourself, you should definitely visit www.edelweissbike.com or read all about the adventure on Edelweiss Bike Travel's Facebook fan page.