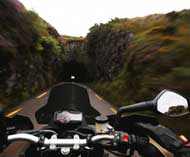 2010: What was that all about?
Reasons to be cheerful
There's light at the end of the tunnel. Or is that a train?
Well, it's been a weird year, hasn't it. You might note that there isn't a question mark after that statement. The "hasn't it" is just a matter of courtesy; it's not a question. It really has been a weird year.
After initially coping pretty well with the Great Global Goofest or whatever it was called when nobody in the US made their mortgage payments and a butterfly in the Matto Grosso got, err, indigestion as a result – or whatever it was that caused my superannuation balance to shrink so rapidly that Stephen Hawking had to be called in to take a look at the resulting black hole – the Australian motorcycle market finally took a pretty significant dive as well. In truth it was only catching up with the rest of the world, in fact not even that, but it looked pretty grim from the industry's point of view.
I hate to admit that we kept having a good time despite the gloom that was spreading like the Wickenby tax investigation of Hoges and Strop. We, well, it wasn't that we just didn't care. No. We did care. But we were also having a good time, so what were we to do?
Never mind what you think we should have done. What we did do was spread around a bit of optimism. We're still doing it. As magazines all around the world are cutting frequency – and in the case of the US magazines, journalistic staff – we are doubling our frequency and hiring. Are we doing the right thing? Obviously we think so. We've done a bit of modelling to back that up, too, and we think we'll come out of this stronger than ever.
But, well-founded as it may be, that's just our opinion.
The major motorcycle manufacturers are no fools and they mostly bet the other way. Harley-Davidson is still digging its way out of the huge hole produced to a large extent by its US finance arm. The Japanese Big Four were pretty cautious with model development and while it was business as usual – at least on the surface – with Ducati, Triumph, Moto Guzzi and Aprilia, it was only BMW that really blitzed the market with a completely and sublimely new model. That was the S 1000 RR, of course but there is a perfectly good argument that says BMW simply couldn't wait, it had to release it. Over in Austria, the would-be BMW beaters at KTM bit the bullet and sold the farm to the Indians – so to speak.
The BMW S 1000 RR was not the only new model, either, although it was probably the "newest", as in the most completely fresh and significant. Make no mistake about it, the bike was BMW's declaration of war on every other motorcycle manufacturer. Especially KTM, of course, but that (see above) is another story.
But let's take a quick look at some of the bikes we rode and enjoyed during 2010. Stuart has his own listing a little later, so let's go with mine.
Honda CB1100
This reincarnation of the classic CB750 has won the heart of every rider who sampled it, and many of those who only saw it passing by. It's not the fastest, it's not a race replica, it doesn't have the latest brakes or suspension – but it is a joy.
Riding the CB1100 is as close to the experience of pure motorcycling as we've come for a good long while. It pulls strongly, rides smoothly, handles predictably and correctly and does everything else well, too. You can even secure luggage easily on the small but stylish pillion perch.
Of course it won't suit everyone – if you're a track day addict or a knee-down weekend scratcher, a big miles tourer or a heavy traffic commuter there are better bikes on the market for all of those jobs. There are not, however, many that would do all of those jobs as well as the CB1100, and look as aristocratic at the same time. Oh, all right, it'll never make a track day bike… but maybe with some aftermarket suspension…
Keep your eyes on ARR; we might just be getting our hand son one of these as a project bike. And we'll turn a terrific bike into an awesome one!
Ducati GT 1000 Touring
With cars, the word "touring" in the name means "boring"; it's usually applied to station wagons and other such beasts of burden. Oh, how different things are in the motorcycle business – fortunately.
Ducati's Touring is a variation of the last bike standing from the range of three "Classics" released some years ago. The GT was always, in my oft-expressed opinion, the best of them, and this touring pack, consisting of a windscreen and a luggage rack, helps to increase its versatility. You really can tour on the Touring – just add throwover panniers and a tank bag.
The bike is not cheap but what's a Ducati sticker on the tank and a classic look worth to you? Incidentally, the bike has one of the best air-cooled engines ever to come out of Borgo Panigale. The Desmodue 992cc Dual Spark power plant offers outstanding torque and reliability.
Triumph Thunderbird
I was originally a little worried about the rather generic look of the T'bird but I guess "generic" can be just another word for "classic". It's certainly a classic-looking cruiser and with its potent engine and outstanding handling, it is also highly rewarding to ride.
You clearly agree with my positive assessment of the parallel twin Thunderbird because it's selling extremely well. Twin-cylinder cruisers obviously don't need to be V-twins any more to do well in Australia.
Is it coincidence that all three of those bikes offer "classic" looks, something that could just as easily be said of me? Well, actually, people don't usually employ precisely the word "classic" but I know that that's what they mean. Here are a couple of bikes that look anything but classic.
Aprilia Shiver GT
Here's a "just right" bike with very modern looks and a basket full of new technology. The Shiver GT offers everything from anti-lock braking to a choice of three power deliveries – although I suspect nobody will ever much use any of them except "sport". The technology is wrapped in a lithe and minimal frame augmented by only the most vital bodywork to make a bike that says "fun" in unmistakable tones. Being a 750, however, it is not over the top and can also add "versatile" to its list of virtues.

Honda VFR1200F
It may not much resemble either its ancestor (the much-loved but not-loved-as-much-as-the-750 VFR800) or its prototype (the V4 Concept introduced in 2009) but it's a potent package in its own right. Like Yamaha's FJR, the VTR comes in vanilla (with a manual gearbox) and chocolate (with an auto box). It's a winner either way.
The bike is a bit of a showpiece for Honda's technology but that isn't intrusive and the bike works very well as an all-rounder. I covered southern Norway on one of the automatics and found the bike willing and able to handle all sorts of conditions including steep, narrow mountain passes. To make a true tourer, the VFR needs small risers for its handlebar but otherwise it would be difficult to improve it.
But wait, there's more
Those were not the only new bikes for the year, nor where they the only ones we enjoyed. An unexpected favourite was the Royal Enfield Classic; almost up to date with basic technology and still a bundle of pure old-fashioned fun. We really liked Yamaha's XJ6S Diversion, so much that we took one on as a project bike and converted more than one big bike rider to its attractions. Our long-term loan Honda SH300i scooter had a similar conversion rate; it's amazing how much people can enjoy scooters once they shed some of their prejudices.
Out on the gravel it was Yamaha's new Tènèrè that made a lot of friends, while Suzuki's new GSX1250FA tourer did the same on the road. Stuart will tell you about some of the other winners of the year – especially the BMWs he enjoyed so much. There were more – forgive us if we missed out your personal favourite. All in all, and considering that it was a quiet year, it was still a good one!
The ARR office, for the first time ever, has more than one regular employee. The newcomer is Terri Dodd, MV and Cagiva owner and consummate magazine professional. Here's her call on the subject of the year just gone.
I hear voices
Each year I dedicate a solo ride to Barry Sheene. And this year it was my highlight. I took my favourite ride along the Oxley from Port Macquarie across the glorious Mt Seaview hills to Walcha down Thunderbolt's Way via Nowendoc and back to Sydney via the Old Road. Barry would approve the route and I always strive to ride my best on these rides out of respect. I've even come to hear his voice in my helmet. "Watch out for that old geezer!" as a Camry driver starts to pull out of a dirt road. He's always giving me tips on technique, "Come on gel, get on it quicker." On the downhill straight off the mountains, it was Barry made me do it. "Now give it a handful!" It was a ride in a million. You know that feeling when you are completely at one with your motorcycle, half human, half bike? It was like that.
Blasting through a series of shaded corners on this wonderful ride, I was pulled up short by a diamond python stretched almost the entire width of the road. I swerved round it, (the tail end, not the one-foot mouth) jumped off and quickly stopped the tourist traffic both ways while the gigantic snake, with a rabbit bulge in its belly, inched its way across into a deep gully. It seemed to take forever. The bug-eyed car drivers clapped once I'd shepherded the snake safely across. "Look at the bleedin' snake," said Barry, in my ear.
I will also never forget the rain-soaked Chumps Ride nor the Thunderbolt Rally at Dungog, where I sat around the campfire outside my tent in the freezing cold with my best mates, Cuppa and Horehound. I wore all my riding gear to bed and staggered up the hill with everyone else to join the morning coffee queue.
In England, I rode a borrowed Harley to the Ace Cafe – the church of Britain's cafe racer specials – and pulled in with a motley bunch that included Vespas with 12 headlights, crotch rocket specials and Scott Flying Squirrels. It was marvellous. Everyone spoke to me and willingly answered my questions about their bikes – I really liked the character in the Belstaff jacket with a wicker picnic basket strapped to his Cotton who asked me out. Later that day, I got hugged by complete strangers riding Triumphs at the 127 Diner on the Southend Road when I pulled in to join them for a hamburger.
Back in Australia, last weekend I took a carefree ride on my immaculate Cagiva up the Northern Beaches route to Palm Beach, admiring the scenery, enjoying lunch at the boatshed, doing what I love best and being grateful that I can still do it. Car drivers smiled enviously at me at the lights, sensing my complete enjoyment. Everything was best about being on a motorcycle this year.
TD
We also have a new man out on the road, the track and the trail, sampling bikes and all sorts of other stuff – and that would be Stuart Woodbury.
Hard call
Well, what a big year for ARR. There have been plenty of bikes and riding gear that have flown through our doors and when the Bear said to me, "Pick out some of the best bikes and gear you tested over the past year." Well, I thought, that is bloody hard. But here goes.
My number one pick of riding gear for the year is the Shoei XR1100 helmet. I've had a lot of helmets over the years but the Shoei surpasses the lot in quality. The DriRider Rallycross Pro 2 jacket is a perfect all-rounder no matter what you ride. The Teknic Mercury denim jeans have been so comfortable I can just about wear them anywhere.
In footwear, I would have to say the TCX brand has won me over, my Competizione S Goretex road boots and Combat off-road boots have given me the utmost comfort and safety. My Ixon RS Noble Hero (well named, really) HP summer gloves have been the pick. They allow a good flow of air while giving plenty of protection and feel.
Bikes? Well, this could have been a hard one to pick but then BMW unleashed not only the S 1000 RR but also the new twin-cam boxers. The S 1000 RR is a blisteringly quick machine and was fantastic around Phillip Island; all of its electronic wizardry makes going super fast, even faster. Off-road (and on-road for that matter) the R 1200 GS with its options is one of the best all-round packages ever. The new twin-cam engine spreads the power over a wide rev range and the ESA suspension makes the GS a useable bike over all road surfaces, which is something we absolutely need in this country.
Here's a fun bike that I'd actually buy: the 2010 Kawasaki Z1000. It brought out massive smiles every time I rode it and I'm so glad the boys in blue didn't see me. A surprise package was our Yamaha XJ6S long-termer, after I raised the forks through the triple clamps. This wildly under-rated machine easily went round more fancied bikes and it made for a great tourer fitted with top box and Oxford sport panniers.
For our sister mag, Cruiser+Trike, the Victory Cross Roads is my pick. It looks fantastic, is finished really well and is so much more comfortable than just about any other cruiser out there.
My favourite ride of the year would be one the Bear suggested to me when I tested the Yamaha XT660R. Up Bells Line of Road from Richmond (NSW), out through Mt Wilson, Mt Irvine, Mountain Lagoon, down to Colo, Wisemans Ferry and finally to Windsor. While it was only a day ride, I really enjoyed the scenery and varying conditions for the adventure rider. On the bitumen, the Putty Road north of Sydney has a lot to offer but down in Victoria, the Black Spur was truly amazing. I don't think I looked at the road for more than a few seconds at a time; how tall are those trees! Amazing!
I'm looking forward to 2011 and the range of bikes I'll get a chance to sample. See you on the road.
A different kind of winner
It was weird even in a weird year but when we – the larger group of ARR and C+T contributors and hangers-on – got to talking about our choice as the outstanding motorcycle of the year, an unexpected consensus emerged.
Let's not pick a bike this year.
Yes, everyone who rode the BMW S 1000 RR was impressed almost out of their minds. Yes, everyone (even the people who didn't get a chance to ride it) loved the CB1100 – or perhaps especially the idea of the CB1100. Yes, the Triumph Thunderbird impressed. And yes, the new twin-cam BMWs, both tourers and big enduros, blew many of us away.
But I had made the mistake of taking or sending a substantial proportion of these people to one very special place during this year and they (and, I must admit, even I when I got used to the idea) wanted to acknowledge that place.
So our winner for 2010 is not a bike but a destination: New Zealand. We know that it's been described as a Third World country where you can drink the water (although you wouldn't because the wine and beer are so good) but that's a low duck. In fact it's a thoroughly civilized place that hasn't built out all of its good roads with towns and endless speed limits and other restrictions.
We are inordinately fond of New Zealand; I made some half a dozen trips over there myself, some with company but all to ride bikes for one reason or another and out of one city or another. I enjoyed them all – partly for the riding, partly for the scenery, partly for the people – and partly for any number of other reasons such as the wonderful World War I air museum we discovered near the South Island town of Blenheim.
Even the food has reached the point where I'll eat for pleasure and not just for nourishment.
Aotearoa, you're the Aoteatops! We'll ride under your long white cloud any time.