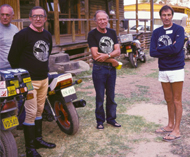 To strive, to seek, to find, and not to yield
We have lost a great guide
Stephen (third from right) among friends at the 1985 Ulysses Club AGM at the Little River cabins, Tumut.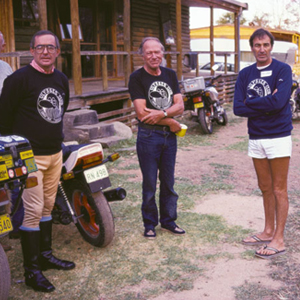 I had no idea what an avalanche was about to be unleashed on the motorcycle scene when Stephen Dearnley wrote a "rude and tongue-in-cheek" (his words) letter to me at Bike Australia magazine nearly 30 years ago to announce it was time to launch a motorcycle club for mature riders.
There was still no suggestion that anything really extraordinary was happening when Stephen and his small band of four visionaries launched the Ulysses Club in 1983 at a meeting in a (since demolished) Sydney pub. The club grew quite slowly; Stephen himself referred to it as "a sickly baby". I can vouch for the fact that it took some four years to reach 700 members because I joined as soon as I was old enough, four years after the club's foundation, and my membership number is 675.
Today the club has nearly 30,000 active members in Australia alone. Its purpose remains the same as it has always been: To provide ways in which older motorcyclists can get together for companionship and mutual support; to show by example that motorcycling can be an enjoyable and practical activity for riders of all ages; and to draw the attention of public and private institutions to the needs and views of older riders. There are Ulysses clubs in New Zealand, South Africa, Germany, Norway, England, Zimbabwe, Canada and Vietnam as well as the stirrings of a launch into the United States.
That's terrific news for us mature riders, of course, and a credit to all the people who have worked hard to make Stephen's dream come true. But above all, the club stands as a tribute to Stephen because he not only had the vision to launch it; he also gave it the tools that have allowed it to flourish.
This is not the time to go into the internal workings of the Ulysses Club but I think it's vital to point out that Stephen set the club up in such a way that it's avoided the fate of so many volunteer-run organisations: the rise of factions fuelled by ego tripping and scheming for personal advancement and the subsequent fragmentation and failure of the club.
The Ulysses Club is strong because its committees have been devoted to its ideals and its members have consistently displayed a remarkable amount of common sense. But more than anything else it's strong because Stephen set it up to be that way.
A great guide, and a visionary. But I will miss him most of all because he was a good friend. Not an uncritical one; I frequently felt the lash of his tongue for the way I was running this magazine. But it was always in order to help me do my job better, never to criticise for the sake of it or to boost Stephen's own ego.
For me, Stephen Dearnley OAM joins the very few people, like Brian "Bernard St Francis Whitworth-Socket" Woodward, of whom I occasionally think, "Oh, I must tell him/her about this or that" — only to be brought up short by the realisation that I won't be telling them anything ever again."
Here's a short biography, culled from the Ulysses Club website. Members will (or should) know this anyway but I think it will be of interest to those readers who know little or nothing about the club and its founder. If you'd like to know more, go to the club's website.
Stephen was born on the 27th of November 1922 in the English village of Little Drayton, Shropshire, the eldest son of a vicar. He found himself in a British Public Schools' Officer Training Corps just as the Second World War became serious in 1940. Too young to join the army, Stephen was enrolled in the Local Defence Volunteers, an organisation that soon became the Home Guard. He served in the Home Guard through the blitz until he was able to volunteer for the navy at the age of 18.
Stephen joined the minesweeper HMS Fitzroy at the age of 19 as an ordinary seaman and served on that ship until it was sunk six months later in May 1942. After officer training he served on submarines until 1946 when, as a first lieutenant, he finished up on the U-class submarine HMS Universal.
I still remember him telling me that he'd been a navigator on a submarine, a job that seemed a little unlikely to me — but of course subs probably need navigators more than most other craft!
Stephen met his wife to be Josephine, then a WRAN, and they married in December 1945. After being demobbed in June 1946 Stephen went to work with Collins, the book publishers. It was during this time that Stephen and Jo became the owners of an ex-US Army 500cc Indian Scout that they christened Dora. In 1947, Stephen and Jo decided their prospects would be better overseas and set out for Australia in September of that year.
In Australia, Stephen remained heavily involved in sailing, starting the Lazy E class association. He finally retired from Collins in 1978. His and Jo's four children were now grown up and the couple moved to Newport. Then in 1983 came the fateful letter in Bike Australia that gave him the idea that was to become the Ulysses Club.
Rheumatoid arthritis tragically took Jo's life in 1996. In 1999, Stephen was awarded the Order of Australia medal for services to yachting and motorcycling and in 2002, at the age of 80, he undertook a 60-day, 16,000km trip around Australia, raising $34,000 for arthritis research along the way.
We'll all miss you, Stephen, and we'll do our best to help the strapping youth that your "sickly baby" has become to continue to prosper and grow. Meanwhile, here is an extract from Alfred Lord Tennyson's poem Ulysses, which gave the club its name and which could serve as a fitting memorial to Stephen Dearnley.
PT
"I am a part of all that I have met;
Yet all experience is an arch wherethrough
Gleams that untravelled world, whose margin fades
For ever and for ever when I move.
How dull it is to pause, to make an end,
To rust unburnished, not to shine in use!
As though to breathe were life. Life piled on life
Were all too little, and of one to me
Little remains: but every hour is saved
From that eternal silence, something more,
A bringer of new things …"
And further on:
"Though much is taken, much abides; and though
We are not now that strength which in old days
Moved earth and heaven; that which we are, we are;
One equal temper of heroic hearts,
Made weak by time and fate, but strong in will
To strive, to seek, to find, and not to yield."