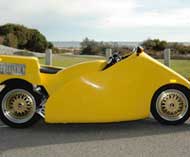 Sideways & means


A legal road-going racing sidecar designed and built in Australia? Murphy took on the law and won.
Words: Tim Murphy

A long ago when I was a single young man I raced road-racing sidecars in New Zealand and Queensland. I learnt quite a lot about setting up and even building my own rigs from some of the big names in the sport.

As with most blokes, a combination of growing up and acquiring a wife turned my attention elsewhere. After seeing the Krauser Domani in a magazine, I never managed to lose the little irritating nagging voice in the back of my brain telling me it would be really cool to build a road-going version of a racing sidecar.

A move to Western Australia, saying goodbye to a wife and losing my building business, along with a loss of physical mobility because some guy fell asleep driving home from night shift, left me looking for something to fill my life. That nagging idea was back with a vengeance. I got a part-time job doing maintenance in a little high school that took on the kids no one else could work with. This turned out to give the two things I really needed: access to a workshop and a boss who could see my vision and was prepared to support me in chasing it.
If anyone wants to try this, the first step is absolutely vital: Check with the local motor registration department. Be totally honest about what you want to do and take its advice. I didn't really want to hear about Australian Design Rules (ADRs) nor, worse still, pay for an engineer to check the design and build quality. But without them, there is no chance of getting past "go". I nearly blew it when I showed a photo of a plastic model I had made using a Tamiya model of a Honda RC30. The rego guy thought I'd already built the sidecar and would have shut the whole project down there and then if I hadn't been able to convince him it was just a model.

No design, just hard work

There was no design or plan to follow. I had to make up every step along the way.

Things that were non-negotiable from the start were: single-sided swing arms front and back, hub centre steering, a standard easily serviced motor/frame, disc brakes all round and safe handling.
The motor, rear swing arm and wiring harness came off a written-off Honda VFR800 from Victorian Motorcycle Wreckers. I hadn't even thought about it at the time but the computer was also in good condition, saving me a pile of cash later in the build. The remains of the bike were mounted on a steel jig I had built to hold the Honda parts while the chassis was built around it. The chassis started with a main beam from the bike to where the chair wheel would be and the rest was fabricated and assembled around this.

Before any building could be done, I had to do a lot of learning about chassis and suspension geometry. The science teacher at the school (George) taught me a lot about the physics involved and the maths that went with it. With this knowledge I was able to set out what everything had to be: wheelbase, length of the front suspension components, location of the chair wheel and all the associated mounting points.

The first chassis I built was to be a working prototype using the basic principle that triangles mean rigidity. There were two vital areas where strength was non-negotiable – the mounts to connect to the motor and the points at which the front swing arm would locate.

In addition, I had to decide where ancillary parts would go. The fuel tank would be mounted under the passenger's legs and the radiator in front of his/her feet. Cantilevered supports had to be provided for these. It turned out that they would also provide a stable mount for the fibreglass body.

With the main frame built, I applied myself to designing and fabricating that front swing arm/hub assembly. Everything is interdependent and the means of attaching the front wheel dictated its design. I was committed to making sure nothing I built could be knocked back by the engineer as being too flimsy, so the main support for the front wheel assembly was provided by the rear axle of a Transperth bus. This was suitably machined and cut down and there was a massive bushing surface to allow for the small amount of rotation caused by the deflection of the suspension while the upper member maintained correct geometry.

The lower suspension arm would carry all the weight and had to be strong, so it was built from 5mm steel plate, which in turn was mounted to the chassis using neoprene suspension bushes. Five very different vehicles donated parts for the front wheel/steering/suspension. I used an after-market disc caliper.

After nearly three years of hard graft, trial and error (lots of this!) and lots of support from unexpected quarters, I produced a working prototype. The temptation to take it for a trial run was incredible but I knew the future of the project could be blown apart by any problem on the road. I booked time on a local proving track and finally got the chance to give it a blast.

I knew from my experience building racing rigs that it would hold together and should ride pretty well. I just wasn't prepared for how well it would handle. Sure there were a few issues, especially with the chair unladen (even now I ride around with a couple of 20kg sandbags in the chair if I don't have a passenger) and the rig pulled hard to the right under braking – something I would have to deal with when getting the real thing ready for the road.
I took the prototype to the registration branch authorised engineer to get him to approve the design. This is probably the most important step of the process. There is no point in carrying on without the engineer's OK. He was happy with the design but gave me a list of features needed on the road-going version, including the quality of welds he expected (something else to learn: proper TIG welding techniques).
So it was back to the workshop to strip the whole thing down. I had decided to build a new frame, with the exception of the front suspension arm, which had to be spot on before I could take it on the track. At least I knew where everything was going to go this time around, so the rebuild was a lot quicker and the whole project seemed to be moving along quite nicely. It was when the frame was complete that the real headaches began.
I hadn't given a lot of thought to things such as exhaust pipes, mufflers and cat converters, or how tiny tolerances in standard rose joints can cause major handling problems on the road, or how to mount standard instruments on a custom-made vehicle. These and many other little problems that cropped up certainly focused my mind on all those little things we take for granted about riding but have to be designed by someone.

After more than another six months, I had the working sidecar chassis with no body electrics, instruments or a body (fairing). The rough design I made up into the original model was still the basis of my plan but there were one or two bits that just did not look right. One of the school students who had taken an interest from the beginning offered to help to build the plug for the glass fibre fairing. Not only was she willing to work, she was also a great artist and once let loose with the surfboard foam she designed my problems away. Michelle gave up her two-week holiday to get it finished with her mother picking her up at the end of each day. I get a lot of great comments about the way the sidecar looks: most of this is down to Michelle!

With the plug finished I sent the frame off for powder coating and set about laying up the fibreglass – another new skill added to my repertoire! Due to the shape of the fairing, the only way to remove the plug was in bits so I couldn't afford to break it because there was no way to make a copy. Once this was finished there was a lot of hard yakka filling and filing until I had a smooth surface ready for painting. Two-pack bright yellow was the choice – and yet another skill to be conquered!
At this point most people would have thought the job was over but there was another three months of bits and pieces to finish. A typical example is how long it took to locate the right numberplate light to fit in with the design – it took weeks!

At last the big day came. The engineer provided a glowing report and as he worked for the motor registration department I was feeling confident. The guys at the testing centre started with the obligatory sucking of air through the teeth and I could feel my heart sinking into my boots. Then they looked from the engineer's report to the rig and realised that this was way out of their league. They bombarded me with questions that made it clear that they were stoked just to get the opportunity to be involved in getting my rig on the road.

I've been riding the rig for more than nine months now. There have been a couple of scares: too much enthusiasm and poor road maintenance being but two of the causes but most of my riding has been fantastic. No regrets whatever. Peter, the school principal, always said when I was feeling that I was overstaying my welcome after filling a big part of the school workshop for more than four years (it was Peter who suggested the 4.5 in the sidecar's name – for the 4½ years it took to build). "Having this in the school is living proof that if you really want to do something you can," he said. "Our students need to know that and most of them have no one else who will tell them."
Looking back on those 4½ years, I realise I have met a lot of fantastic, enthusiastic people who have given me so much help and encouragement – and a few misery guts who tried to rip me off, stuff me around and generally make life even harder: but they were only a few.
The number of small business people (and some not so small) who have gone out of their way to help is nothing short of incredible. I haven't just got a pretty cool ride out of the project but a whole swag of real friends as well. It's been worth every hour of hard graft and the highs and lows that went with them, not to mention the cash spent!
The guys at the testing centre started with the obligatory sucking of air through the teeth and I could feel my heart sinking into my boots.'
Why stop there?
Tim sent us these pictures of further refinements he's made since he originally submitted the story. They include new chair wheel suspension and new reverse drive (a starter motor from a V6 outmotor). We have a feeling this project will be ongoing!

TPM Sportz 4.5 Specifications
The TPMSportz 4.5 sidecar outfit was conceived, designed and built by Tim Murphy
Engine and rear swingarm from wrecked Honda 1998 VFR 800
Front suspension arm steering fabricated from mild steel with hub centre steering
Chassis fabricated from square section steel tube
Dimensions: Wheelbase, 1,850mm. Track, 1,200mm. Body 2,550mm long, 1,670mm wide and 1,000mm high

Acknowledgments
People who gave freely of help and advice: Brian Payne (mentor), Peter Roguszka (principal, Port School), Jack Apgar (WA Department for Planning and Infrastructure nominated engineer), Ed Farrah (Practical Imagineering), Steve Hills (S/B), Steve Cortez, Glenn Swarbrick (Swarbrick & Swarbrick Yachts), Michelle Kordas (Port School student), Marja Salo, Rosie Ainslie, George Variyan (science and maths teachers), Willem Passchier (William Brown Auto Services).