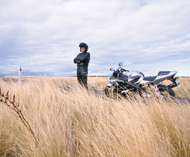 Rescue and recovery squads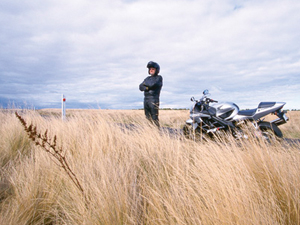 First, have the tools to fix a breakdown and then, know who to call if all else fails
Words: Terri Dodd
The Star Wars Millennium Falcon spaceship, under enemy fire, won't start:
"Horizontal boosters? Alluvial dampers? Ow! That's not it, bring me the Hydrospanner. I don't know how we're going to get out of this one." — Han Solo
There are a bunch of malfunctions that can happen while touring that can spoil everything. As some of us have already discovered, trying to fix a heavyweight bike in the middle of nowhere often involves a village of people and if you don't have a centre stand, you are inviting misery.
Sure, bikes are becoming more reliable, but even new bikes inexplicably conk out. Bizarre things happen. Before and after you ride, check the bike. Did you see mission commander Eileen Collins land the Space Shuttle and then get out and check the entire vehicle? She even kicked the tyres!
When riding solo in particular, you have to expect the unexpected and carry enough stuff so you don't get stranded. To start with, never, ever go anywhere without a mobile phone that has serious network coverage. Communication is essential. Calling home at prearranged intervals, and letting people know exactly the route you are taking (as if you are leading a doomed school party/scout troop on another Blue Mountains misadventure) is pretty much commonsense. Bike-to-bike communicators will also help if your bike suddenly dies and you see your mates riding off obliviously into the distance. Without any way of contacting them, the only parts shop in town will have closed by the time your group realises you're no longer there and comes back to find you.
On a serious ride into lonely rural areas, or if you routinely ride alone, you could consider taking along an Emergency Personal Rescue Beacon (EPRB), which you can activate should disaster strike. A satellite tracks your exact position and relays it to the emergency rescue people, who will come and remove you from your predicament.
Nah, we don't carry parts for those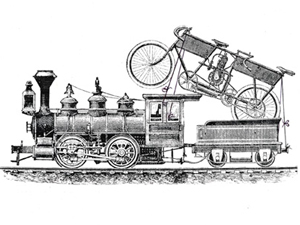 If you have an exotic bike, carry parts you know you won't be able to source this side of Varese — things like exquisite brake and clutch levers that admittedly are a hefty investment when 99 per cent of the time all you are doing is taking them for a ride, but one day they could save your holiday if you tip over on the gravel in, say, Tasmania. Likewise, take any bike-specific tools, as well as a set of allen keys if appropriate, double-ended spanners that fit every nut including the rear-wheel axle nut, a mini-socket set (t-handled ones are nice), a pipe extender, needle-nose pliers with wire cutter, multi-grips, a mini hacksaw (yes — once useful for excising the damned clogging petrol filter of a Ducati Monster), fuses, zip-ties, gaffer tape, spare nuts and bolts, scissors, mini cans of WD40, chain lube and handiwipes. You can carry pre-gapped spark plugs and plug spanner, jump leads, electrical wire, baling wire, a master link, and cotter pins. Oh, and a mini Maglite because, well, if it's going to happen, it's going to happen at night, right?
You can fix that flat
Don't be stranded by the most common breakdown — a flat. Carry a tyre repair kit with CO² bottles and a pressure gauge … and know how to use them. Before you ride, fit an L-shaped valve stem extender on your tyres and/or carry a valve stem adaptor so you can actually put air in your tyres when you do get to a servo and find the fittings don't fit. Carry a mini bicycle pump. They are hard work but they can get you out of a jam if a tyre develops a slow leak in the Never-Never. You could also pack an IB Emergency Mini Bike Lift (02 4955 9269) recommended by The Bear. This lightweight, compact tool will not only help you change a wheel, but is good for lifting back wheels off the ground when lubing chains.
If you baulk at packing all this stuff, consider the following. Carrying all of the above will practically guarantee you never break down. Carrying none of it enrages the gods, who will immediately fling mechanical thunderbolts your way.
When planning a long group ride, you could divide the essentials between you, provided you all stay together to the bitter end! Because … well, you know why. Even if you don't think you can fix things on your own and see no point in carrying a repair kit, another mechanically minded rider could help you. If you don't carry the bits, all the good Samaritans in the world will be stymied.
Fooled by fuel
Did you see Ben Spies and Max Biaggi run out of fuel during last year's World Superbike races? Happens to the best. Keep an eye on your fuel. Know your critical fill-up marks and don't even think about stretching it to the "next servo". I rode all over the Arizona high desert on an MV Agusta 910 with limited range and I always stuffed a pump siphon into my pack — just in case I had to wave down a Humvee and beg for a top-up, which I had cash to pay for! (And by the way, carry a bottle of water every time you ride because you can count on no fingers the number of times you will break down outside a caff.)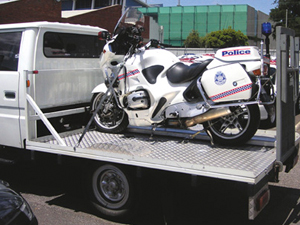 Rescue squad!
Okay. Suppose you break down and you can't fix it or, heaven forbid, you crash. You will need a motorcycle recovery service. We spoke to a few companies to get an idea of the service they offer.
SOS Rescue and Recovery. Streetfighter aficionado, Jim Walker, owner of SOS Rescue and Recovery, offers an expanded service on the Central Coast of NSW. If you ring SOS and give a detailed account of your bike's symptoms, licensed mechanic Jim will try to fix your bike at the roadside. Besides bringing fuses, tyre repair kits, jumpstart cables and fuel, Jim will even fetch specific parts from his network of friendly motorcycle dealers to fix the problem for you — provided the dealers are open. If he can't fix the bike in half an hour, he tows the bike to the nearest dealer as agreed by you.
SOS currently offers service from Newcastle to Sydney and can also service the Coffs Harbour area.
Notable call-outs for SOS include a very, very old Bol d'Or and a very, very new GSX1400 with a flat battery. And (this will make you weep), Jim recently delivered a brand-new ZX-10 R to an ecstatic owner who rang back a few days later for Jim to come and tow him because he'd crashed it!
Call-out within 40km of Woy Woy is $50 and no extra charge if Jim fixes it on the spot. Call-out 80km $100. SOS also does straight transport of bikes for around $2 per km. Telephone: 0420 436 039.
Allwest spokesman, Steve Williams, says his company gets a lot of calls from stranded riders in Sydney and Melbourne, where they will make routine pick-ups. If riders are stuck in a remote area, Allwest can despatch a vehicle from a national network of contractors built up over the years. Despite modern bikes becoming increasingly more reliable, the main problem Allwest encounters is punctures. One excellent service Allwest offers is to the rider who breaks down on a Sunday when the dealers are closed. In that case, Allwest will hold the bike in one of its secure lock-ups until Monday, when it will take the bike to the dealer to be fixed. Allwest also takes good care of riders breaking down interstate. It has a 24/7 call-out service and the call-out rates depend on day, time and location. Allwest also does a weekly interstate bike transport service from Melbourne/Sydney/Brisbane. Call 24 hours: 0408 248 382.
Cychaul services the Melbourne metropolitan and regional area and has been rescuing stranded bikes since 1995. Owner Michael Finnigan has seen everything. He says most problems can be divided into electrical or fuel issues and he says each brand has its "favourite" fault. Breakdowns due to clogged fuel filters, "sticking" electrical ignitions and voltage regulators giving up the ghost are common. Cychaul is increasingly encountering black box problems — complete failures that require sorting by a dealer. Cychaul does not attempt repairs but, according to Michael, tries to accommodate the rider as well as the bike. Once the bike is at a dealer, Michael will often give the rider a lift home, or if that's miles away, a lift to the nearest bus, train or taxi rank. Telephone: 0419 173 453.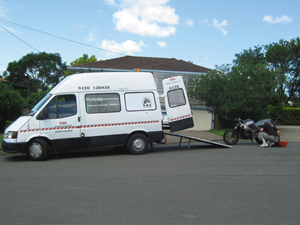 Ezy-Movers handle retrieval throughout the Newcastle, Blue Mountains, Sydney, Wollongong wedge and straight motorcycle transport all over Australia. Bianca at Ezy-Movers says she get lots of breakdown calls from riders who can't start their bikes after refuelling at the servo! Flat tyres are next on the list. Ezy-Movers can't assist mechanically, but will transport your bike in either a specially fitted-out van or enclosed motorcycle trailer. A VIP card entitles you to a discount. Telephone: 1 300 722 477.
MTL (Motorcycle Transport Logistics), which recovers bikes in the Greater Melbourne area, has lots of experience with call-outs but its crews don't generally do repairs. Exceptions are the surprising number of call-outs for bikes with jammed brakes where the MTL crew will loosen off the calipers or release the pressure in the brake line. (Store that one in your memory bank!)
Flat tyres, electrical problems, dead batteries, broken cables and levers are MTL's breakdown chart-toppers. Calvin has also seen his fair share of bikes with keys broken off in ignitions, resulting from thieves fumbling a steal.
By the way, if you are stranded with a puncture, Calvin suggests you don't pull the object out because when the MTL truck arrives it is easier to put some air in to allow the bike to be rolled into the truck, as well as being easier for the tyre fitter to find the leak later on. Telephone: 24hr 03 9357 6233 or Calvin 0416 084 169 or Rob 0419 521 939
Nationwide Towing & Transport, which provides, well, towing and transport, has been operating for more than 23 years. Recently the company acquired Tornado Tilt'n'Crane based in Queensland and with over 200 trucks can now offer services throughout Australia.
Starting out with cars, NTT now handles everything from bikes to buses. What you should know is that NTT has a specialist truck assigned for motorcycles that can retrieve a bike from tight spaces and its trucks carry GPS and mobile data terminals to enable them to find you and track the job in real time. "Our Motto is 'anything, anywhere, anytime' — just ask and we will find a solution," says NTT's Michael Walker. Call 134 869 (134tow).
Then there's Triple AAA
This is the Australian family of car clubs (RAC, RACQ, AANT, RACWA, RAA, NRMA and ACT) which offers motorcycle call-out/towing depending on your membership level and your state.
New South Wales' NRMA has actually been fixing motorcycles by the side of the road since 1924, when it used a fleet of Douglas motorcycles as well as vans. The NRMA reckons many of its current patrolmen are riders so they know how much you care about your bike. The NRMA's undertaking is that if its crews can't get you going, it can get you home. A spokesman says the NRMA has dedicated and professional towing providers who will get your bike home undamaged. The NRMA is also happy to rescue scooter riders.
An NRMA Approved Repairer Network can arrange for the supply and installation of motorcycle batteries at Approved Repairer premises, generally within 24 hours. Roadside battery installation is not available for motorcycles. When NRMA patrolmen cannot get a vehicle going, the patrolman can arrange a free tow for the member, within the Membership entitlements. The NRMA says some of its providers do have specialist bike tow vehicles and others use cycle cradles, but it says its professional towing providers have the skills and equipment to tow motorcycles safely. Regardless of where or how a motorcycle tow is performed, NRMA warrants safe and damage-free towing. For more information visit the website of your state car club.
It's worth noting that the seven state motoring associations make an effort to offer reciprocal rights of service across Australia. So if you are a member of one car club and break down in another state, your bike will be retrieved depending on your membership. Check out your cover now because there is some variation in the services offered by each of the car clubs. The more remote areas may not be covered by some of the state organisations. By the way, we asked the AAA if your Australian cover works overseas. The American AAA has reciprocal arrangements in Europe, so we figured ours might too. We'll tell you when and if they get back to us about this and about insurance cover overseas. Watch this space.


Rescue squads at a glance
SOS Motorcycle Rescue & Recovery 0420 436 039
Allwest Motorcycle Carriers www.allwestmotorcyclecarriers.com.au 0408 248 382
Cychaul Motorcycle Transport www.cychaul.com.au 0419 173 453
Ezy-Movers www.bikeezy-movers.com.au 1300 722 477
Motorcycle Logistics www.motorcyclelogistics.com (03) 9357 6233
Motorcycle Transport www.collmts.com.au
Nationwide Towing & Transport Call134tow (134 869)
We encourage you to troll the web for other breakdown outfits in your region that we may have missed. There are also lots of companies that do straight bike transport.
What about the roadside assistance plans offered by your motorcycle dealer?
Words: Stuart Woodbury
The vast majority of new cars come with free roadside service and now motorcycle manufacturers are offering free or set-priced roadside assistance packages when you buy one of their new motorcycles. So far, BMW, Ducati, Harley-Davidson, Honda and Yamaha have implemented such schemes.
As you may know, when you're broken down by the side of the road, your roadside assistance card suddenly becomes your most precious possession. Before trouble strikes, it's important to choose a roadside assistance provider that meets your needs. Read the fine print and make sure you understand the terms and conditions of your particular program because many are not what they seem.
Some readers have been reporting bad experiences, including being hit with hidden costs associated with roadside assistance plans, so we set about reviewing all of the terms and conditions from the manufacturers that responded to our enquiries.
Three things really stood out for me from the start. First, if you are more than 100km from your home address, there is a charge for towing your bike back to a dealer or your home address. This could be a nasty surprise if you have to pay and could become expensive — after all, how often do we stay within 100km of home?
Second, you MUST stay with your bike; if the service turns up and you're not there, they will drive off!
Third, if your bike is more than 10 years old, you have no coverage, which seems a little weird because wouldn't it be more beneficial to have as many riders signed up as possible?
Turnaround times for call-outs can vary. Most will state "within the hour" but this can change depending on where you are. When they do arrive, is there anything they can really do to get you going? With most bikes nowadays, unless you have a flat tyre, flat battery or have run out of fuel, do you want a guy that normally works on cars tinkering his way through your bike? I think not! It may be on the very, very rare occasion that the guy who turns up actually knows about bikes and cares about your machine almost as much as you do, but I must stress, this really is RARE!
Of the packages I reviewed, most of them come with additional freebies, like legal and medical advice, however what they will actually advise you on is very limited. Are these benefits really worth anything to you? Maybe.
On the positive side, if you are more than 100km from home and your bike is disabled due to a warrantable electrical or mechanical failure and is expected to be out of action for more than 24 hours, Honda, BMW, Harley-Davidson and Ducati will provide accommodation up to a maximum of three nights to a total cost of $120 per night (room only). Once your bike has been fixed the accommodation ceases.
Car rental can be provided as long as the same conditions apply as for the accommodation, however you only use one or the other, not both at the same time. Each manufacturer provides a different amount on "per day" rates, but it is plenty to get you somewhere. One hidden cost with the rental car is that you must pay for fuel, excess kilometres, insurance costs, damage, delivery, and any other excess payable to the rental car provider.
If accommodation and a rental car are unavailable, Honda, BMW, Harley-Davidson and Ducati will supply up to $200 per person (you and your pillion) for alternative transport — air, road or rail — to get you home.
Yamaha has started to offer roadside assistance at a cost to its riders, but unless you upgrade to a better package, the basic one on offer is just that, basic. Of course it is better than nothing, but there are hidden costs. For example, if you run out of fuel, you must pay for it; if your motorcycle is modified in any way and requires towing and the serviceman deems that damage may occur to your motorcycle as a result of these modifications, they can refuse service or ask that the mods be removed prior to towing. Hmmmm?
The five questions to ask
Whether the roadside assistance package comes free with the purchase of a new bike or you have to pay for it, I suggest you ask these five questions when comparing what is on offer.
1. What is the cost of a basic membership after the free period?
2. How many people are covered in the basic membership?
3. How many tows per person are allowed each year?
4. What is the average response time per service call?
5. What percentage of service calls will require me to pay, and what percentage will be completely covered by the membership?
Of the manufacturers that offer roadside assistance, BMW and Ducati cover all models that come with two years free assistance (except the BMW G 450 X). When this period ends, BMW offers the package for $99 per year and Ducati offers theirs for $110 per year. Any models more than 10 years old are not covered with either manufacturer.
Honda has two packages available: a gold package for $69 per year or a platinum package for $119 per year. Harley-Davidson offers its version for $110 per year and $88 for HOG members. Again, models over 10 years of age are not covered. Yamaha offers a combo package; you can choose just roadside assistance at $120 per year or you can take an extended warranty with roadside from $310.
Other than manufacturer roadside assistance, you can find your own deal. Offering these services are NRMA Motoring & Services, RACV, Mondial Assistance and Emergency Roadside Assistance Melbourne — starting from $55 per year depending on provider.
Now, I've made roadside assistance sound like it's all doom and gloom, but being aware of hidden costs and ensuring you familiarise yourself with the terms and conditions and some of the benefits you can reap from the programs is much better than being stuck in the middle of nowhere and being stung in the tail by something you thought was for free. Also, bear in mind that when you're covered you can usually recoup that cost of your plan the first time you call for help.