Oh! Darling!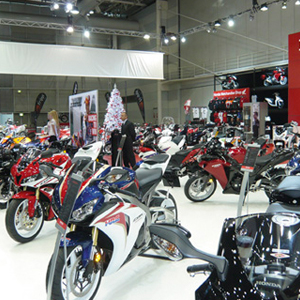 Good show, old chap(s)
Should you ever be in the position to choose somewhere to hold a show in Sydney, go for the Convention & Exhibition Centre at Darling Harbour. Compared with the pigeon-dropping-spattered Showground and the windswept agriculturality (it's a new word) of Homebush, Darling Harbour ticks all the boxes.
Above all, it has the kind of cheerful and bright ambience that few other exhibition spaces can match. Even Jeff's Shed in Melbourne (where this show is held in alternating years) is far more institutional — forbidding, even.
So, after its exile in Olympic Park, it was terrific to see the bike show return to Darling Harbour and the industry did it proud. Unlike some past years, when we saw little more than a lineup of the current (and sometimes already superseded) models, we had plenty of new bikes launched and a lot of effort put into the stands.
Shows are a bit like bar fights: you really have to be there to get the full impact. Words and even photos can't do such events justice. There's no way you can convey the atmosphere — in this case a very positive, enthusiastic atmosphere — that prevailed on that last weekend in November.
One thing that always helps is if the exhibitors are moving product, and that side of the show started really well — so well, it took some companies by surprise.
"It kicked off at lunchtime on Friday," one exhibitor whose name shall remain confidential told us. "People came down from the city in their lunch hour — came in and bought bikes!" They bought more than a few, too.
Why will his name remain confidential? Because we were almost literally rushed off our feet at the ARR stand and in the hustle and bustle I don't remember who it was!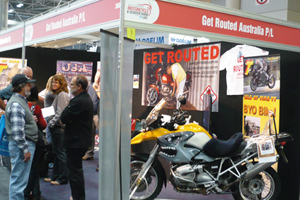 What I do remember is that Ian Chalmers, the CEO of the Federal Chamber of Automotive Industries, gave an upbeat speech before the new models were unveiled. Then the flood started with presentations by Warren Lee from Ducati, Sean Goldhawk from Yamaha, Rudi Baker from Kawasaki, Kris Matich from John Sample Group, Cameron Cuthill for Victory, Perry Morison from Suzuki, Glyn Griffiths from Honda and, as they say, many more. Jörg Hoffmann was swamped by the interest in the Nuda, Husqvarna's first new road bike for many decades.
But the real star of the show was the crowd. They were clearly happy to be there, impressed by what they saw and reassured that the Australian motorcycle industry is not disappearing down some economic black hole. We heard lots of good things on our stand, except for the universal complaint that there wasn't enough to buy — meaning clothing, helmets and so on. It really would be good if the organisers were to address this, perhaps with a "shopping village" like the one I saw years ago at the Earls Court show in London. That had lots of little stands, all arranged in a kind of bazaar and selling a huge variety of stuff to a keen pack of punters.
Worth a thought, guys.
Anyway, I'll leave you with organiser Mark Petersen's comments: "The quality of the show continues to rise and the exhibitors did an amazing job building exciting and entertaining stands," he says. "The Sydney Motorcycle and Scooter Show sets the standard and tone for the new year."
Quite right, too. If you missed Sydney, or even if you didn't, we hope we saw you at the Gold Coast show in February or we'll catch up with you in Melbourne in November. Be there or be … disappointed.
PT