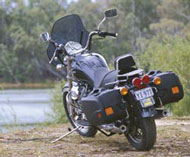 Go away!
A great motorcycle holiday for you in each State, plus the NT
"A traveller without knowledge is a bird without wings."
Sa'di, Gulistan (1258)
These seven suggestions are extracts from On the Road Again*, the Bear's alphabetical Australian bike holiday book. But don't worry, this story is worth a look even if you have the book; it features some updates and all-new photography. All together the book features details of 52 destinations – one a week for a year.
New South Wales
Dorrigo
Falling water
There's been a terrific argument about the name of this small hinterland town, with some locals insisting it derives from a Spanish commander during the Peninsular Campaigns called Don Dorrigo, a friend of a bloke who settled in the area. Others back an Aboriginal origin.
Someone actually searched the records of the Spanish equivalent of the Canberra War Memorial and found no trace of the Don, so the Aboriginal derivation it probably is. Phew. Unless, of course, the bloke who named the place couldn't spell his Spanish mate's name.
The town itself is a pleasant little place with about 1000 inhabitants and the climate is pleasant thanks to the town's elevation from the coastal plain.
Getting there: Dorrigo is on the Waterfall Way and that's recommendation enough all by itself. Running basically from Armidale to the Pacific Highway at Raleigh, this is a stunningly beautiful (though not necessarily stunningly good) bit of road through some truly outstanding natural scenery. Well, it would be natural scenery, wouldn't it. I mean, nobody would go on about unnatural scenery, would they, or artificial scenery.
No, on second thought – there's actually a lot of artificial scenery about. Like gardens and such. Hmm. Don't mind me – just ride the Waterfall Way.
There are several other ways of getting to Dorrigo and most of them are pretty good, too, although they tend to have short stretches of gravel. The road up from Coffs Harbour via Coramba is a personal favourite. A back road from Grafton through Nymboida is well worth riding, though the surface is changeable. There are also various gravel tracks and some of them are good value, too.
Best road/s: I've given that one away already – it's the Waterfall Way.
Other attraction/s: The Steam and Railway Museum west of town claims to have the largest collection of rolling stock in the southern hemisphere, but it's difficult to check that due to the museum's unusual policy of not opening to the public. You can take a look from the road if you're interested.
Waterfalls abound (as you might already have divined from the name of the road) and there are places such as the Rainforest Centre in Dorrigo that will give you a detailed look at the magnificent forests that once covered the land.
Down in Bellingen there are craft shops and such as well and (I am assured by a local who prefers to remain anonymous) even drinkable coffee. One of the cafés has a bike on show, we believe.
Our pick: The Dorrigo RSL Club in Hickory Street comes highly recommended, but then the bloke who's recommended it is the manager. Still, Peg, we trust you. Likewise, the Dorrigo Heritage Hotel Motel, (02) 6657 2016 gets a good wrap.
Tourist information: (02) 6657 2486
Northern Territory
Hermannsburg
The desert awaits
The town itself is interesting, with an historic precinct that lets you see what the original mission was like; but what I really like out here is Palm Valley. You can get petrol and some supplies in town.
Getting there is not hard. Just head west from Alice Springs on Larapinta Drive, number 6, make sure you take the left fork at Iwupataka and 125km later you're in Hermannsburg. There are very few distractions along the way, apart from the turnoffs to Simpsons Gap (no relation to the donkey), Standley Chasm (no relation to the knife) and Wallace Rockhole (no relation to the Line, as far as we know). None of us have been to the last-named, though we mostly enjoyed the others. A couple of kilometres before you reach Hermannsburg you'll see the Albert Namatjira Memorial. The great painter lived here for many years.
Best road/s: Hmm. The Mereenie Loop Road is interesting, though it's often suggested that you need a 4WD; most bikes should make it without any problem. In our humble opinion, anyway – if the weather's been bad that might not be true. Check at Kata-Anga Tea Rooms in Hermannsburg (and try the apple strudel) or, more sensibly – so you don't ride all the way out here to find you have to turn around and go back – ask at the tourist office in Alice Springs. It's near enough to 200km to the next civilisation, at Kings Canyon Resort, from Hermannsburg. You will need a Mereenie Loop Pass because you're crossing Aboriginal land; check with the tourist centre in Alice Springs.
The pick of the roads is the track into Palm Valley. No permit is required, but it takes a fair bit of care; there is deep sand in places. Here it's always suggested that you need 4WD but we've been in by bike, so maybe you can get in, too. Pace yourself and be careful out there – it's best not to go alone.
If you only like tar, you'll have to go back the way you came. There is no other tarred road out of town, not for any distance, unless they actually have the Mereenie Loop finished (which seems unlikely).
Other attraction/s: I've mentioned a few above, but there are plenty of others such as Glen Helen resort, Ormiston Gorge, Tnorala (Gosse Bluff) and so on.
Our pick: Camp out at Palm Valley in Finke Gorge National Park. Be one with the ages. It's magic; the Amphitheatre is awesome at any time of day. Take all your supplies in, including water, and bring 'em out again. The Finke River is one of the oldest rivers on the planet; show some respect.
Tourist information: Alice Springs, in Gregory Terrace (08) 8952 5800 or www.catia.asn.au/catia; Hermannsburg, at the Kata-Anga Tea Rooms, (08) 8956 7402

Queensland
Cairns
Boom and bike town
One of my mates, an American from San Francisco, once described Cairns as "Miami without the Cubans, the food or the architecture"; but of course he meant that as a compliment. Except, maybe, for the food.
Cairns is very much a tropical city, with all the heat and flies and general air of languor that implies, but it is also a vastly efficient money-making machine that takes tourists and, in the course of a couple of weeks, turns them into heaps of cash. The combination is invigorating.
Being very much a tourist town – the locals reckon the airport will soon have more international traffic than Sydney, which sounds a bit unlikely – Cairns is also a tolerant place. Don't count on too much tolerance from the Highway Patrol though, especially on the stretch of road between the city and Palm Cove.
Getting there: It's a long haul up the coast or inland through Charters Towers, but those are pretty much the only ways you can get to Cairns by road. We'd probably recommend the inland route; it's a bit more interesting. It's worth keeping in mind that Cairns is as far from Brisbane as Brisbane is from Melbourne. All together now: "Big fella my country!"
The temptation is to rush this trip but I'd suggest you not even try to tackle it if you don't have plenty of time. You can always fly up and rent a bike in Cairns; call the tourist office for rental bikes, or get in touch with Wayne Leonard at Wayne Leonard Motorcycles, (07) 4051 2741, wlmc@cairns.net.au. He's very helpful.
Best road/s: There's a great selection. The best short stretch near Cairns is the Kennedy Highway up to Kuranda. It has tight corners and, unfortunately, also a lot of traffic. The Captain Cook Highway to Port Douglas is more open, with sweeping corners along the beach. The top ride would have to be the loop through Gordonvale, down the Bruce Highway; then the Gillies Highway through Yungaburra to Atherton; and then the Kennedy back down to Cairns. There are also lots of back roads up on the Atherton tablelands, most of them gravel, and if you fancy a bit of real dirt you could ride up to Cooktown over the much-hated Daintree Road. This one is slippery, even when it hasn't been raining, so beware.
Other attraction/s: The markets in Kuranda are very touristy but still fun. If you don't feel like firing up the bike you can catch a train or the Skyway, a kind of ski-lift thing, up to Kuranda. Or take a dip in the cool river in Mossman Gorge. Or sit in one of the small cafes on the Esplanade, watching the girls (and boys, depending on your orientation) walk by. All right, that's not politically correct but it's fun. Finally, you may snicker if you wish but I really like the Jack Barnes Bicentennial Mangrove Boardwalk, off Airport Avenue. It's very restful and quiet, and there's no charge (fairly unusual in Cairns).
Our pick: The Lake Eacham Hotel at Yungaburra. An excellent pub in every way we've tried, though we must admit we haven't stayed there – we're not even sure you can. For accommodation we're happy to recommend the Kulau Caravan Park in Port Douglas, which is convenient to town and very pleasant.
Tourist information: (07) 4051 3588

South Australia
Oodnadatta
Been everywhere?
Every now and then someone who doesn't (yet) know how truly humble I am says to me, "I suppose you've been everywhere".
I can't help it, straight away I hear Lucky Starr's voice droning "I've been everywhere man, I've been everywhere…" and then I immediately remember that I have never humped "my bluey down the dusty Oodnadatta road". The recommendation here comes from a couple of other team members. The closest I've been to Oodnadatta is the Cadney Homestead roadhouse, out on the Stuart Highway. I nearly made it there once. I was planning to take the Oodnadatta Track home from my trip to Rabbit Flat, but landing on my head at 100km/h changed what was left of my mind.
The attractions in town can be summed up reasonably easily – there's the Pink Roadhouse, the Transcontinental Hotel, the little museum in the old railway station (no longer needed because the route of the railway has been moved) and … well, yep. The big attraction, though, is the surrounding – well, "countryside" is probably saying too much. There's almost nothing out there and for a lot of people that's just right. If you've ever wondered what it is about the lonely Outback that attracts so many travellers, this is the place to find out.
Getting there: The Oodnadatta Track, 200km from Marla or 400 from Marree (there's fuel half way at William Creek), or the 200km track from Coober Pedy. They all get a fair bit of attention with the grader and should be passable on a road bike with a competent rider – except after (or during) rain. Get advice before you tackle it.

Best road/s: The Stuart Highway is a beauty, but of course it bypasses Oodnadatta completely.
Other attraction/s: The desert and knowing you've done it when you've ridden the Oodnadatta Track. Just think, you'll be able to sing along with Lucky: "I was humping my bluey down the dusty Oodnadatta road, when along came a semi with a high and canvas-covered load …"
Our pick: The Pink Roadhouse is good value, but best of all is camping out on the gibber plain around it – a good distance from the road!

Tourist information: (08) 8670 7822
Tasmania
Bicheno
Frog views
The information about Bicheno comes from Bertrand "The Frog" Cadart, the importer of Fournales shock absorbers. He lives there, so who better to give us the drum in his inimitable style?
"In the old Scottish language, Bicheno means 'beech (trees) at the elbow of the river (eno)'. The name was given to it when it was a tiny settlement of wild whalers and sealers. Situated between St Helens and Swansea on Tasmania's east coast, Bicheno has a lot to offer any road rider.
"Contrary to common belief, the north-east part of Tasmania has exceptionally mild weather all year round, so a ride in winter can be highly recommended so long as the rider sticks to this part of the state.
"Bicheno is a holiday resort with a huge range of accommodation from cheap camping grounds and youth hostels to three and four stars (but not ostentatious) resorts and about anything in between, including two pubs with excellent facilities.
"If budget is not an issue, the local seafood (in particular the crays) has the justified reputation of being among the best in the world; it's the clean waters and local seaweeds that give them this special flavour, making humans taste buds go higgledy piggledy."

Getting there: "The most scenic route to and from Devonport passes through Frankford, Exeter, Lilydale, Scottsdale, Derby and St Helens. There are huge hills, corners galore and mind-boggling scenery."
Best road/s: "Once in Bicheno as a base camp, the rides are numerous and rewarding. A trip to St Mary's, going up St Mary's Pass and down Elephant Pass is a must (I recommend that you do it at least twice, once in the opposite direction) as is a ride to Coles Bay."
Other attraction/s: "One of the few roads where the full potential of a Hayabusa, an R1 or a Blackbird can be explored is the ride to Campbell Town through Lake Leake. Many riders do this twice, too, because it feels like a 70 kilometre version of the Phillip Island track that's been stretched. Come back to Bicheno through Avoca, Fingal and St Mary. If the weather is good, it's good times guaranteed. This loop can be done in either direction with intense pleasure.
"Bicheno also offers a fair range of activities, including three local boutique wineries producing superlative Tasmanian pinot noir."
One attraction he didn't mention was the famous Rocking Rock, an 80 tonne piece of granite so delicately balanced that it rocks with the movement of the waves. Follow the signs to the south from town. The Sea Life Centre to the north of town is interesting, too – it has Joseph Conrad's old anchor.
Our pick: How could we go past Le Frog's Corner, Bertrand's shop, which offers everything from local souvenirs to trike rides! Say hello to him for me and let him know if you agree or disagree with this summary of his adopted home.

Tourist information: (03) 6257 4090, triabunna@tasvisinfo.com.au
Victoria

Barmah
Trees and leeches
The big attraction of Barmah is the forest, a huge stand of red gums that has been logged repeatedly but remains very impressive.
Small dirt tracks criss-cross the forest, there are plenty of campsites and the places practically reeks of history. Ned Kelly and his gang crossed the river here on their way to Jerilderie (and sank the punt) and a major industry used to be the collection and export of leeches. The leeches are still there, though they're not really a major problem, but nowadays it's a place of quiet and reflection. So no unmuffled trail bikes, thank you, or we'll throw our empty stubbies at you.
Getting there: The quickest way from Melbourne is straight up the Hume Freeway to the Goulburn Valley Highway intersection and then through Shepparton and past Nathalia. More interesting is the Northern Highway through Kilmore and Heathcote but by the time you get to Elmore it's pretty dull, too. That can't be helped – the huge floodplain of the mighty Murray is flat, that's all there is to it. One road we quite like is the back way to Barmah, which takes you across the river to Moama and then 15km up the Cobb Highway to a turnoff to the right. A nice, quick, back road.
Best road/s: You can pretty much forget interesting tarred roads up here but the dirt through the Barmah Forest – now the Barmah State Park – is great, so long as there hasn't been much rain. Rain means mud, sometimes very deep. There is a track that follows the river just about all the way around to Bearii (would I lie to you?), which passes the remains of old sawmills and lots of great campsites.
Other attraction/s: The Dharnya Aboriginal Interpretive Centre, on the way out to the river from the pub, has terrific displays. For true weirdness, the Gumnut Model Village in Moama stands out. But most of the tourist-type stuff in the area is in Echuca and some of it is actually excellent. The Port of Echuca with its period recreation of a riverside village, including paddle steamers, is authentic enough not to grate too much, though most of the souvenirs are pretty mass-produced. The Red Gum Works is a good antidote for that with its wood-turning demos. A steam, horse and vintage car rally takes place in June. The Star and the Bridge seem like good pubs.
Our pick: The Barmah pub, of course, and camping out by the river in the forest. The pub is actually the only one in Victoria that's north of the Murray, and if you don't believe that, check a map. It's a very ordinary small pub, really, but its location makes it. We've thrown down our swags out the back on the riverbank, but that might not be allowed any more. Not because of anything we did, I hasten to add! Well, I hope not, anyway.
Tourist information: (03) 5480 7555
Western Australia
Pinnacles
Thirsty work
The Pinnacles are impressive limestone pillars sitting amongst the sand dunes just inland from the Indian Ocean coast.
The effect is quite spooky and I'm not sure that I really wanted to be told (in a brochure available locally) how they came about. I think I'd prefer mystery. Anyway, they look fascinating and I go back every time I'm anywhere near.
It helps that Cervantes, just up the road, is a nice little place with a good caravan park, a wonderfully-named liquor shop (Thirsty Point Liquor, after the point on which the town is built) and a pleasant, though modern, pub.
Getting there: Take the Brand Highway north from Perth and turn off onto the tarred spur road to Cervantes. The Pinnacles are in Nambung National Park, to the south, off the gravel track that leads to Lancelin (see below). There's a fee to enter the park – the last time I was there it was $5 a vehicle.
Best road/s: For anyone who's really confident on poor dirt roads, the coastal track from Lancelin to Cervantes that runs past the entrance to the Pinnacles is worth considering. The first bit is the worst, with deep, white sand over the track at the Lancelin end, but the combination of sand and sharp limestone outcrops that takes over can be daunting as well. Make sure you have a halfway decent map because the track doesn't simply follow the beach – it has to detour around some Defence land first. After that it does follow the coast and it's lovely. It's about 75km from Lancelin to Cervantes.
Take a look at the peculiar little settlement of Grey as you go. It grew from a small collection of fishing shacks to become, well, a big collection of fishing shacks. No shop, no fuel, no services and sometimes no people, just weathered grey shacks and rusted-out car bodies.
Other attraction/s: The wildflowers all around here are spectacular from August to October. New Norcia with its 1846 monastery is quite interesting. They say the New Flour Mill is the oldest flour mill still operating in WA, while the Old Flour Mill is the oldest surviving building in New Norcia. There's a museum, too.
Our pick: Visiting the Pinnacles early in the morning, when the shadows of the rocks reach out far across the clean sand.
And sitting up in the Cervantes pub on its sand dune, tucking into a local crayfish and a few cold Swan Lagers and reminiscing about the amazing Pinnacles. Or, given you have a dirt bike, riding north up the empty beach to take in a solitary sunset over the Indian Ocean.
RR
Tourist information: (08) 9652 7041 in Cervantes, (08) 9652 7043 for Nambung National Park.