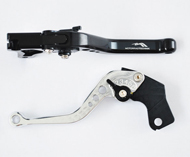 Squeeze that lever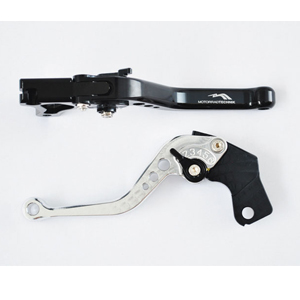 One of the best investments you can make to your ride is dialling in your bike to suit your individual requirements and ergonomics.

The adjustable levers from Motorrad Technik is just product from Motorrad Garage that achieves this and keeps on giving long after your initial purchase.
Sold in pairs, the levers are fully adjustable to six positions so regardless of your hand's reach, or whether you're in the middle of winter with the thickest gloves, you now have the ability to set up your ride instantly.
Each Motorrad Technik lever is CNC-machined from 6061 T6 aluminium billet with a jewelled finish, and features stainless-steel fittings for a lifetime of good looks combined with smooth trouble-free operation. Available in three finger (short) or replacement (long) lever lengths, it will make riding on- or off-road less fatiguing, giving you excellent feel, feedback and control. Assembled in Western Australia and available in Black or Silver to suit: BMW, Honda, Ducati, Kawasaki, Suzuki, Triumph and Yamaha. Cost is $99 (a pair). For more information, contact Motorrad Garage on (08) 9472 9768. Email info@motorradgarage.com.au or visit www.motorradgarage.com.au
"One of the best investments you can make to your ride is dialling in your bike to suit your individual requirements and ergonomics."
Comfy bum

Airhawk, manufacturer of support surface products for consumer applications, is introducing a new motorcycle seat cushion, the Airhawk R, to address specific issues of prostatitis, general discomfort in the sacrum and coccyx, as well as areas under the prostate and scrotum. Sound like something for you?
The Airhawk R motorcycle cushion provides the same effective pressure redistribution with interconnected air cells as the original Airhawk motorcycle comfort seating systems, but with a new cell design to provide added comfort and to addresses specific pressure areas.
"The Airhawk R is designed to address all of the issues that our customers have pointed out to us over the years; the new cell design eliminates contact with the tailbone, prostate and the scrotum area," Tom Thornley, director of Airhawk Australia, said.
Made from neoprene, the new Airhawk R measures 14in x 14in, comparable to the Airhawk Medium Cruiser, the most popular Airhawk motorcycle cushion.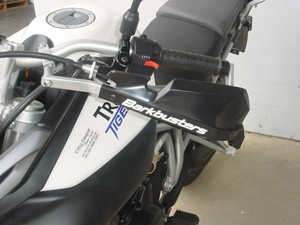 As with all Airhawk motorcycle comfort seating systems, the Airhawk R comes with a non-skid cover and straps for securing it to the rider's bike seat. Airhawk cushions use shape-fitting technology and are fully adjustable and customisable to each rider. Price is $229.89 including free Express Post anywhere in Australia. Call 1300 783 128, email: info@airhawk.com.au or check out their website at www.airhawk.com.au
Remember your best moments
TomCat Distribution has on offer the new Replay XD1080 High Definition camera for $339 and accessories — yes, that's full HD in one very small package. It provides a water-resistant, hard-anodised, rugged aluminium housing for your extreme adventures. The Replay XD1080 is the smallest and lightest full HD action camera on the market.
Simple On/Off and Start/Stop buttons make the Replay XD1080 easy to operate. Simply turn it on and press Record to start. The built-in LED and Vibration Feedback tell you that you're ready to go. Rotate, tilt, swivel, clip, mount — the Replay XD1080 can be mounted practically anywhere due to its small form factor and all-round shape. There are two mounts included with each system to get you recording in no time.
HeimLock Mount (Swivel/Tilt): Features spherical adjustment with an eccentric cam-lock for a rock-solid mount. More than 1,036,800 mounting positions with 360º lens rotation, 360º camera rotation, and 8º of tilt.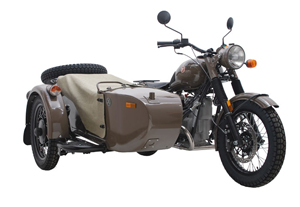 Replay XD1080 is the first to stream full 1080 HD through the built-in HDMI out connector. You can record and stream your video simultaneously or just stream your video straight to an external HD recorder. Compatible with live streaming via HDMI microwave, WiFi, 4G transmitters and HDMI in HD recording decks.
Replay XD1080 features class-leading optics. Never before has an action camera featured such a high-quality lens. With its custom-designed wide angle 135º, f3.1 lens, and anti-glare coating, this lens is finely tuned to match the 5MP CMOS sensor for better clarity, accurate colour, and minimal image distortion.
Along with everything else, thousands of hours have been invested in developing, engineering and testing the right combination of acoustic materials and microphones to suppress wind noise yet still capture realistic audio.
You can use the camera in a number of modes: 1080P@30fps, 960P@30fps, 720P@60fps, 720@30fps, Photo@1, 5, 10 & 15 sec, Internal Audio, External Audio, Rec, Stop, Play, Skip Forward, Skip Reverse, Clip File, Live Video Out. Wow. Contact www.tomcatdistribution.com.au or give them a buzz on (02) 4305 2200.
Check out ARR at the recent 2012 BMW S 1000 RR Launch at Phillip Island on a slightly damp track. We used the long suction mount — did not set it up, just basically "plug and played" the camera as a quick test and the results are fantastic. http://www.youtube.com/watch?v=_Ib3BVJMysw
Disclaimer: Most of us here (except for Stuart) have no idea what much of the above means, but we're clear on the fact that this is a neat gadget. — Ed.
Clean her up
Warrian Enterprises Pty Ltd has a new high-quality Fuchs Silkolene product available now — Foam Filter Cleaner in 1L packs. Cost is $29.45. Phone Warrian Enterprises (07) 5526 4543 for your nearest Fuchs Silkolene stockist. For WA enquiries phone Moto Bitz, (08) 9478 6415.
Keep your bark
As part of Rideworx's ongoing commitment to meeting the demands of the marketplace, they tell us they have designed a hand guard specifically to suit the Triumph Tiger 800 and 800XC. One kit is suitable for both Tiger 800 models.
The BHG43-NP is sold as a "No Plastics" fitting kit so that each customer has the option to tailor their individual setup according to their personal requirements. For excellent overall protection, VPS plastics (code: BHG3-WD) come with variable-height wind deflectors so that riders can adjust their level of protection. (Black, blue, red, green, orange, yellow, silver, white and pink.) If extreme weather conditions (snow, wind, rain, cold etc) is of concern, then the Storm plastics (code: S3) can be used to provide the ultimate protection (black only). To see the full range of model-specific hand guards, go to www.barkbusters.net. Barkbusters products are manufactured in Australia and are available from your local bike shop. Cost is BHG43-NP: $125; BHG3-WD: $43; S3: $48.
Ready to get cold!
Alpine Motorcycle Rally no 43 is set for the June Queen's birthday long weekend (9–11 June, 2012). All motorcyclists (no cars please) are invited to participate. This year's site will be at Brindabella, midway between Tumut and Canberra, approximately 8km up the Brindabella Valley Road on the eastern side of the Goodradigbee River. Just follow the signs and turn right into the TIN HUT gate. Don't forget to bring some old memorabilia to share with everyone.
All ages are welcome and the three youngest riders under 22 years of age will have their entry fee refunded (or free on the day). Rally cost: $16 prepaid and $20 on site. Prepaid entries close Monday 28 May, 2012. Send details to: Henning Jorgensen, 47 Palmerston Ave, Dromana Vic 3936. For more details, phone 0406 381 247 or (02) 9994 3052, e: hpj333@gmail.com.
Ural anniversary model M70
The Ural factory is celebrating 70 years of production from its Irbit factory. The original BMW-based design is now decades old but has been lovingly updated and fitted with modern components. Marzocchi forks, Sachs shocks and Brembo brakes are but a few of the well-known suppliers. For their 70th anniversary, the people from Ural are celebrating with the release of a special model, a nostalgic thrill for the real enthusiast!
The new M70 is a tribute to its famous forebear, the iconic M72, which was built in the current Irbit factory in Russia. Almost 10,000 M72s were built there and despatched to the WWII front lines. Like those machines, the M70 comes in Olive Drab with a spare wheel, canvas tonneau cover, a shovel and, yes, even the machine gun mount!
"This bike will give you decades of fun service long after your plastic fantastic sportsbike has been consigned to the wreckers," according to Ural Australia, which can be contacted on (02) 6778 7436 for more information on this and the new Adventure or Retro sidecar models. Of course, the outfit will be on the left, not like the overseas model shown.
One happy chappy
Perfect weather conditions greeted over 3000 riders as they rolled into the Alpine region for the annual Snowy Ride late last year, but only one lucky winner was awarded the grand prize of a Honda VRF1200. Adrian Ikin, a keen motorcyclist, almost missed the announcement of his huge win when it was announced in the sunshine at Thredbo.
He made sure not to miss the pick-up of his new Honda Sports Tourer last week. "It was my first Snowy Ride and my friends and I had a great time even before the announcement of the win!" Adrian said. "The best thing about the ride was the sense of community; everyone was there for a common goal and everyone was open, friendly and chatty." Adrian said he and his friends were sitting towards the back of the crowd when the announcement was made and didn't hear his name called. "I was so excited that someone had won the Honda VFR1200 and was having such a good time relaxing that when my friend came running towards me screaming that I'd won I really didn't believe him."
After picking up the VFR1200 from New World Honda in Narre Warren, Adrian was at first most impressed with the styling. "The shape and design really stand out with this bike. It is amazing to think that such a powerful engine is housed in such a sleek exterior," Adrian commented. "I also love the colour and paintwork; this bike is definitely going to stand out on the road!" Adrian, who also rides a Honda Goldwing, said the VFR1200 will be perfect for commutes to work and he anticipates it will handle the roads in his area of Gippsland especially well. Honda Australia has shown unwavering support for the Snowy Ride since its inception 11 years ago. The ride is run by the Steven Walter Foundation and raises money for children's cancer research. For more information on this year's Snowy Ride visit www.snowyride.org.au or www.hondamotorcycles.com.au.
Light up your life
Triumph has a new Sympatex Light jacket. This is a premier touring jacket which combines high-quality fabrics and all-weather protection with … wait for it … unique LED lighting technology.
Front and rear lights are integrated into the jacket, providing increased visibility. The angle of light won't affect rider vision, and it is powered by a lightweight battery pack with USB connection for easy recharging.
A unique proposition for modern-day riders? We'd say so. Features include a 500D Dupont Cordura and Schoeller fabric combination; Sympatex — waterproof, windproof and breathable; removable CE-certified protectors at elbow and shoulder; removable CE-certified back protector; flex zones for increased comfort and flexibility; removable inner soft-shell jacket; tech-ventilation air flow panels; and a detachable storm collar. It retails for $749, available from your authorised Triumph Dealer.
Forgét about it? No more!
Black Dog Cycle Works (BDCW) partner, Kurt Forgét, announced its new line of all-aircraft-alloy foot pegs for KTM Adventure and dirt motorcycles. Forgét stated, "From our experience, we recognised that having an enlarged foot peg provides the rider with greater control of the bike. It's like adding power steering to the motorcycle. The Adventure foot pegs are designed to provide the rider with greater foot comfort, bike control and, made from an aircraft alloy, to be ruggedly durable. We didn't stop there; we even designed a built-in bottle opener to the bottom of each foot peg so the rider can carry one less item and always have easy access to refreshments at the end of the day." We like his thinking, and he's not even an Aussie!
BDCW, an industry-leading manufacturer of KTM and BMW rugged skid plates and other hard parts, has its own experience as well as that of other riders and racers, to develop this new enlarged foot peg which still weighs in at only 225g each. The foot pegs, manufactured in the USA, measure a large 6.35cm wide by 10.8cm long. The traction cleats are designed to provide optimum balance between best grip for secured footing and comfort. For bike control and rider comfort, especially over long stretches standing up, the BDCW Adventure foot pegs seem like they would be hard to beat. This is also the only foot peg in the world with a bottle opener designed right in.
BDCW Adventure foot pegs are available in a natural machine finish for $199 per set. Anodised version
s are expected to be released later in 2012.
BDCW also has in production Adventure foot pegs for BMW's R1200GS/GSA, F800GS, F650GS and G650GS, which should be available for ordering when you read this. They are available through Black Dog Cycle Works at www.blackdogcw.com.
Kiwis to the (first) aid
Looking for a first-aid kit that is comprehensive, compact, waterproof, tamperproof and robust, with an easy-to-follow guide? The Aide System, out of New Zealand, fits the bill. Packed in a roll-top water-proof bag, the contents unfold with a clear view and access to the various items. There are two kits on offer from Andy Strapz: Comp — a smallish, compact kit at $55; and Adventurer — designed for those a bit further from more immediate help at $120. Contact Andy on Ph (03) 9770 2207, email: info@andystrapz.com or have a look at the website: www.andystrapz.com.
Ease the strain
Are you riding a sports bike and have you realised that you aren't 21 anymore? Or do you want to be able to do a long ride without getting off the steed like a zombie? Then the answer could well be Convertibars. These handlebar converters allow the easy movement of the bars to a position that fits the ride. Doing a long ride? Then lift them up. Hitting a run of twisties? Then drop them down and enjoy the road. Infinite adjustments mean you enjoy the comfort of fitting the bars to your personal height. High-quality construction means confident, secure fittings. Available for most bike models in Australia via Kickstart Components. Call 0406 497 145 or check out www.kickstartcomponents.com.au or www.facebook.com/KickstartComponents
Underwear is where it's at
Winter is here, and if you're feeling the bite of the cold you're probably thinking of adding an extra layer or two under your vest or jacket. Problem, though, is that most of the time those layers are pretty bulky. The answer is to wear a thin layer that provides you with the warmth without the bulk, and Thermal Underwear from Rjays looks to be exactly what you need. Manufactured from a Thermolite material, the new Rjays Thermal Underwear will fit neatly under your clothing and provide you with the warmth you need without the extra bulky layers needed to keep out the winter chill. Both pants and top are available in sizes from Small through to XXL, and are sold separately. Available from all good motorcycle shops and distributed through Cassons (www.cassons.com.au), the Rjays Thermal Pant and Top retail for $49.95 each.
Windshields push envelope
Setting itself apart from the rest, the V Stream range of windshields from National Cycle really does push the envelope when it comes to rider comfort. The secret lies in the screens' contours, with the "V" shape pushing the oncoming air up to 10cm away from either side of the rider's helmet, creating a calm pocket of air for the rider's upper body and head. Constructed from a tough polycarbonate, each V Stream screen features smooth rounded edges and comes complete with a specific fitting kit for each bike application, so you don't need to worry about any installation hassles. See your local motorcycle shop for details and applications. Priced from $209.95-$379.95.
LV to have ONE
LeoVince has come up with the LV ONE Slip-on specially designed for the all-new Kawasaki Versys 1000. The muffler is E-Approved and presents the silencer and the collector in stainless steel, with a bracket made in carbon fibre. The end cap in technopolymer ensures high performances, thanks to its lightness and wear resistance. The silencer external sleeve is available in carbon fibre or in elegant stainless steel with sand-blasting treatment, which gives the product a "titanium look". Carbon fibre costs $949 and stainless steel $694. Contact Wayne Gardner Enterprises, Ph: (02) 4226 2999, email: enquires@wgardner.com or have a look at www.wgardner.com.
Protect that six
RadGuard just keeps 'em coming. They've now added radiator and oil-cooler guards for the new BMW K1600 GTL and GT to the range and they're nice and easy to fit thanks to BMW's clever and well-considered design. The guards are made from high-grade aluminium and are available in polished alloy or black. They are lightweight, very strong and actually increase the air flow to your radiator, keeping your bike's running temperature down. The Rad Guard stops just about anything damaging or clogging up your radiator core. Cost: $259 for the set (radiator and oil cooler) but check the website for discounts. Shipping is overnight for $9.90. www.radguard.com.au.
New Aprilias in New Castle
John Sample Automotive, Australian importer of Aprilia motorcycles, has announced the appointment of a new dealer in Newcastle, one of NSW's most motorcycle-conscious cities. Brisan Motorcycles officially began representing Aprilia on January 25th and has already delivered bikes to customers who are happy to see Aprilia once again represented in the region.
"Brisan Motorcycles have built a strong reputation for quality service and customer support and pride themselves on representing only premium-quality brands from Europe and the USA. Late last year the Brisan team moved into new state-of-the-art premises that would rival the best in Australia," says John Sample Automotive. See www.brisans.com.au or call Clint Davis on 02 4940 8777.
Upgrade your tail with Kriega
The Kriega range of versatile waterproof tailpacks has been upgraded so they all come with the unique hook strap system as standard. The hook straps attach to the bike's subframe under the seat or pillion pad to create the luggage mounting points, making them safe and secure yet easy to remove. The bags are a universal fit, come with a 10-year warranty and can be stacked to form luggage combinations of up to 90 litres. The packs start at $89 for the 10-litre US-10, up to $159 for the US-30. Available at www.kriega.com.au or call 0409 959 737.