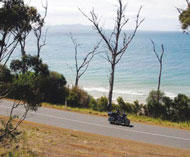 A day away
You have a free day in any of a dozen cities in Australia or New Zealand. What do you do? Go for a ride, of course
"Gather ye rosebuds while ye may,
Old Time is still a-flying:
And this same flower that smiles to-day,
To-morrow will be dying."
Robert "Cheerful Bob" Herrick, 1591–1674
It can happen at any time. For one reason or another, you have a day free, a long way from home — be it because you've managed to skive off a conference for a day, or you've run out of things to do on a holiday, or you're at a loose end for any other reason. Or perhaps your mate who lives in another city has thrown you the keys to his bike while you're visiting and said, "Put a few kays on it if you like." So you don't have to go shopping, wander around some museum or spend the day in the pub. You can go for a ride! Here's one way to do it.
We've compiled a selection of short one-day rides, one from each of the cities below. In each case, we reckon this is one of the best, most interesting runs given the time constraints and the fact that you're probably not going to have a lot of local knowledge. Some of these rides are based on routes from the Bear's Motorcycle Atlas; others are freely created by the rest of us.
In case you don't have a bike with you (which is likely in these sorts of cases), we've also found you somewhere to rent one in most of the cities mentioned. Where we haven't listed a rental company, we simply don't have any knowledge of or experience with one. It's you and the internet, I'm afraid.
Don't waste your day away. Go away — for a ride. Remember: "Old Time is still a-flying…" Oh, and we suppose you could do these runs even if you live in the cities mentioned (but you'll probably know them already)! Here's the first half-dozen rides. The others, out of Sydney, Canberra, Launceston, Perth, Darwin and Christchurch, follow in the next issue.
Oh, and if you do live in one of these cities, there's nothing to stop you doing the ride as well.
Cairns
It's a simple loop ride, but it has a lot going for it. It's a shame you won't have time to take in all the attractions along the way; if you did it would take you a lot longer than a day, even though it's only about 175km. We'll ride it in the opposite direction from the Atlas because that way you get the boring bit out of the way first, giving you a chance to familiarise yourself with the bike before the real riding starts.
Find the Bruce Highway, or Highway 1, which is not hard since it's the main road running through Cairns. Turn south and ride sedately through cane fields (we think) and small settlements to Gordonvale. You'll know when you're getting close by the unmistakable bulk of Walsh's Pyramid — it's a big hill, not a built pyramid — that will rear up in front of you. Turn right before you reach it, onto the Gillies Highway.
From here, it's a brilliant run up and over the Lamb Range and around the base of Lake Tinaroo to Atherton. You'll find lots of reasons to stop up here on the tableland, including sights such as the Curtain Fig Tree at Yungaburra and terrific little cafes and restaurants.
Turn right at Atherton onto the Kennedy Highway. You might like to stop at the Mt Uncle Distillery before turning right again just short of Mareeba (it's worth going on to look at the town if you have time) and making your way back east to Kuranda. From there you've got another great ride down the range to Smithfield, where you turn right yet again and return to Cairns through the tourist sprawl.
Hobart
There are many possibilities for rides out of Hobart. Richmond is a terrific destination, though it's a little close. The road to Strathgordon is one of the best bike roads in Australia, but that's a bit far. Port Arthur is rather too well known, really. The Bruny islands would be good, but there's only the one road.
So … what does that leave? The best run of them all, of course!
Leave Hobart by way of Sandy Bay, on the B68, not by the A6, the main (and ominously named) Southern Outlet. Stop at the Shot Tower by all means, if you can fit the bike in somewhere between the tourist buses. Stop again at the wonderful cafe in the train carriages in Kingston (on the left) and the Antarctic Headquarters with its exhibits, photographs and models.
But you'd better get going or we'll never finish this ride!
Continue along the beautifully surveyed and (usually) remarkably empty coastal Channel Highway, down to Gordon and then back up again to Huonville. There isn't a lot of fuel along here, so maybe you should add a visit to the servo to all your stops in Kingston.
A sharp left in Huonville takes you onto the A6, by now called the Huon Highway. Carry on south to Geeveston and stop in at the Forest & Heritage Centre here. Can't miss it — it's right across the road from The Bear Went Over the Mountain. Seriously! Buy your ticket to the Tahune Air Walk at the Centre and then tackle the excellent tarred road out into the wilderness that ends at this treetop walk, possibly the first in Australia. There's a pleasant cafe where they will look after your helmet and jacket for you while you climb.
On the way back to Hobart, retrace your route to Huonville but carry on straight up the A6 until you get to Lower Longley. Take the old Huon Highway from here rather than the boring Southern Outlet and you'll have a bit more riding fun before you're back in Hobart.
Call it roughly 240 kilometres but a thousand miles of fun. Sort of.
Adelaide
It has to be the National Motor Museum, doesn't it? But what about all the wineries in the Barossa Valley? And Hahndorf, and, and, that amazing Whispering Wall in Cockatoo Valley?
Oh, all right. Let's go and see them all.
Head off down Glen Osmond Road to the M1 and an opportunity to become familiar with your rental bike. Take the Hahndorf/Woodside/Birdwood exit and follow Mount Barker Road into Hahndorf.
Yes, the place is a tourist trap par excellence, but it does have a few redeeming features: there's good coffee and excellent cakes, it's remarkably pretty with its tree-lined main road, and motorcycle parking is a snack. So this is obviously a good place for morning tea and maybe souvenir shopping. The food at the German Arms is pretty ordinary, take it from a genuine (ex) German.
Go back up the road a little and turn right into Ambleside Road, a nice little back road that takes you up to Onkaparinga Valley Road. Turn right. Following this will eventually get you to Birdwood by way of Woodside and Mt Torrens. Birdwood, as we all know, holds the National Motor Museum with its treasury of cars and bikes. There's also a combination bike shop/museum across the road called Bill's which I like very much, partly because it's free.
The road you're on now is the B10, which will happily take you to Angaston and then Nuriootpa right in the middle of the Barossa wineries.
On your way back to Adelaide, take the B19 and turn left at Sandy Creek. A right turn to the Barossa reservoir will take you to the amazing Whispering Wall, a curved dam wall that carried the quietest of whispers from one side to the other. Wow. Beat that, Disneyland. Then carry on to the B31, turn right and choose which of the excellent bike roads you'll take back to Adelaide from Chain of Ponds.
Ah, luxury.
Melbourne
If there's any capital city in Australia that truly offers an embarrassment of riches to motorcyclists, it's Melbourne. Its surroundings on just about every side feature wonderful twisting mountain roads and bosky dells galore.
So we're going to be contrary and recommend a day run that has no traditional motorcycle roads in it at all. But it's a great ride just the same.
Make your way to the M1 heading west. In this direction it's called the West Gate Freeway. Now follow it all the way to Geelong. And beware the speed cameras. We seem to remember that the Frog once accumulated enough points on a single ride along here aboard his Z1300 to lose his licence — totalement. Zut alors.
Geelong is nice and if you're a Ulyssean you might like to pay your respects to the Old Number 1 bollard on the waterfront (it's an old-timer's thing). Now find the Bellarine Highway, the B110, and take it out across the flat but curiously interesting peninsula of the same name. There are wineries and breweries and other fancy stuff.
Have lunch in Queenscliff, which was once a flash resort and is trying to retain some of its past glory by charging more for things than anyone else is. Why are we recommending that you eat here, then? Because where you're going they charge even more.
Yes, it's time to catch the ferry across The Rip to the Mornington Peninsula, the only promontory in Australia careless enough to lose an entire prime minister.
There is a bit of a freeway just up the road here, but we'd stick with the Point Nepean Road, Marine Drive and then the Nepean Highway. Take a break and ride up to Arthurs Seat, behind Dromana. Great little bike road … oh, all right, we know we said there wouldn't be any.
The Nepean Highway and its various continuations, culminating in St Kilda Road, takes you right back to Melbourne's CBD. You've covered 210km or thereabouts and you've done it mainly on traffic-encumbered main roads. But look at it this way: you've ridden around Port Phillip Bay.
Surely that's worth something.
Auckland
I'm going to break with style a little here and recommend a half-day ride instead of a full day. The reason is twofold: you would probably never find this run by yourself and I really, really like it. Good enough?
Auckland is quite a big place, so it can take a while to get out. Here's the quickest and easiest way in this case: take the North Western Motorway to the Great North Road exit. Go south on Great North Road (yes, I know …) until it turns into Ash Street. Keep going more or less straight ahead along Rata Street and Titirangi Road. In Titirangi, turn right into Scenic Drive.
Whew. It's easy from here on.
It's an enjoyable ride along the slightly misnamed Scenic Drive — the roadside trees are so high you can't see much scenery — to the Piha Road turnoff on the left. Watch this corner — the camber is literally all over the place.
Piha Road has very few side roads; it's narrow and twisty and great fun. One side road you might like to tackle is the one down to Karekare. Lovely run down the side of the valley, but it's narrow even for motorcycles (!) and there's nothing except a few baches (holiday homes) at the end. Well, when I say the end, you can continue along Lone Kauri Road if you're feeling adventurous, back to Piha Road. It's sealed, but it is pretty lone!
But back to the main game. Not far past the Karekare turnoff you get to the top of the cliff overlooking the black sandy beach of Piha. It's an excellent run down the side of the cliff (and even more fun going back up) and the little shop in Piha has quite good sandwiches — even though they're inevitably presented in clingwrap. Well, this is New Zealand.
You can ride a little way up the coast, but it's a dead end.
On the way back, take the West Coast Road near the Piha Road/Scenic Drive intersection if you're in a hurry to get back to Auckland. If you're not, turn left into Scenic Drive (watch the corner, remember) and return via Swanson Road.
Brisbane
If you're a local you'll know this run all too well, but keep in mind that this is for visitors — and they won't necessarily know one of Australian motorcycling's worst-kept secrets: the ride to Dayboro and Mount Mee.
Leave Brisbane by way of Samford Road through Samford Village. This will take you on a wonderful back road around Lake Samsonvale up to Dayboro, home of an excellent bakery and no less excellent pub. Turn north onto Highway 58 in Dayboro and carry on over a spectacular ridge road up to Mount Mee. Along the way, there are views of the Glass House Mountains.
Just out of town, and in sight of the actual Mt Mee itself, take the fork to the right signposted to Campbells Pocket and Wamuran. This is yet another great run that will seem all too short when it deposits you on the D'Aguilar Highway.
Turn right to the pleasant and thriving centre of Caboolture, turn right again to Morayfield and continue south until you reach the Bruce Highway. It's just a doddle from here straight down the highway back into Brisbane.
If 140 kilometres seems a bit short to you for a day's run, as it well might, you could try riding this route in reverse and making a sharp right turn in Samford Village when you get there. This takes you up another back road to Mount Glorious, on the even more famous Mt Glorious/Mt Nebo motorcycle road. The cafe at Mount Glorious is a regular motorcycle haunt and you may find some truly tasty machinery parked out there to match the tasty snacks inside or, better, on the back verandah.
Return to Brisbane through Mount Nebo and Brisbane Forest Park, but do be careful. The road conditions are not the best; there's likely to be a not-especially-tolerant police presence and on weekends the road is infested with wannabe racers on sports bikes.
Despite that, the detour is well worth riding. It adds about 40km to the day.
Rent here
We asked the indefatigable Selena Thurbon of Bikescape Motorcycle Tours and Rentals to recommend rental companies in some of the cities we've covered. They were chosen partly for convenience; they're pretty much all in relatively easily accessible places. Oh, and of course Bikescape was chosen because Selena knows the people there very well indeed.
Cairns: Cairns Motorcycle Tours & Hire, www.bikingaustralia.com/index.htm
Sydney: Bikescape Motorcycle Tours & Rentals, www.bikescape.com.au
Melbourne: Garners Hire Bikes, www.garnersmotorcycles.com.au/
Hobart: Moto Adventure Tasmania, www.motoadventure.com.au/index.html
Adelaide: Show & Go Australia, www.showandgo.com.au/
Perth: Big Boyz Toyz www.motorcyclerental.com.au/
Auckland: South Pacific Motorcycle Tours, www.motorbiketours.co.nz/
Christchurch: Te Waipounamu Motorcycle Tours, www.motorcycle-hire.co.nz/index.html
Keep in mind that these are far from the only places where you can rent a bike in these cities. One we would add straight away is South Pacific Motorcycle Tours in Christchurch, www.motorbiketours.co.nz.
Reader Rod Smith has also come up (finally!) with a rental agency in Darwin. "Bikes Top End has Harleys, Ducatis and Triumphs and has been operating for about 18 months," he writes. "Check it out at bikestopend.com.au."
It's not exactly Brisbane, but Aussie Biker Tours & Rental in Noosaville, Qld, offers rental bikes. See www.aussiebiker.com.au.
Likewise, OzTrikes is a little way north of Sydney at Somersby, rather than in the city, with its fleet of rental trikes. The website is www.oztrikes.com.au.