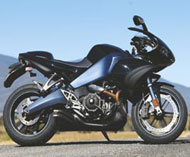 Bridge building
John Arens tackles the bike that looks like starting an entirely new chapter in Erik Buell's dream
I've nearly always had an interest in V-twins. It started many years ago. When asked if I could rebuild a 750 Ducati motor, and not knowing too much about them, I said "yes". That was my first mistake and another story, but once finished there was just something about the sound that came out of those pipes of a good V-twin motor that just did something for me and after riding the bike, I loved it and was hooked.
Times have certainly changed since those early model bikes and now there is new excitement in the Buell camp with the release of the 1125R. Rightly so. With only a few V-twin sports bikes still available on the market, the latest addition to Buell's fleet is one that needs some really close attention.
Whatever you have previously thought or heard about Buells, forget it. The new 1125R will make a very different picture in your mind once you ride it. This bike has a number of new features; in fact the whole bike is virtually new from the ground up, with a new chassis, motor, brakes, fuel system and on and on.
Erik Buell, Chief Technical Officer and Chairman of Buell Motorcycles wanted a completely new bike for its 25th Anniversary edition. Armed with a load of technical information of what he needed to power the new chassis and a lot of previous experience in manufacturing and R&D, he struck a deal with leading recreational engine builder BRP-Rotax, to come up with the Helicon engine. This is a totally new engine and exclusive to Buell.
The Helicon is a high-performance 72 degree V-twin engine; it is liquid-cooled so it can pass the strict Californian emission controls. It is a twin overhead cam, operated by a single self-adjusting chain direct to each inlet camshaft with the exhaust cam gear driven by the inlet, therefore reducing chain lag and binding. Shim adjusted finger followers to the 18 degree valves in the cylinder heads increase valve opening times therefore increasing performance, but reduce friction and wear.
Fuelling is by a DDFI (dual downdraft fuel injection) 3 EFI closed loop system for optimum mixture control and smoother throttle operation, using 61mm throttle dual downdraft bodies and a 12lt ram air box. Now that's huge! The gearbox went to an oblique stacked six-speed close ratio gearbox with a HVA, (hydraulic vacuum assisted) slipper clutch that is very light to use. The bike also has a newly designed compensating sprocket that incorporates the cush drive, which on other bikes lives in the rear wheel hub. The final drive is still belt and over the years has proved to be a winner.
The Helicon engine has a dry sump, but with a twist. The oil tank is held within the engine cases on the left hand side, removing the need for a remote oil tank and lines. The new engine has primary balancing with three internal balance shafts, which reduces weight and engine vibrations, making the engine rev effortless through to redline at 10,500rpm. It also delivers an impressive 104.4kW at the crankshaft at 9,800rpm and peak torque of 111Nm at 8,000rpm. That gives the engine a broad power curve, making it user friendly and easy to ride throughout the entire rev range. With any high-performance engine, overheating is a continual problem but this has been solved with twin side-mounted free-flowing radiators ducted by great looking cowlings.
The newly designed Intuitive Response Chassis is made from aluminium. Rigidity is helped by using the motor as part of the frame. The cast swinging arm pivot is connected to the engine cases, making the frame and engine even more rigid. Fuel tank capacity is 21.2 litres and the tank is in the frame spars, reducing unwanted weight and making it safer if the bike happens to go over.
The front end is from Showa and has 47mm inverted fork tubes. It is fully adjustable, topped off with a 25th anniversary plate embedded into the fork crown with Erik Buell's signature. The rear suspension unit is a single Showa shock, also adjustable and directly mounted with no linkages.
Although the previous front brake was good enough for earlier model Buells, the 1125R's slipper clutch meant that engine braking was limited. The famous Buell ZTL front disc was reinvented. It went from a six piston to the all new ZTL 2, with its 375mm stainless rotor and eight piston caliper with four pads. The new system delivers better heat dissipation and rider feel. The back wasn't left out, either, with a 240mm rotor and a two piston caliper. It is now mounted directly to the swinging arm, removing the need for brackets.
The new brakes do take a little getting used to, but they have plenty of feel. The adjustable lever makes braking easy.
The new 1125R is short with a wheelbase of 1387mm. It weighs in dry at 170kg and the seat height is good at 775mm. This is one compact sports bike, with a lot to offer a rider.
Joe's Garage, an impressive new dealership for Harley Davidson and Buell in downtown Albury, NSW, was the launching pad for the new release.
After a quick briefing, we were headed for some of the loveliest roads on offer in Victoria, eventually taking us to Dinner Plain on the other side of Mt Hotham.
Everything feels fairly normal on the 1125R, but one thing that stands out is that the gearshift change plate and the rear brake lever can be adjusted to suit the rider's boot size. I love the look of the inside of the top half of the fairing mount, it's a cast alloy member that wraps around the inside in a horseshoe shape with a series of declining holes. I also found the all new on-board diagnostic information system interesting and informative. The large digital LED speedo and tacho are easy to read. Although the instruments are fine, I found the idiot lights too small. One in particular, the indicator warning light, is just too hard to see, especially in daylight. It's easy to forget that your indicator is on.
With the open road under you, you begin to understand what this bike is about and just how capable it is. It was build as a sports bike, it was built to excite the rider, but it was also built to instill confidence and this it does very well.
Considering it's a sports bike with a high performance V-twin engine, it is surprisingly easy to ride. At low rpm it's like any other motorcycle but when you open the throttle and feel a torque vibration from the motor through the grips, and a little through the pegs, the more you unleash the beast within and you get pushed back into the seat the more power and torque you feel. There's excitement right throughout the rev range.
Next you start to notice just how good the handling is. It doesn't really matter what the road surface is, with the suspension set up for your weight and riding style this bike will work for you.
This is a remarkable bike to ride, with its raw power and excellent handling and braking, whether it's on tight twisty corners or long fast curves. The Buell 1125R is a superb bike to ride and it feels rock solid at any speed.
Having ridden a few Buells previously, I can understand why riders are attracted to them. They have always had a certain aggressive and unique appeal. But the new 1125R leaves all previous models in its wake; if you want a bike that's still short, quick and nimble but that's also a full step forward in design, then you should take the 1125R for a test ride. At $17,495 plus on road costs, it's excellent value.
ARR
Photos: Lou Martin