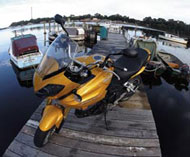 Mussle Frog
He has a scooter as his official transport, and he knows his tucker. Listen to him
Words: Bertrand Cadart/Peter Thoeming
Photos: Francesco Marena/Lou Martin
As Dame Edna Everage once pointed out, "whenever the subject of sex in the Southern Hemisphere pops up most thinking people think of Tasmania". These days, the subjects of wine and food frequently have the same effect. Tasmania has come a long way indeed from the days when an upmarket pub lunch was a pre-prepared frozen fish fillet dumped in the microwave.
I was once served one of these delicacies in a pub not far from the subject of our story. I started eating and then called the waitress over.
'This fish is from Antarctica, is it?' I enquired. 'Only, the middle of it is still frozen…'
Didn't even get a laugh.
But let us leave Cressy (bears have loong memories) and check out a far more salubrious establishment to the east, in the small coastal community of Bicheno.
The harbour that became Bicheno was established as a whaling centre even before the first official settlement of what was then called Van Diemen's Land. When a town was officially gazetted, it was named after James Ebenezer Bicheno, the British Colonial Secretary for Van Diemen's Land from 1843-1851.
Far be it from me to draw parallels between the current Mayor and James Ebenezer, but Bicheno was famous for his girth. It was said that he could fit three full bags of wheat into his trousers. After some time as a coal port, fishing came to be the lifeblood of Bicheno and there are still many fishing vessels operating from the town's harbour. The catch includes abalone, crayfish, scallops and trevally, and just up from the harbour is the perfect place to sample them.
At this point I will hand over to the abovementioned Mayor, Bertrand 'The Frog' Cadart, who has kindly agreed to describe this place – Cyrano French Restaurant.
'Let's be honest here… even the most travelled Australians have some trouble appreciating some French cuisine and food especially when the recipes and or the ingredients are as strange as Citröen cars, Velosolex mopeds or Voxan motorcycles*. For the uninitiated, frog's legs, snails or andouillettes (a fat sausage 100% stuffed with intestines) can be a tad daunting.
'Cyrano French restaurant in Bicheno has been run for over 20 years by Christiane Pastula. I affectionately call her (the Queen Mother) as she cooks like a Queen and very similarly to my Grand-Mother's traditional, no frills and provincial French cooking with no snails, no frog's legs and no andouillettes !
'Each main course is served with addictive sautéed spuds and French dressed lettuce. Should you like ingredients like oysters and mussels (locally produced) I honestly feel that her "Moules Marinières" (mussels) are second to none. Her "Canard Sauce à l'Orange" (Duck with Orange Sauce) is divinely traditional and so is her pepper steak.
'She does dinner only, and booking is essential in high season. Cyrano is one of the fewy BYOs left in Tassie, and this is great because it allows you to bring a bottle or two of the local wine that you would have tasted in the numerous wineries to go with your meal.
'Cyrano is not a fast food outlet, you go there to enjoy a meal not just to have a feed! Allow two to three hours for a French experience that you will not forget.'
And so, having dined at Cyrano ourselves, say all of us. Indeed we are in the early stages of planning a trip to Tassie just to eat at Cyrano.
ARR
Cyrano Restaurant
Ph: (03) 6375 1137; 77 Burgess St, Bicheno 7215
Open 7 days for dinner; unlicensed; No cards
Famed foodie Mietta's review summarises the offering as 'very traditional French and an unchanging local fixture for years'.
Bicheno
A small town 195 km from Hobart, Bicheno is about halfway between Triabunna and St Helens on the A3 or Tasman Highway. This, by the way, is a good motorcycle road but needs care due to some unfortunate surveying. There is plenty of accommodation at various hotels and motels as well as a caravan park. Tourist information from 03 6375 1333.