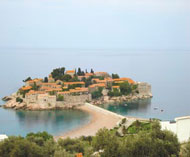 Spot the latest Ferris tour
All right, all right – that's the only time we'll refer to the dogs
Ferris Wheels Motorcycle Safaris, Australia's original international motorcycle tour operator, has expanded its portfolio again by introducing a new destination for 2010, the Dalmatian coastline.
You will have read a bit about the Croatian part of Dalmatia in these pages, which ought to have whetted your appetite!
Starting in Ljubljana, the new tour takes in five countries; Slovenia, Croatia, Bosnia/Herzegovina, Montenegro and northern Italy where it visits the wonderful Dolomites (once again, you will have read about these in ARR). The coastline along the Adriatic Sea is known as the Dalmatian coast on account of the numerous small coastal islands, resembling the coat of the spotted dog. Well, okay, that's another reference to the dogs. Is it correct? We don't know; it's what Ferris told us!
In the tradition of all Ferris Wheels tours, complete support is provided, including two backup vehicles, guides, mechanical assistance, all accommodation, all fuel and three meals a day. And in keeping with the personal, husband-and-wife approach (some tours are guided by Denise, some by Mike), both Ferrises (Ferrisi? Ferrii?) will be starters for the inaugural season.
They have two tours scheduled, starting on May 2 and 23, 2010. Both tours are already well subscribed by loyal Repeat Offenders but some places are still available as we write. There will be more tours if you miss out this time, too, we'd wager. Bikes available include various BMW and Japanese models, typically around 1200cc.
Sydney based Ferris Wheels began international operations in 1994 with a single group riding to the highest road in the world in the Indian Himalaya. It has expanded to now offer 12 tours a year into nine diverse destinations, including Morocco, Turkey, Peru, Bolivia, Bhutan and Nepal.
Fully detailed itineraries for all destinations, including dates, prices, inclusions/exclusions, etc. can be found on the website, www.ferriswheels.com.au, or phone (+61 2) (02) 9970 6370 for information.