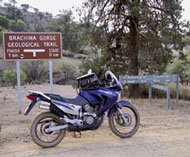 No Great Gulph
Sorry, Matty, it's mountains instead
Back in March of 1802, HMS Investigator was carefully working her way along the coastline of Spencer Gulf. As far as we know, and certainly as far as her captain, Matthew Flinders, knew she was the first European vessel in those waters. Matty was charting the coastline and hoped to find a "Great Gulph" running north into central and even northern Australia. The belief at the time, for reasons I've never understood, was that there had to be a giant inland sea.
"Almost from the time of the earliest discoveries of Australia's coast there were hypotheses about the interior of the continent: it was divided into two or more large islands; there was a huge inland sea, such as the Mediterranean or Caspian; or there was a great river which would provide a route to the interior," says a South Australian government website.
Flinders had certainly heard of them. In his Introduction to a Voyage to Terra Australis he recounts some of them and his instructions from the Admiralty clearly had a strait connecting the north and south coasts in mind: "…in case you should discover any creek or opening likely to lead to an inland sea or strait, you are at liberty either to examine it." volume 1, (page 8).
The apparent lack of major rivers reaching the ocean was also thought to perhaps result from Australia being "composed of two or more islands, as had formerly been suspected by the Dutch, and by Dampier". Others, believing in the continuity of the coastline, thought it might be caused by the interior being principally occupied by a "mediterranean" sea.
"But it was generally agreed that one end of the separating channels, or otherwise the entrance, if such existed, into the supposed sea, would most likely be found in this unexplored part of the South Coast," wrote Flinders in his Introduction, pages lxxiii/lxxiv.
He was to be disappointed. Instead of a gulf, he found an imposing range of mountains running a great distance in a north-south direction. This was eventually named the Flinders Ranges, although not by Flinders himself.
"The land on both sides is moderately high … especially on the eastern side where the mountains form a sharp-topped ridge nearly parallel to the shore," he wrote in his Journal on March 10. "In the morning, Messrs. Brown, Bauer & Westal, with attendants, set off with the intention of ascending for the highest peak X [later called Mt Brown] of the ridge of mountains on the east side of the river.
"The excursion of the party up the mountains proved to be a most laborious one," he continued on the 12th after the party had returned to the ship. "The mountain … proving to be not less than 15 miles distant from where they landed … they did not reach its top until 5 in the evening, and were obliged to pass the night without water, or fire."
Bad luck, that. Things are better now.
From Mt Brown it's nearly another 100 kilometers north to Cradock, where we spent the night before tackling the Flinders. Fortunately there was a nice fire in the pub and no shortage of water (or, for that matter, beer and Shiraz) either. But when we set out in the morning we could understand why Matthew Flinders was impressed by the mountains. We certainly were.
The Flinders Ranges began to form about 800 million years ago when a great depression, known as the Adelaide Geosyncline, developed as the earth's crust stretched and thinned. Adelaide and depression have been linked ever since. No, just kidding. The sea flooded in and, for 300 million years, a huge amount of sediment was deposited in the deepening depression to a thickness of many kilometres.
About 500 million years ago the rock layers were squeezed and folded into a long mountain chain, much higher than today's ranges. Most of the ancestral Flinders Ranges was then eroded; Mother Nature has plenty of time to muck around like this. Resistant quartzite now forms the highest peaks and ridges of the Flinders Ranges, while the softer mudstone, siltstone and shale have been worn away to form valleys and gorges. But the Ranges are still rising. Occasional earth tremors show the mountains are still on the move.
But that's the whitefella story.
In Aboriginal lore, the land was shaped by the Akurra, immense maned and bearded water snakes. Two Akurras, a male and a female, feature in the creation history for Wilpena Pound while the region's earth tremors are rumblings from Arkaroo's water-filled belly. The greedy snake had drunk Lake Frome dry. The white-winged fairy wren, meanwhile, threw a boomerang that created the cleft in Mount Chambers. An argument between a euro and a red kangaroo created rocky northern Flinders Ranges, separated from Lake Frome by the sweep of the kangaroo's tail. Waterholes and springs along the eastern side of the ranges were created by the Thumping Kangaroo.
I'll happily accept either story, although if I was looking for minerals I'd probably go with the whitefella one. But we weren't looking for anything other than scenery, and we found that in Flinders Ranges National Park.
The park covers an area of 950 square kilometres. It offers a wide range of activities for all interests, including bushwalking, camping, scenic touring, bird watching and Aboriginal and European cultural experiences, as well as motorcycle riding on its dirt roads and tracks.
"The Flinders Ranges can be enjoyed all year round," says the information blurb. "Each season has its own particular charm. The dramatic contrast of red rock, golden grass and the intense blue of the outback sky, is the gift of nature. Autumn brings magnificent weather, with warm, mild days and cool nights.
"Wildlife is more readily seen in winter and the denser air provides sharp detail for photography. Spring brings a carnival of colour, with many flowering plants and birds celebrating another breeding season. Summer months in the Flinders Ranges can get very hot."
We were there in autumn and I can vouch for the magnificent weather. We also found the tracks dry but not too dry and producing too much dust. It was pretty much ideal.
We filled up the bikes at Wilpena Pound and then headed north past the airstrip to the end of the tar and the turnoff to Bunyeroo Valley. In effect, we were riding around the Pound, but by the time we got to the really scenic bit of the valley we were headed straight back at it. It makes a wonderful backdrop to some of the photos.
The track was smooth and easy, and although there were a few sandy creek beds and somewhat broken-up patches later, I think just about any bike would have been able to cope with the conditions.
Spectacular scenery is everywhere, but there are also less grand but very attractive little quiet corners for camping or just stopping for a cuppa. It's a wonderful place. When we were there, anyway, it was also not at all crowded. I suppose it helps being more than 450km from the nearest major city.
They say, by the way, that road surfaces can become slippery after even light showers and conditions can change dramatically after heavy rain. It's best to get some information about road conditions from the Wilpena Pound Visitor Centre before heading out.
Flinders Ranges National Park is a popular camping area. There are plenty of vehicle-based camping sites. The camp ground at Wilpena has full facilities, with powered sites, toilets, showers, fuel, phone, ATM, internet access, store, swimming pool, bar and restaurant, making camping an easy option. For those wanting a true bush camping experience there are sites at Bunyeroo and Brachina Gorges and Aroona Valley that have toilets and fire pits with cooking grills. Camping permits are required, but they are available at self-registration bays at each camp site.
We weren't camping, unfortunately – not enough time – so we pushed on up Bunyeroo Gorge and into Brachina Gorge. The landforms and vegetation change quite a bit as you pass from one type of country to another, but it always stays dry!
From Brachina Gorge we followed the track that leads out to the main road, State Highway 83. The surface out here was quite good, too, although the corrugations made it necessary to keep up a good speed to avoid having the fillings shaken out of our teeth. The highway is in excellent condition and it was still quite early when we reached our overnight stop, the Prairie Hotel at Parachilna.
We decided to take another look at the range and rode in towards Blinman on a track very similar to the one we'd followed to get out. Once we reached the foothills, though, it turned out to be quite different. There are quite pronounced (dry and rocky) river beds as you get closer to Blinman Pools, lined by huge gum trees.
I'm sorry to say that I have no idea what kind of gums they are.
I suppose in a way this kind of ride is "outback light". You get to ride the dusty tracks, see the open skies and the scenery, experience the silence and the timeless grandeur – it really is grandeur – of the land, but all while you're still in easy range of civilisation and, should you need it, help. Unless you head off the main tracks you don't even need to take any water or supplies, though it's still smart to do so.
So in a way it's all a bit weedy. But to be perfectly honest with you, when I was sitting in the bar of the Prairie Hotel that night with my glass of Coopers I felt just as buggered as I would have if I'd battled the Birdsville Track instead. It's all relatively easy, but it's still hard work.
Oh, and the night sky was just as brilliant once we'd walked a few steps away from the lights of the pub as it would have been anywhere else in the back country. So maybe it is outback light, but it's still outback. Give it a shot some time and think of how strange it must have seemed to the crew of HMS Investigator more than two centuries ago.
ARR
Contacts
Flinders Ranges National Park
PMB 22, Hawker SA 5434
Visitor enquiries
Wilpena Visitor Centre
Phone: 08 8648 0048
Fax: 08 8648 0092
Flinders Ranges Visitor Information Centre
3 Seventh Street, Quorn SA 5433
Phone: 08 8648 6419, email vic@findersranges.com
Emergency numbers
All emergencies 000
Police (Hawker) 08 8648 4028
Hospital (Hawker) 08 8648 4007
Ambulance 132 962
Department for Environment and Heritage after-hours emergency 0408 378 284
Accommodation
Cradock Hotel 08 8648 4212, email cradockhotel@bigpond.com
Prairie Hotel, Parachilna 08 8648 4844, email info@prairiehotel.com.au
Tours
Flinders Ranges Motorcycle Adventures (Port Pirie) 0427 220 003, website www.frmca.com.au