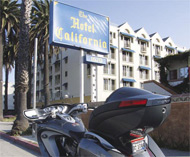 Waving gently up and down the map
The story of the Mother Road
Did you know that John Steinbeck invented the
campervan? He did, in 1960. So, you see, that puts paid to the well-established
theory (well, I actually just made it up) that Nobel Prize winners never do
anything practical.
Steinbeck did a lot of other stuff as well, of
course, mostly writing. I treasure several of his books, although I find both The Grapes of Wrath and Of Mice and Men too heart-wrenching to
read terribly often. On the other hand, books such as Tortilla Flat, Sweet Thursday and especially Travels with Charley in Search of America make wonderful re-reading
at any time. For me – and this may well finally mark me as the Philistine I am
occasionally accused of being – Steinbeck is the only serious competitor Mark Twain
has for the title of America's
greatest novelist.
And he gave Route 66 its name. More than the
number, the name sums up what it was all about. He called it the Mother Road, and
that's what it has been ever since – what it still is despite the fact that
most of it is buried under the concrete of the mighty superslabs, the
interstates that are its children.
In mythology, mothers usually get a pretty poor
run. Think of Jocasta, who married her own son after he killed his father.
Think of Ceres, who could not save her daughter Proserpina from Pluto and
walked the Earth making a desert with every step. Think of Procne… the Mother Road is
somewhat like her, except that instead of eating her child, her children ate
her.
Git back
You can probably tell that this is not the usual
travelogue. But let's start it – again – in the usual way, with a bit of
history. Not too much because it's all on the web (citations later) so you can
follow it up there to your heart's content.
In the wonderful American tradition of somebody
getting a bee in their bonnet and going in boots and all to set it free, Cyrus
Avery of Tulsa, Oklahoma, and John Woodruff of Springfield, Missouri, came up
with the idea of a transcontinental road (that would, just coincidentally, pass
right in front of both of their businesses) and lobbied Washington with all
their power. At first they got nowhere but then Congress picked up the idea and
gazetted a national program of highway development.
Legislation for public highways had first
appeared in 1916 but it wasn't until Congress enacted a more comprehensive
version of the act in 1925 that serious plans for national highway construction
began to be made.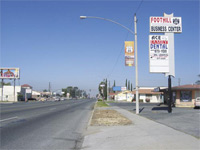 The number 66 was assigned to the Chicago-to-Los
Angeles route in the summer of 1926. With that designation
came its acknowledgment as one of the nation's principal east-west arteries,
but Route 66 was never intended to be what the interstates are today. Instead,
the idea was that it would link the main streets of small communities and
become America's
Main Street.
This is a very powerful image in the US, where "main street" stands for
a lot of old-fashioned values now pretty much abandoned in all but political
cant. Cyrus Avery, the "father" of Route 66, was the first to actually refer
to 66 as "the main street of America". That
was in 1927.
Until Route 66 was begun, most small towns had no
easy access to a major national thoroughfare. Unlike the Lincoln,
the Dixie and other highways of its day, and
today's interstates, Route 66 ran neither north-south nor east-west. Even in
the beginning its diagonal course linked hundreds of predominantly rural
communities in Illinois, Missouri
and Kansas to Chicago, enabling farmers to transport grain
and produce to the big city markets.
Then came the Depression years and the great folk
migration that John Steinbeck described in The
Grapes of Wrath. The classic 1939 novel, along with the 1940 film, served
to immortalise Route 66 to Americans. An estimated 210,000 people migrated to California to escape the
despair of the Dust Bowl, and most of those would have used Route 66. But the
road wasn't even sealed for most of the Depression years.
From 1933 to 1938 thousands of unemployed workers
from all over the US
laboured in road gangs to pave the final stretches of the road. It was only in
1938 that the Chicago-to-Los Angeles highway was finally "continuously
paved". Route 66 was ready just in time for World War II.
The War Department needed improved highways for
rapid mobilisation during war time and chose the West as ideal for military
training bases in part because of its geographic isolation and especially
because it offered consistently dry weather. Route 66 got the soldiers there
and back. The Mother Road
helped America
to win the war.
Not that it got much gratitude.
Re-routed
After the war, the concept of the direct
connection by interstate, never mind that main street stuff, won the day and a
road like Route 66 was suddenly old-fashioned.
By 1970, nearly all segments of the original Route 66 were bypassed or even covered up
by modern multi-lane interstate highways. By 1984, all of the poorly maintained
vestiges of Route 66 had been made
completely irrelevant when the final section of the original road was bypassed
by Interstate 40 at Williams, Arizona.
As Route 66 was decommissioned, eaten by its
children the interstates, its signs were removed and the Mother Road was almost lost. Even today it
appears on very few maps. Most states have installed Historic Route 66 signposting along portions of the
road, but, unfortunately, they rarely give exit directions where the road so
very often veers off from the interstate highways.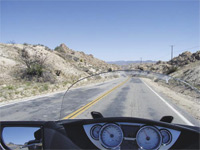 Obviously, the route today is not what it was in
the past. However, much is preserved and the Route 66 Historical Associations
and other private groups have done much to save the vintage treasures that
still line it in the form of shops, diners, motels and so on. Many have gone,
too. As you travel along, you will often see a sign or marquee by the side of
the vintage road as memories of these icons of history are preserved, though
their buildings are long gone.
Travelling the road, you will experience
everything from the frustration of finding the route in a metro city to being
pleasantly surprised by the next small town that you venture into. The
landscape quickly changes from the hustle and bustle of metropolitan area to
quiet meandering roads, to tall grass prairies where you feel as if you might
be the only person left on earth.
While it's a good idea to plan your trip because
the road can be confusing, the whole idea is to experience the Mother Road. Our advice is to get a couple
of really good Route 66 books and some
good maps before you begin your adventure (see below). Here and there, some
places will give you a road sign when the road veers off the interstate, but
mostly not. Even with a few good maps, you will, no doubt, take a wrong turn
here and there. Take the Business Loops off the interstates when possible –
they will often lead you to your photo opportunities of the scenic past.
Why bother?
But why bother with Route 66? Sure it's historic,
but so are lots of roads. Sure it was the genius loci of a minor television
series but really, would you bother tracking down 77 Sunset Strip?
You would? Kookie Burns doesn't work there any
more, you know. Besides, he's 79 years old now.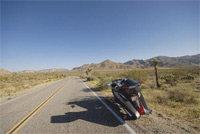 For me, the answer has a lot to do with the way
Route 66 is almost shorthand for America. It covers so many
archetypal landscapes and carries such a weight of history (much of it due to
Steinbeck and people such as photographer Dorothea Lange) that it has become an
almost irresistible magnet. I've ridden many individual stretches of the Mother
Road but never the whole thing in one go; I intend to make up for that some
time in the not too distant future.
Route 66 makes an excellent bike trip, with lots
of things to see within reasonably short distances. The major advantage of
motorcycle travel – getting close to the countryside you pass through and the
people in it – is especially obvious when you're on a road like this. I have
listed one operator running bike rides along the Mother Road, below, but I'm sure there
are others. Taking your own bike over to the States or renting one are also
possibilities; bike shipper Get Routed (www.getrouted.com.au) is
good for the first and the Harley Owners Group (www.hog.com) or one of the
many Harley shops in the US that rent out bikes are good for the second.
Don't get the idea that it's all great motorcycling
in the traditional sense, though. For a start there are few twisty bits; New Mexico and maybe Arizona are the only States that really
offer much in the way of corners. And Middle America
has a lot of flat and, frankly, uninteresting landscapes. This is where the
historical aspect of the road comes in to keep you interested. Nothing's
perfect, though. Don't you hate those travel stories where everything is
fantastic, perfect and absolutely amazing and a pack of lies?
But there are terrific things to see. How about
the very first McDonald's? It's in San
Bernardino and even has a small museum (see box).
Abraham Lincoln's house? It's in Springfield,
Illinois. In between are places
such as the International Bowling Museum
in St Louis (don't knock it 'till you've… oh,
all right, forget this one), the fantastic and amazing (no, truly) Cadillac
Ranch in Amarillo and Kristy's classic Coffee
Shop in Gallup.
As it is everywhere in America
the coffee's awful, but the place is nicely retro.
There's lots to see and do. Maybe I'll see you on
the road, getting your kicks. Several Road
Rider readers are Route 66 aficionados, so you should probably equip your
bike with some of our stickers if you're going and exchange greetings!

PT
Two museums for the price of none
Not many people know this, but the very first Maccas is now owned by
John Chicken. It's true; Juan Pollo Restaurants owns and uses the site
in San Bernardino, California. In 1940, Dick and Mac McDonald opened
McDonald's Barbeque Restaurant at 14th Street and E Street. They had a
staff of 20 attractive carhops and a 25 item menu that included
barbeque ribs, beef and pork sandwiches. It soon became the number one
teen hangout in San Bernardino.
Although the brothers were doing well, they felt that there were too
many headaches to running a large and complex operation. There had to
be a better system.
Dick McDonald started studying his sales and realised that four out of
five of the "sandwiches" sold were hamburgers. There were a couple of
other interesting considerations. Although the restaurant was very
busy, teenagers would hang out, chat with the carhops and not leave
after eating thus reducing turnover. As well, World War II had ended
and everyone was anxious to start new families. The brothers realised
the potential of the coming baby boom generation and decided to create
a wholesome family restaurant atmosphere to cater to them.
In October of 1948, the brothers took the plunge (against the advice of
all their customers) and closed their successful restaurant, terminated
all their attractive carhops, reduced their menu to cheeseburgers,
hamburgers, milkshakes, and fountain sodas and reorganised their
kitchen to specialise in speed of service, simplicity of menu and low
prices.
The rest, as they say, is history.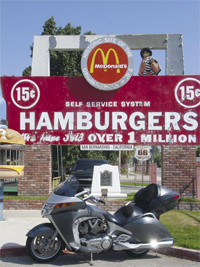 The site of this original restaurant is now the free McDonald's Museum,
open to the public every day from 10am to 5pm. It doubles as the Route
66 Museum and the corporate offices of Juan Pollo Restaurants Inc.
Admittedly the original McDonald's building was demolished in 1971, but
several original items still remain. The original parking light poles
are still standing. The original office of Dick and Mac McDonald is in
the back of the property as well as the room where the brothers
perfected their famous French fry procedures.
There are two slabs of the original quarry tile from the original
restaurant. The original golden arches sign (minus the arches) is still
standing waiting to be fully restored.
The museum contains an extensive collection of pre-Ray Kroc McDonald's
memorabilia such as news article, pictures, and mementos like menus,
straws, cups, a prototype of catsup dispensing gun, a copy of a classic
McDonald's menu and much else. It's all pretty much jumbled together –
this is not a professional museum – and a lot of fun. Mixed in with it
is Danny Castro's (Dr Route 66) Museum, which specialises in original
highway signs as far back as 1912.
Danny Castro is one of the foremost expert on Route 66 history, and he's generally at the museum on the weekends.
Mother lode of trivia
·
According to most sources, Route 66 is 2448 miles long (about 4000km).
However, this is a rough approximation as the road has had many different
alignments through the years.
·
Current mainstream maps do not
include old Route 66. The last stretch
of the road disappeared from "official" maps in 1984.
·
An actual piece of Route 66 pavement has made it into one of America's, and
the world's, most prestigious museums. Entitled "America
on the Move", the exhibition that holds a piece of the Mother Road is at the Smithsonian's National Museum
in Washington DC.
·
Route 66 was commissioned in 1926, picking
up as many bits and pieces as possible of existing roads.
·
Route
66
crosses eight states and three time zones. The states that the Mother Road runs through are: Illinois, Missouri, Kansas, Oklahoma, Texas, New Mexico, Arizona and California.
·
In 1926, only 800 miles of Route 66 were paved. Only in 1937 did Route 66 get paved end-to-end.
·
Because of a change in
alignment of Route 66 in 1937, there is
an intersection where Route 66 crosses itself at
Central Avenue
and 4th Street
in downtown Albuquerque, New Mexico. Here, you can stand on the
corner of Route 66 and Route 66.
·
Bobby Troup wrote the song, Get Your Kicks on Route 66 in 1946. It
has been performed and remixed by several musicians, including Nat King Cole,
who first recorded it in 1946 scoring a major hit; the Rolling Stones; and
Depeche Mode.
Web and other references
·
www.national66.org: Buy books, maps etc, see postcards
·
www.historic66.com: Strip maps with full detail, descriptions
etc.
·
www.legendsofamerica.com: Treasure house of
information.
·
www.wigwammotel.com: The Wigwam Motel is on the northern side
of the road at 2728 Foothill Blvd,
on the border between Rialto and San Bernardino in California.
For a while the rooms rented by the hour and the infamous sign "do it in a
tepee" was put up. All that is gone. The current owners have renovated and
cleaned up the property. You can buy Route 66 memorabilia in the motel office.
The wigwam motel has a sibling on Route 66 in Holbrook Arizona.
·
www.reuthers.com:
Harley-Davidson tours of Route 66: 12 day and 15 day; self-guided is cheaper,
as is bring your own bike.
·
www.eaglerider.com:
EagleRide claims to be the world's largest motorcycle rental company and we
have no reason to doubt that claim. It is represented at both ends of Route 66
but we don't know whether it will do one-way rentals. It depends on the
individual shop, probably.
·
Then there's Lonely Planet's Road Trip Route 66 book (ISBN
1-74059-580-7) with a lot of useful background information.
·
The Complete Route 66 Lost & Found
is a terrific book by Russell Olsen that matches photos of original roadside
buildings with current pics and supplies history to go with them. Highly
recommended; ISBN is 978-0-7603-3492-8.