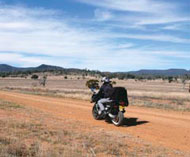 The Bay and the Rest
Is it always better to travel than to arrive?
Even the greatest of Australian writers – Keneally, Grenville, Callender – need to sharpen up their skills from time to time, so I decided to go to this year's Byron Bay Writers' Festival and I also decided to get myself there by bike.
The Bear gave a coffee-stained splutter of genuine surprise when I told him I might learn something about comedy writing from Wendy Harmer or characterisation from David Williamson and said that, with all due respect, humility did not become me.
The FZR was already strategically positioned in north-west NSW, imposing on relatives in Gunnedah in the hope of attending AgQuip with them later in the month. AgQuip is important in Gunnedah. I learnt this as a teenager when I rang and asked my grandmother if I could come and visit her all the way from Sydney and live with her on the farm for like a whole week: "Wouldn't that be, like, so cool granny?" But I'd chosen the weekend in which Australia's biggest agricultural industry field day event was in town and, consequently, the answer was a highly unexpected "no". I'm not bitter, though. I just think AgQuip sux.
I told the bike there wouldn't be anything at AgQuip that it wouldn't see on the back of an oversized vehicle while we were travelling the Pacific Highway to Sydney the following week. Then, after vowing to stop anthropomorphising inanimate objects, I gave the bike a drink and the long gravel driveway something to think about. I had two days before the writers' festival began and, as fate had it, a place called Riders' Rest had recently opened as a bikers' B&B on the Bruxner Highway just out of Tabulam. This was indirectly – and that's the way I like it – positioned between Sunny Gunny and my writer-infested destination of Byron Bay.
I decided to take the Kamilaroi Highway, not just because I was headed in the Narrabri direction but because I really do like the sound of the word. The Kamilaroi (or Gamilaraay) people were the second-largest Aboriginal community on Australia's eastern side at the time of European settlement. Their country extends from Goondiwindi to Tamworth and out west to Walgett and the eastern side of the Warrumbungles. I headed north with the sounds of these names ring around inside my helmet.
Despite the sun, it was a chilly morning and I stopped at Narrabri for a coffee. I parked outside a place called Gourmet 2 but was a little worried because the sign also said "café and grab and go" and I wasn't sure if I was wandering into some crazy country speed-dating take-her-away joint.
But I returned unharmed to the bike half an hour later, having sat at the window in the sun and watched children mouth the word motorbike and wondered how it must feel out there alone being talked about by strangers and how I still needed to stop anthropomorphisising everything.
I turned off the Kamilaroi Highway onto the Newell Highway at Narrabri as I wished to continue north. Then I outrageously ignored the Possum's truly sensible advice about fuelling up at bigger service stations and stopped at a little roadhouse – I love these places – at Edgeroi as I was planning to turn off the highway just up ahead. In Edgeroi, I realised I was having a bit of a cappy day. The key was alarmingly stiff in the fuel tank and then the only moving part on my camera's lens cap seized up temporarily and wouldn't stay on. Oh yes, and there was that cappuccino in Narrabri! I wondered what other cappy things might be ahead.
To be different, I took a right at the town of Bellata, which was a bigger place than I expected, with a school and fuel and plenty of sweet old houses and from there I had the road to myself and it had become, now that the temperature had risen, a beautiful day as Bono would say. This route pretty much skirted the western side of the Mt Kaputar National Park and, on any other day when I didn't have to be somewhere by a certain time (definitely before nightfall, I'd promised my host), I wouldn't have been able to resist heading straight for this mesmerising range.
Some vague memories popped into my head as I rode of sitting up on a cliff watching eagles and writing flowery poetry while on a family camping trip with the neighbours. I also recall a late afternoon bushwalk up some peak to see the sunset and then everyone feeling their way back to our tents in the pitch dark hoping the toddlers had kept up – safety just wasn't famous back then (I couldn't find it in the Gamilaraay dictionary either).
From where I was, the range making up Mt Kaputar National Park was a great long string of peaks of such diverse features it was hard not to keep looking over at them – hey, a unicorn, and that one looks like my brother's gammy ear.
I followed the signs to Terry Hie Hie because the name was interesting enough to remember without having to repeatedly look at the map. Terry Hie Hie, when I arrived, struck me as the type of place you really needed to visit someone in to get some understanding of the place as the only shop was long closed and the roof was falling in. I didn't see any life except cows but the road passed a settlement of houses with well-tended gardens and through (or between) a working farm.
So I said bye, bye to Terry Hie Hie (that's such an old joke, a cow mumbled at me through its mouthful) and took the road towards Gravesend, which was only fitting as I'd already passed Coffin Hill and was soon to be within view of Slaughterhouse Pinnacle.
This reminded me I was close to the site of the Myall Creek Massacre of 1838 in which about 30 Aboriginal people (Wirrayaraay) were attacked and killed and seven settlers were hanged as a consequence. This was the first and last time the colonial administration used law to control conflict between Aboriginal people and settlers. The Myall Creek Massacre memorial is between Bingara and Dulungra.
Gravesend Road was gravel, as they often seem to be, or become, between highways in this part of the country. I stopped a couple of times for a mandarin or some water and realised how much bird life there was around – sulphur crested cockatoos, magpies, kookaburras, rosellas, eagles. Certainly more birds than I'd seen or heard on a recent hike on the Tasman Peninsula, though, granted, it had been raining and winter and night time and Tassie birds might be tough, but they're not completely out of their trees. It was on this stretch that I came upon my next two cappy experiences of the day.
As I was riding past Cap and Bonnet Mountain (that's one), part of what feels like a mini-Mt Kaputar National Park range that Gravesend Road passes through, I came across a strange Babe meets Mad Max sort of scene of four wild pigs with (pardon me in advance, grandma) caps in their asses, as the rappers would say, lying in formation out the front of a property. How wild west, I thought, and photographed them. Some more wild pigs, of the living variety, scuttled across in front of me further up the road.
At Gravesend, I turned east onto the Gwydir Highway but only went as far as Warialda because those pigs had made me feel hungry. Warialda is built around Reedy Creek and is quite a big small town. I went directly into the bakery – Bakers Loaf – because the photographer wasn't with me to comment on my having a pie and chocolate milk for so-called lunch. There I met Delvine and the Honey Man.
Delvine was working and the Honey Man was in for a loaf. They told me Warialda was famous for honey. I later discovered the name means "place of wild honey" in the language of the Wirrayaraay people, which is because of the area's Tumbledown Gum from which bees are able to collect huge volumes of pollen. Delvine told me the Honey Man was famous in Warialda. They Honey Man nodded in agreement. Delvine loves her town and told me that everyone should come into the bakery and chat and that's the way they'll find out about what's going on in the local area. The Honey Man nodded again. My pie and chocolate milk were delicious if not nutritious.
From Warialda, I went directly north to join the Bruxner Highway and was a little disturbed to notice that the sun was starting to sink low in the sky. But let's not talk about that right now. Let's talk about the Bruxner Highway. It's 420km in length between Boggabilla (near Goondiwindi) and a few kilometres west of Ballina and, gear Dog, it is beautiful (for a highway), winding and relatively truckless.
I managed to travel all but its 70 most western kilometres and, after the experience, did suggest to the Bear that I do a Bruxner Highway special DVD for the next issue of ARR backed with an original song to a familiar tune – get much more, on route 44 – but he wasn't into it.
So, I definitely would have had an extremely fun ride through the mountains towards Tabulam but it was evening before I knew it. So, late for dinner already, I rode in the dark through the mountains with bush either side of the road and roos (big ones judging by the carcases and the concerned looks on the faces of locals) and wallabies (small ones judging by the one that almost bounced onto the road in front of me) everywhere. I crept on for another couple of hours, thinking "how do I get myself into these situations?" and taking it easy, as one must at times like these. It was a great relief to finally come upon the yellow metal emu marking the western entrance to Riders' Rest.
The following day, I had only about 150km to Byron Bay. The three-day festival was to begin the following morning. The Byron Bay Writers' Festival is organised by the Northern Rivers Writers' Centre and was started in 1997 and is held every winter for three days (plus a week of workshops beforehand).
You don't have to be a writer to go and it seems just as popular with people who like to read and are interested in having a book signed, or listening to authors speak about being manager of the Rolling Stones, researching the history of water in Australia or creating fictional characters for film based loosely on family members.
I enjoyed squeezing what I could out of my new friend, the Bruxner, on this last bit of riding I'd be doing for a few days. Fuelling up in Tabulam, where people were so friendly, I realised I was in a new climate – tropical and humid where everyone was in T-shirts, shorts and thongs. Not far up the road I stopped when I saw the sign for a café that looked promising and had a lovely coffee in the sun by the side of the highway. It was only then that I realised I had left my writers' notebook back at Riders' Rest and decided that perhaps I did have a thing or two to learn about being a good writer after all.
Riders Rest
Location: Bruxner Hwy, 6km west of Tabulam, NSW
Contact: Bob Brennan, info@ridersrest.com.au (02) 6666 1309 (phone and fax)
Website: www.ridersrest.com.au (for further info and booking enquiries)