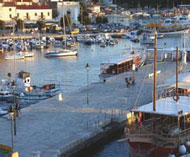 The Pršut of happiness
Air-dried ham and great bike roads… a Bear's paradise
In this age of nation states we think of colonisation, war and diplomacy as the kinds of things done by countries, not by cities. There are no more city states so this is not unexpected, despite the fact that the longest-lived empire the world has seen, as well as one of the greatest, was the work of a single city. Rome is still the standard by which all other empires are judged. The power of the Roman Empire has never been equalled, never mind exceeded. Alexander's was a flash in the pan and in the end the British Empire lasted only a little longer, as did the Russian.
But Rome was not the only city state to become a mighty power, even in Italy. The Venetian empire never matched the Roman in extent or military might, but it has left more of itself behind. And unlike Roman amphitheatres or temples, those remains are still alive.
All over the shores of the Mediterranean there are towns and cities that were not, perhaps, founded by the Venetians but which saw their first flowering under the reign of the Doges in their watery city. And today people still live in the houses built by the Venetians, fishing boats still pull out from the quays originally made for Venetian trading ships and motor scooters roll along the typical narrow limestone streets laid down for the feet of the Venetian merchants.
Venice was both civilising benefactor and ruthless exploiter – the islands of Dalmatia have never grown back the forests they felled to build their galleys and are mostly barren crags – but there's no doubt that the Doges had style. A Venetian town is a great place to base yourself if you're visiting Dr Johnson's "shores of the Mediterranean", not least because their marble-look limestone streets are mainly too narrow for cars but just perfect for scooters and bikes. The locations are picturesque and the buildings are solid but interesting at the very least and quite often lovely. There is usually a square-towered church in the Venetian style and thick battlements with chunky crenellations overlook the harbour.
Rovinj, or Rovigno as it was called when the Italians administered it, is a perfect example of such a town right in the middle of that most Venetian of all colonies – the west coast of the Istrian peninsula. This is not surprising, as it's just across the Golfo de Venézia, the upper end of the Adriatic Sea.
I'll go a-Rovinj
I based myself in Rovinj during a recent trip because I had never seen Istria and the town is on the coast but pretty central. I also liked the look of the Adriatic Hotel that I'd found in the internet. It's an old, unmodernised place that looks over the harbour's crowded quays.
At first it looked as though this was not going to go smoothly. I couldn't get into the old town itself; there were barriers and boom gates keeping all non-commercial traffic out. After a little while I noticed that bikes and scooters just avoided the gates by taking to the footpath to get past. The guard even gave me directions to the hotel.
When I checked in, the supermodel behind the counter (92.34 per cent of all Croatian girls are stunning) suggested I take the bike back out to the boom gate or else I would get booked. Beautiful she might have been, but persuasive she was not. I wasn't about to park my borrowed Aprilia Pegaso Trail kilometres away without any security. Instead I nosed it into the railing at the front of the hotel, where it remained unticketed for the entire time I spend in Rovinj.
Then my lovely tried to fob off a third floor room on me. After some negotiation, during which I indicated that my knees would fold and I would tumble down and leave unsightly smears on the stairs if she made me climb three sets of them, she offered a lovely room on the first floor with a view of the harbour. Done, for the same (very reasonable – Croatia is/was not yet in the euro zone) price.
Despite its staid exterior, they must have some pretty wild parties at the Adriatic; the information sheet in the room includes a list of charges for repainting the walls, repairing the doors and replacing the taps and washbasin.
Things picked up after that. A walk around town revealed many small bars, some still open despite the end of the tourist season, and lots of madly scenic crooked laneways with rusted Vespas at regular intervals. Also many fat and self-satisfied cats. I like cats.
"When you go up to the Old Town that is squeezed on a narrow peninsula," says the tourist information brochure, "when you walk through its steep meandering lanes, cobbled squares and campiellis, you enter the centuries past by. To stop in front of the baroque town hall (17th century), enter the church of St Euphemia (18th century) [and patron saint of euphemisms, by dang], take a look of the Chapel of Holy Trinity (13th century), breathe in the peculiar air of the old manuscripts in the Franciscan monastery (18th century), wander through the Town Museum, stop and listen when the clock strikes the magical Rovinj hours. You have just started a trip through a seventeen centuries old town."
Okay, I made that up about the patron saint, but isn't the rest sweet? As it turns out St Euphemia was killed by the bite of a bear but I take no responsibility for this whatsoever. As for the rest, I think I caught a whiff of the peculiar air even without sampling the manuscripts in the monastery. And the peninsula isn't all that narrow; there's even room for the occasional Russian tourist who has somehow lost his way and wandered out of Serbia.
Hamming it up
Most restaurants were closed, but enough remained open for me to have a choice of dinner. This proved to be okay (killer pizzas), but I think the food would be more varied and interesting in the tourist season. More expensive, too, of course. One thing I had no trouble finding was pršut (prosciutto), the famous air-dried ham of Croatia. I organised a couple of picnic lunches featuring this, along with local olives and fresh crusty bread.
Equipped with my picnic, I made an exploratory foray into the karsty countryside of inland Istria early the next day. Near the tourist towns the roads were lined with open-air restaurants offering mainly roast suckling pig. These are spreading; I'm sorry to tell you that unless you get there fairly soon (I'd say within the next three or four years) it's going to look just like Italy. The peninsula will be full of factories on the one hand and tourists on the other. They're building all sorts of infrastructure, including odd little freeways, of which more in a sidebar, and the generic tourist eateries and funneries (mini golf etc) will follow. For now it's still nice, although the huge power station near Labin is finished and the first factories are going up.
I was especially interested in the small walled towns that dot the interior and headed for Motovun, possibly the best-known of them.
The story behind these places is just staggering. Bear with me for a moment here. You're a medieval peasant, right, with a bit of land surrounding your rude hut that you work with your ox or maybe, if you're well off, horse. Now, what would it take to make you:
– devote time that you needed to till your field and feed your family, over several years (!) to help build a walled stone town
– up on a 200 or 300 metre hill
– and then move up there, to live in squalid conditions squashed up against your animals and fellow peasants, far from your land
– and make your way down to that land every morning and back up every night, driving your animals and carrying all your tools and equipment, a major effort every day of the year
– and lug your harvest up as well when it came?
What it would take, clearly, to make you not only ready but eager to embrace this routine would be a major threat. A very major threat. And as it turns out there were many of those, enough to make most peasants very happy to accept the inconvenience of living in places such as Motovun.
If it wasn't despoiling armies moving through or pirates or other robbers, it was spurious "tax collectors", press gangs or outright slavers, and there were too many varieties of all of those to list here. So you accepted the extra work, first building the walled town and then toiling down and up the hill every day, because it meant some kind of security.
What a life.
These days, of course, we're grateful to those frightened peasants because they've bequeathed to us a wonderful collection of small towns stuck up on crags, with battlements to walk and narrow cobbled streets to trawl for souvenirs. And many of their descendants make a very nice living, thank you, out of those of us who come and visit. Motovun for instance has several terrific little restaurants, something that the less picturesque flatland towns lack.
Not all fortified hilltop towns are tourist attractions. Some are just, well, fortified hilltop towns, losing their young people to the big smoke like other small towns and villages all over the world. I stopped in Pićan, a lovely little place that seemed virtually uninhabited. It won't be long before northern Europeans start to move in here to buy holiday homes, as they already do along the coast. Indoor plumbing will follow.
Rich is good
Pazin, in the middle of the peninsula, is a bigger and much more vigorous than these little towns but still has its walled old city. But it also has the most amazing canyon cut into the limestone by its small but active river. The town seems to barely hang on above a high cave-dotted cliff; I'd be distinctly wary of buying a house here! The best view is from below, on a long bridge that stretches from the sewage treatment works (sorry) to the bottom (err, sorry) of the town.
But the towns are not the only attraction in Istria.
There are lots of good bike roads all over the peninsula, due to the broken-up nature of the limestone terrain, lots of steep hills and drops to small river valleys, lots of twists and turns. A day out can consist of just looping around, following the back roads from one town to the next. Fuel and food are not hard to find and are reasonably priced. Keep in mind that for the time being you need the local currency, kuna; you can often pay in euros but the exchange rate is at the mercy of the seller!
On the way back to Rovinj one day, before the deep fjord called the Limski Kanal, I turned off for the even smaller town of Vrsar. It's a pretty little place but what really stands out is the line-up of superyachts tied up at the town quay. The cafés around the harbour were full of young, fit-looking blokes without a lot to do.
When I mentioned this to my stunning friend, the receptionist she smiled.
"You noticed something else different about Vrsar?" she asked. I hadn't.
"There is an airstrip," she said. "The owners of the boats come in their private aeroplanes for the weekend, from Milan and London and Rome. The young men are crews," she added a little wistfully.
Maybe there's something to this being rich business after all. I should have thought of that sooner, before it was too late to do anything about it.
Getting there
Istria is literally just over the border from Trieste in Italy, although you've got to cross a little spur of Slovenia along the way. I turned off to Koper, the main Slovenian port town, to see if I could buy a book and discovered the biggest Harvey Norman's I've ever seen.
My sincere thanks to Aprilia, whose fully equipped Pegaso Trail carried me and my luggage comfortably, safely and very enjoyably through Istria.
Renting a bike in Croatia appears to be difficult or impossible. There are some more or less local operators such as Blue Bike Tours, info@bluebiketours.de, but they mostly seem to offer organised bike tours for Germans. Check the internet for current information.
The closest rental opportunity, as I indicated in another story recently, is probably Milan. Bosenberg Motorcycle Excursions, www.bosenberg.com, has an office there and offers BMWs, as does Rent-A-Dream, www.rent-a-dream.it. You can even rent a Ducati from respected agency Biancoblu; see www.biancoblu.com. CIMT has a vast range of bikes, see www.cimt.it for the range and prices. And, of course, up on Lake Como are our friends at Agostini's who offer Moto Guzzis, see www.guzzirent.it.
Border formalities are almost nonexistent; just show your passport. Slovenia is part of the EU and Croatia is on the way. Slovenia uses the euro, but Croatia still has its own currency, the kuna.
You don't need a visa for up to 90 days and more information is available at www.croatia.hr and www.istra.com, as well as the foreign ministry's site www.mvp.hr. Buy a good and current map, although getting lost is no big deal. I used a 1:300,000 Michelin map of Croatia which was fine, although it's well and truly due for an update. There are lots of guide books, none of which really cover motorcycling. Check them out in your local book shop.
And whatever you do, when you get to Istria: try the pršut of happiness!
PT