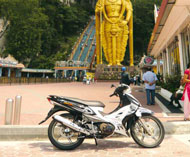 Wanted

Yes, that's you – you're wanted to ride one of South-East Asia's most accessible destinations
Malaysia is diversity itself. You will have read about our encounter with its countryside, culture and especially food in the very popular story about Borneo Motorcycle Adventures, so now it's time to take a look at the mainland, peninsular Malaysia.
And as luck would have it, peninsular Malaysia is keen for you to come and take a look, aboard a bike. Recently I was invited by Tourism Malaysia to sample the attractions of the peninsula from the point of view of a motorcyclist and then to try to encourage you to have a go yourself.
The reason is very simple. Tourism Malaysia has noticed that a lot of overseas motorcycle enthusiasts go to Malaysia. The trouble is that most of them just go for the racing at Sepang then go home again without spending any time (or money) travelling around.
Tourism Malaysia has now decided to crack this potentially very lucrative market for both organised and self-guided motorcycle tours. After all, once you're there you have already spent the airfare and it shouldn't be too difficult to encourage you to rent a bike or join a tour to delve a little more deeply into this amazing melting pot of a country.
In fact, given the closeness of Malaysia to Australia and the low air fares offered by several regional airlines, Malaysia should be an obvious destination for Australian motorcycle travellers whether they're going to the GP or not.
Which is why I and a couple of other regional journalists (plus an Austrian bloke – nobody could quite work out what he was doing there) were invited to explore what Malaysia has to offer racegoers with a week or two (or even just a few days) to spare.
That turns out to be a lot.
What you have here is a mix of several cultures bringing with them different food, festivals, folkways and, err, I can't think of anything else staring with "f" that they bring, but you get the idea. And these days there's a great road network connecting all of the above. No matter what you're looking for, except possibly a beer, it is available somewhere and usually in some kind of outstanding form.
I hadn't ridden in peninsular Malaysia for more than three decades. The last (and only) time I did was in 1978 when a miscalculation on my part saw me collect a broken shoulder blade in the course of a spectacular crash while failing to avoid a pothole. And you should have seen the other bloke. I can tell you, though, that even then the Malaysian hospital system was excellent. The roads, on the other hand, weren't.
Fortunately I didn't get to sample the hospital system this time, so I can't comment on it (but I understand it is even better than it was). As for the roads – the tollway network is as good as or better than anything Australia can show and the back roads wind wonderfully and generally are in good shape.
"It's hard to keep them that way," said our hostess and guide Ina. "There are always a lot of repairs after the monsoon."
So far as I could see, the repairs had been carried out with care and skill on the roads we travelled, except for one up into the mountains. It's worth noting that even if you're in Malaysia during the monsoon, it doesn't generally rain all day.
Those toll roads, by the way, are free for bikes. You get through the gates by taking narrow, Noddy-town type detours that lead you on short excursions into the gardens that seem to fringe each toll plaza. Strange, but rather cute. Kuala Lumpur also has a system of motorcycle ways, very much like the bicycle ways being built all over Australia's cities, complete with tunnels and access and departure ramps. Fantastic fun to ride, so long as you watch out for the scooters being ridden at suicidal rates.
A word of warning here: the road toll in Malaysia is quite high, so be careful when dicing with the traffic in Kuala Lumpur or any of the other cities. I'd say you would be relatively safe in the countryside – traffic is not a major problem out there and drivers might not be especially skilful but they are tolerant.
Like the roads, the tourist infrastructure is pretty much up to date and world standard. Just beware of one trap: "There's no beer," I said to my fellow scribe, Austrian Alex, at the end of one very long, hot day's ride.
"You're joking," he replied.
"Would I joke about no beer?" I asked.
"As a German, yes," said Alex. "As an Australian, no."
The north-eastern states of Terengganu and Kelantan (and even some northern parts of Pahang) are a bit more seriously Muslim than the rest of the country and alcohol is simply not available in many places. That's not what you want to discover when you've had a hot (and most days in Malaysia are hot) day.
It might be better to stay in the south, on the west coast or in the centre of the peninsula. That's where the best riding is anyway. The old rule that mountains equal corners equal fun holds as true here as it does anywhere else. That means the hilly spine of the peninsula, offset a little to the west, provides the best riding. Destinations such as the Genting and Cameron highlands are simply magic and relatively cool as well. But there are other roads worth taking. At one stage we followed the East-West Highway, which connects Kota Bharu with Penang, and found it seriously enjoyable.
I have to admit that our "caravan" of bikes, led and shepherded by the very kind marshals of the GoldWing Club of Malaysia, got a bit slow for me and I slipped the leash down towards Belum. The lean angle of a KTM 950 Supermotard, I can tell you, is greater than I was prepared to explore – even on this very limited-access road.
There are signs warning of elephants along this road but in fact the only way you can be sure of seeing the pachyderms is by visiting an elephant sanctuary such as the one we saw at Kuala Gandah. Elephants seem to like bears and we saw bears, too, at nearby nature park Deer Land.
In fact there is a lot to see and do in Malaysia, even apart from riding through rainforest, rice fields and small towns that all seem to offer coconut milk to drink. The best way to sort out what you might like to do there is probably to take a look at the Tourism Malaysia website www.tourism.gov.my.
There are some drawbacks. I've mentioned the road toll, the heat and the (regional) lack of beer. Add to this a very Asian eagerness to please, which can lead to difficulties being understated ("Oh, it's only a short distance" when it is quite a long distance, and such) and an almost Mexican enthusiasm for mañana ("It is done" when it isn't) and you could get frustrated. Don't. Just relax. After all, that's what travel is about, right?
Must-buy souvenirs include batik cloth or made-up clothing but be wary of wooden mementos which can cause problems with quarantine when you get back to Australia.
But if you have some time to spare before or after the MotoGP at Sepang – or at any other time – I would seriously encourage you to consider the potential of a motorcycle holiday in Malaysia.
Bike rental
Get in touch with our guide Ina Adham, who runs WTR World Tour Rider magazine and Wheeltechnik Resources. The website is www.wheeltechnik.com and you can reach Ina direct at ina@wheeltechnik.com. She's setting up a motorcycle rental organisation with government backing and probably will be offering KTMs and BMWs.
Other contacts for bike rental include Malaysian Motorcycle Getaways, www.ridemalaysia.com.my; Bikers Choice Motorcycle Rental, www.bikerschoice.com.my; Malaysia Bike Tour, www.motorbiketours.com.my; and, I'm told, the catch-all website www.mudah.com.my – search for "bike rentals" by region.