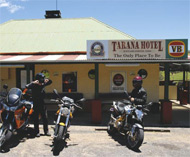 The place to be
Our obligatory visit to…a pub.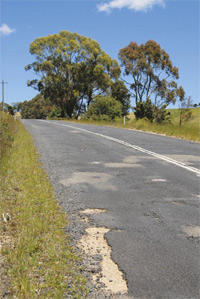 If you wanted to conduct a graduate school in road
surfaces, you wouldn't have to go far from Sydney. The back road from Old Bowenfels,
near Lithgow, past Lake
Lyall and on through
Sodwalls and Tarana before reaching the Bathurst-Oberon road, would serve as a
perfect example.

Good tar, bad tar, patchwork over the original
road surface, potholes that demonstrate that the original road surface is only
a couple of inches thick, even patchwork that has completely obliterated the
original surface and is therefore probably at least four inches thick. It's all
there.
Indeed, if you were to take the right-hand roadonwards from Tarana – the one that stays on the northern bank of the Macquarie River – you'd even get to sample some
gravel.

Why am I telling you this? Well, contrary to what
you might think, it's also a terrific motorcycle road. Yes, it does help to
have halfway decent suspension – although it shouldn't be too soft or you won't
make some of the corners. But the surveying of the road is terrific and the
scenery is equally good.

And – well, what have we here? Halfway along, in
the tiny hamlet of Tarana, there is the Tarana pub, motto "The Only Place to
Be". It doesn't say what it is the only place to be, if you know what I mean. I
think I do. Once a typical closed-in country pub, it now boasts a beautiful
little beer garden with an open deck that just begs you to stay and sample the
tucker.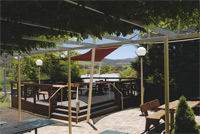 It's nothing terribly flash and vegetables are
not available until after
(seriously) but it ranges from the dreaded pie floater to a huge T-bone by way
of dishes such as sausages, mash, peas and gravy. Rather more inventive are the
sweets, with Fish
River mud cake and
Sodwall's [sic] strudel and ice cream among them. Prices are not exactly cheap
(this is let's-go-for-a-weekend-drive tourist territory) but the ample
quantities still make it pretty good value. And that deck is really good.
From Tarana you have the choice of the signposted
main road (turn left at the end of town) to O'Connell on the Oberon-Bathurst
road, or the above-mentioned northern route that reaches the same road much
closer to Bathurst but which is in rather poorer shape. Either way is fun.
This road makes a good segment for a one-day ride
from Sydney.
Head out along Bells Line of Road, turn left when you reach the Great Western Highway
just past Lithgow and then take the turnoff to the right at the pub in Old
Bowenfels. After tackling the road, turn left at O'Connell, turn left again at
Oberon and return to the Great
Western Highway near Hartley. From there you can
just trundle back to Sydney along the highway or
you can take a left turn in Mt Victoria and
cross over to Bell
before taking Bells Line of Road back.

It's all good riding and some of it is great
riding.

See you out there one Sunday.
ARR