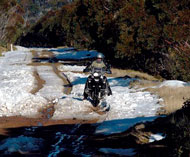 First icy you
Want to try out your winter riding preparations and skills? Here you go
One moment he's there, the next he's gone. The bloke I'd been following at a respectable distance along the Omeo Highway — we were on gravel — had simply disappeared. I hit the brakes and promptly fell over as well, joining him off the side of the road in the snowdrift he'd found. A lesson: snow as such might not make gravel roads slippery, but the ice on any puddles under the snow certainly will. And another lesson: if you get cold enough, your cognitive capabilities suffer.
You get dumber, in other words. Been there, done that, got the doctor's bill.
The Omeo Highway to the north of its namesake town, Victorian road number C543, makes a good and enjoyable but potentially quite serious (see above) winter run. You may recall I wrote about it a while back in a story on the Fire and Ice rallies. I noted then that it occasionally gets quite a bit of snow, but it's rarely closed. But even when there isn't actually any snow, it gets bloody cold.
This was the first gazetted highway in Victoria and it's still a useful road. You can use the Omeo Highway on your way from Canberra to Melbourne, from Melbourne to Sydney or from many places to Phillip Island, so it's not as if it's necessarily a long way out of your way. Keep in mind, though, that parts of it are quite a long way from civilisation and that there were still a couple of gravel stretches at the time of writing.
As well, most of the "towns" marked on maps of this road do not really exist. As far as I can remember, the only reliable services are at Anglers Rest (a pub) and Mitta Mitta (pub and service station), as well as at the ends in Omeo and Tallangatta just off the Murray Valley Highway.
The Omeo Highway starts at a T intersection on the Murray Valley Highway, just east of Tallangatta. You can't miss the C543 sign. If you're coming across from Wodonga, you can also reach it from Kiewa and Tangambalanga by turning south along the C537 near the intersection with the Murray Valley Highway.
Following the Mitta Mitta River upstream, the highway winds its way through rich pasture land (this travel writing is top stuff, isn't it?). Just before the township, there's a turnoff to the left to Dartmouth Dam, an interesting sightseeing destination in its own right.
Fuel up at Mitta Mitta before you start heading up into the hills, because after that you're pretty much on your own. The next sign of civilisation, if you don't count the occasional roadside shack and the turnoff to Falls Creek, is the Blue Duck pub at Anglers Rest.
This road is mostly in surprisingly good condition, seeing how remote it is. Some riders have found the gravel sections very unpleasant, particularly because they can get slippery, but I'd have to say I don't mind them. Just take the same care you'd usually take on country roads and I'd expect you to be fine. As always, some experience with dirt or gravel riding is useful. That's especially true in winter, when the hazards of ice and snow are added to the others.
Once you're back on tar, you're on a very nice little bike road, although of course in winter you'd be curbing your enthusiasm because of the potential ice hazard. There's a bit of lovely cliffside road after Anglers Rest and then you're back into pasture land with its typical sweeping corners and cowshit on the road. Frozen cowshit is just as slippery as non-frozen. This road takes you all the way to Omeo, which is as far as we're going on this ride.
When you carry on from here, you have the choice of the Great Alpine Road either up and over Mt Hotham and on to Myrtleford, or down to Bairnsdale. I suppose which one you take depends on where you want to go! But, anyway, no matter where you go now, you will just have sampled some winter riding at its finest.
Duck in(n)
And while we're on the subject of "finest"… We've mentioned the Blue Duck pub quite a few times in this magazine, so we thought we'd better actually tell you a little about it apart from the fact that it has cold beer and steaks that would choke a grizzly bear.
Graham Brown, proprietor of the Blue Duck Inn, has spent most of his business life working in Asia and New York with a brief interlude some years ago running a cattle property in the high country not far from Anglers Rest. Although he went broke, tucked his tail between his legs and returned to what he knew best, the landscape had entered his soul and when the Blue Duck Inn on the Omeo Highway came on the market three years ago, he bought it and went back.
Restoring the property has been a labour of love. Much of his work, says Brown ruefully, does not show. "It's like spending $200,000 on underpants rather than on Armani suits."
The heart of the place is the dining-room-cum-bar, once the hotel's ballroom. The hefty timber beams are smoke-blackened from two roaring fires, the air sweet and warm with the aroma of burning eucalyptus. Walls are hung with Brown's own fishing memorabilia and mementos of his travels. Visiting children have played Chopsticks on the piano in the corner and occasional international pianists have played Mozart.
"I love the way they say it has a nice mid range," says Brown of the piano. "I think they mean it's stuffed at both ends. People have also played the guitar, banjo or whatever here. Music is always spontaneous and magical when it happens, which is why I don't organise regular gigs."
Every spare bit of wall space is covered with historic photos of the Blue Duck, going back to its first proprietor, Bill O'Connell. According to Brown, O'Connell and his mate Paddy Moore bought Frank McGrath's tumbledown butcher shop on this site in the early 1900s. McGrath used to sell beef he'd killed to miners and their families making their way along Knocker Track to the gold and tin mines at Glen Wills, now a ghost town in the hills.
"This spot was called Jack's Crossing, after a drover who drowned fording the flooded Cobungra River with a team of pack horses in the 1860s," Brown explains. "O'Connell, who bought Moore out, moved the shop off the site and carted his home in Omeo out here room by room on horse drays, together with his much younger wife, Lillian, and their family."
The O'Connells built a hotel with ballroom attached (now the dining room and bar) in anticipation of the shire putting in a good road and opening up the area to tourism. The shire did put in a bridge in 1909 but did not upgrade the track till the 1930s, even through the Omeo Highway was the first gazetted highway in Victoria. In fact, the road through this magnificent country has only been sealed for eight years.
"In the meantime, Anglers Rest remained fairly inaccessible and the number of miners passing dropped to a trickle as gold gradually ran out," Brown says. "So O'Connell nailed a panning dish to the front of the hotel and wrote with irony in large letters, 'Blue Duck' — a mining term for a white elephant. If you take out a gold lease and it produces no gold, it's universally known as a blue duck."
Another of O'Connell's legacies at Anglers Rest is the small split log structure behind the pub. Known as State School Number 4286, it was built by O'Connell in 1926 when five of his nine children were of school age. The education department provided a teacher to be shared part-time with Glen Wills.
In spite of their initial pessimism, the O'Connells' establishment was discovered by keen anglers from the city. One of their regular visitors was Sir Harold Clapp, head of the Victorian Railways. In the 1930s, says Brown, Clapp arranged for first-year apprentices at Newport rail yards to cast the beautiful art deco bronze blue duck at the entrance to the property.
The O'Connells left in 1946, after which the Blue Duck passed through many hands. Three doctors who ran it in the 1970s, virtually as a private fishing lodge, built a number of timber cabins on the slope behind the main building.
They're comfortable and practical with decent-sized fireplaces and self-catering facilities, though many guests use the barbecues by the river or enjoy what Brown calls "traditional comfort food" at the hotel.
"We don't buy any processed food," he says. "We make our own pasta, have our own chooks and use local berries for our steamed berry pudding. We also make our own venison, kangaroo and rabbit pies and cook hearty steaks. What's more, we sell more red wine than we do beer. We're an inn in the true sense of the word."
In recent years, fly fishing has become a hugely popular sport and the inn at Anglers Rest is not the secret it once was, judging by the number of smart-looking cars heading that way or even helicopters flying in from Dinner Plain. If O'Connell could see the Blue Duck today, he might rename it the Golden Goose.