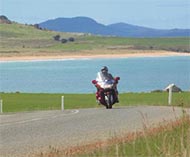 Boldly go where few bikes seem to go




Words: Peter Thoeming. Photos: Lou Martin.
If motorcycles wore a groove into the road,
there'd be a really deep one from Devonport to Launceston to St Helens to Hobart to Strahan to
Wynyard and back to Devonport. There would also be a shallower one up to Cradle
Mountain Lodge and back, but the rest of Tasmania
wouldn't show much of a mark on the road at all. That's a real shame.
So let's see if we can replace just a bit of the
groove with an unmarked route.
For good reason, the A3 between Launceston and St
Helens is one of the most popular bike roads in Tasmania. It's in generally good condition,
made up of one corner after another and set in some of the most quietly – and
sometimes spectacularly – beautiful scenery in the entire island. So of course
I'm going to suggest an alternative.
Well, for part of it anyway.
Let's say you've reached Scottsdale,
the frozen potato capital of Tasmania,
more than half of the distance across on your way west from the coast. It has a
local museum, with what I'm assured is a terrific old tool collection. Since I
see plenty of old tools in my line of business, I have not spared time to visit
it. That is my loss, of course.
Normally you'd have a coffee here – there are a
couple of good cafés in town – and then continue on the A3 down towards Springfield (they're not all in America!) and the many twisties
down towards Myrtle Bank. Instead, head north (straight ahead as you come into
town instead of turning left into the Scottsdale CBD) and head for Jetsonville.
Try to restrain the impulse to ask if George is
home and continue through the relatively gentle sweepers of the B84 north to
the intersection with the B82, just outside Bridport. It's actually worth
riding on a little and visiting Bridport itself, a pleasant fishing town and
the Tasmanian end of the occasional Flinders
Island "ferry" (punt)
service.
I once rode further east and then north to the
coast to Tomahawk, on the Tomahawk
River that flows down
from the entirely inappropriately named (as far as I can tell) Mt Horror. There
was nothing there, really, apart from a kind of caravan park and a house. Nice
and quiet, though. I was going to go and check out Boobyalla, the next "town",
but ran out of enthusiasm, or time or something.
But you should probably turn west and follow the
B82 to its junction with the East
Tamar Highway, the A8, near Bell Bay
– not that you have a lot of choice; there aren't that many roads up here. If
you do decide to take the one major side road, the B83, you will have the
pleasure of passing through the little town of Glen. You can't miss it; it's just to the
west of the even smaller town of The
Glen. Off to the other side is the wonderfully-named
hamlet of Retreat. Just up the road from the village of Tunnel.
Further south, on the other side of the highway,
is a place I've long wanted to visit. It's called English Town,
and it's not far from Deddington. This must be the home, or possibly final
resting place, of Bluebottle. It's on the Nile River.
No, not that one, unless the Aswan High Dam is considerably less impressive
than I thought it would be.
But back to the B82. This is all beaut open
country, only mildly infested by log trucks (got to knock down that pesky old
growth forest before it grows any older) and while I would never encourage you
to speed, I'd guess that the constabulary would have better things to do up
here than to set up speed traps. I may be wrong, of course. If you're not in a
hurry, you could visit some of the wineries that lie off to the left of the
road, around Pipers Brook.
To the north lies Bell
Bay, once famed for its aluminium
(what do you mean, you're not interested in aluminium?) and George Town, named after the King not George
Jetson (although you have to wonder). It was founded soon after Bill Paterson
ran HMS Buffalo aground here in 1804. Even further north is the appropriately
named Low Head, described as an historic maritime village, whatever that means.
Take the A8 south to the Deviot turnoff instead.
And yes, the locals have heard all the jokes about Deviots in Tasmania. This road takes you over the
extraordinarily pretty Tamar River on the spectacular and very slim Batman Bridge.
And yes, the locals have all been asked where the Robin Bridge
is. Deviot is actually a short way off the road and is just a perfectly normal
small Taswegian town. Turn left straight after the bridge if you don't believe
me, but keep your back to the wall. Just kidding.
A little way down the A7, the West Tamar Highway (nobody has ever
accused Taswegian road naming authorities, unlike their town naming brothers,
of excessive imagination), lies Exeter
with a good little bakery. Lunch, anyone? It's probably best if you do eat here
because there aren't many other places to get a sandwich on this road, in
either direction.
Then it's the wonderfully fast B71 through
Frankford and across the Franklin – no, not that
Franklin* – and
Rubicon – no, not that Rubicon** – rivers before you rejoin the main Highway 1
near Devonport.
If you have the time, a short side trip to Port
Sorrell is quite pleasant. It's not what you'd call a special kind of a place
as most of its historic buildings were burnt down in a bushfire some years ago
and it's now a cinder (no pun intended) block kind of town, but there's a view
across the river mouth to Asbestos Range… oops, Narawntapu National Park.
This short Deviot-ion out of the around-Tassie
groove is less than 200km long but quite enjoyable with a lot of open road,
some pretty scenery and few built-up areas to slow you down. Do keep in mind
that this also means that the ambulance will take a little longer to get to you
if you run out of talent on one of the many corners.



*There are at least two in Tasmania; looks like Taswegian river naming
authorities are innocent of excessive imagination as well.
**There's a very short one in Umbria
in northern Italy
as well, which probably nobody would ever have heard of if it hadn't been
crossed by a bloke called Julius Caesar.