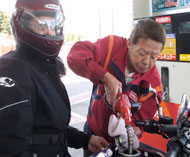 Low-speed sayonara
Have you always wanted to go 285kp/h? You can, but not on your rental bike.
Japan had not been high on my list of places to tour. But when an international group of 14 friends, guys and girls, from New Zealand, the UK, the US and Australia invited me to join them for nine days of touring in Japan, I jumped at the opportunity. It's somehow very exciting when riding friends start arriving from around the globe, Jan from the UK, Jane from the US, plus the boys, journalist, travel agent, retired. Suddenly it was like old times again.
All had toured together in New Zealand before and our leader and co-ordinator was from Christchurch. We had a Japanese translator with us who lives in New Zealand.
Japan is spotless, even the roads are clean – presumably because Japanese cars do not leak oil. The cars and trucks and taxis are all sparkling, the taxi drivers wear white gloves. Even the city back streets are totally devoid of rubbish. The people are polite to an extreme, all very dignified. The suburban trains are silent; mobile phones are never used on the trains, or anywhere in earshot of others.
The signal that a train is about to depart is a pleasant musical jingle – it sounds like a few bars of God Save the Queen – then the doors close in absolute silence and the train moves off, still silent. Nobody speaks and as the conductor walks through the carriage. At the end he turns and bows to the silent crowd. For anyone used to Sydney, it is another world.
My mount was to be an almost new Yamaha XJR1300, which as it turned out was a very good choice. The plan was to meet our "leaders" from the bike shop – two of the most friendly and just plain nicest guys you could meet – in Tokyo, then spend a couple of days heading north, stay overnight in a traditional Ryokan Hotel, then back to Tokyo. From there we would hop on the Shinkansen Bullet train for the 520 kilometres south to Fukuoka.
We were led out of Tokyo through a labyrinth of freeways and eventually found ourselves in the country. Traffic was quite fast and not a problem at all. Discipline was good, with no incidents of aggression, although I did see a fast lane-splitting local actually bounce off the side of a van and keep going without missing a beat.
Rural Japan is very green, pretty, tidy and pleasant. The roads are very smooth and get quite tight once in to the mountains. Our night in a Ryokan Hotel was, er, different. But the service was very efficient and friendly. Vive la difference. As we were packing up next morning for departure, the staff was on hand to wave us off.
The Shinkansen train is something else. It has its own lines and accelerates like a 747 taking off and quickly reaches 285km/h in peace and quiet, no clacking or bumping around, just very quiet high speed, leaning around the corners. We covered the 520km south from Tokyo in a couple of hours with several brief stops.
Once on the bikes, we hit the motorway first and then up in to the mountains. Motorway speeds were about 120km/h but once on the mountain roads the traffic was quite sparse and the roads quite tight in some places. Some of the roads and scenery were like areas of southern New Zealand, very green, with quite a few tunnels, a bit like Norway. Our leaders were on a BMW 1200S and a Honda GoldWing. Both were ridden with some verve and I think they enjoyed the fact that we were all up to the task. They spoke little English but were great fun, all hand waving and excitement.
The tour was not an "organised" tour as such; we were free to ride as we liked but our leaders were like mates and the whole deal was like a group of mates out for a ride. They had as much fun as we did.
We rode south to Nagasaki and visited the Peace Park, which is near the site of that very big bang in 1945. It is a huge city and very hard to imagine that 65 years ago it was a toxic ruin. We crossed many bridges that are engineering masterpieces; the infrastructure of Japan is incredible. Most of the road signs have an English translation in small print, so touring alone would be a cinch.
Western food is freely available, although we did have several traditional Japanese meals together.
We rediscovered the meaning of "full service" at service stations. Near each pump is a neat pile of folded rags. The attendant does the filling and carefully uses the rag to avoid either chipping the paint of spilling any petrol. I could hardly keep a straight face! This was the case at every station.
Fuel costs were on a par with Australia.
It was fun from start to finish, no bad vibes, no altercations with the law. We left feeling that we are a pretty rough lot down here!
The mountain riding was a lot of fun, the surfaces were smooth but grippy and the traffic was light enough for it not to be a hindrance. We were lucky enough to have good weather, with only one morning of rain. One narrow mountain track, although sealed, was one car wide. Several times this led to back-ups and squeezes, but no dramas.
It would be quite easy to arrange a private trip there, rent a bike and go. In Tokyo we rented our bikes from Odaiba; www.rental819.com. The bikes were all late model, low mileage. Rates are about $A135 per day for our Yamaha XJR1300.
In Fukuoka, we rented our bikes from Takao Fuchi, email ja6jqe@garnet.broba.cc.
For those that prefer to have everything organised, including accommodation, bike hire and so on, Te Waipounamu Motorcycle Tours from New Zealand will be running a fully accommodated tour later this year in the northern spring.
Hotel costs were also on a par with similar hotels in Australia. The motorway tolls were expensive but still don't amount to much unless you are using the big roads a lot. Most riders would avoid them, although they are the best way to get in and out of major cities of course.
Traffic is very orderly. The only holdups are occasional road works, but even then the guys are active traffic managers. In fact, at one point when we had to do a U turn on a major highway, (lunch) one of the construction guys spotted our difficulty and stopped traffic in both direction for us! Only In Japan!
Oh, and the highway roadhouse rest areas have small parking shelters exclusively for bikes. The whole country is bike-friendly and people-friendly.
Buy a Rail Pass in Australia before you leave and plan to catch a bus from Narita Airport for the hour journey to Tokyo city. But GO!